When Nellie Melba resident Marina Cavill retired from a successful career in town planning, research and consultancy work, she realised two things; she did not know much about ageing, and she needed a new challenge.
Her first attempt at retirement lasted two years.
During this time Marina did not head to a distant white-sand beach, rather she wrote and self-published 'Victor Kennedy: In Pursuit of Sunlight', a biography about her husband's grandfather and Australian literary figure Martin Victor Kennedy.
READ MORE:
But when the book was published Marina found herself at a loose end.
"At this stage I was bored," she said.
"My mother had Alzheimer's and I was ageing, and I thought 'I don't know much about the aged care sector' so I did a Certificate III in Aged Care at Holmesglen Tafe."
While she never intended to work in the aged care sector, Marina's wealth of management experience, gained while heading a research group at Telstra Research Laboratories, running a consultancy practice for twelve years, working with State and Federal government, universities and various research organisations, was utilised when she completed her aged care placement.
"I ran the lifestyle department for a couple of months when the person who had been managing the department became ill," she said.
"It was totally, totally different.
"I'd never worked with older people before and I absolutely loved it."
Marina enjoyed the experience so much she did not resume her retirement for another 12 years.
Her mother's Alzheimer's diagnosis led her to Alzheimer's Australia (now Dementia Australia) where she worked as a technical writer for two years, producing a wide array of workshops and training material on all aspects of dementia for professionals including doctors, bank tellers, emergency and ancillary staff, community carers and friends and family of people with dementia. She also wrote content for Dementia Australia's Certificate III in Aged Care.
Marina found working at Dementia Australia was a wonderful opportunity to learn about the different types of dementia, symptoms, strategies for coping with dementia, especially behaviours of concern, the importance of purposeful activities, socialization, physical activity and a good diet.
"I ended up putting together a book on activities for people with dementia. There was a trainer, Paula Bain, who had gone all over Victoria doing training workshops for carers of people impacted by dementia," she said.
"She would ask participants to share lifestyle activities they had run and thought had been most beneficial during these workshops and collected these suggestions over 8 years.
"I thought this was a terrific idea, so I put them all together and organised them into different sections including sensory activities, focus on fellas and special occasions."
The result was 'We can, we can, we can: purpose and pleasure for people living with dementia' a resource with activities and ideas for those caring for people with dementia.
In 2019 Marina's mother in-law moved into the special care unit at Nellie Melba Retirement Village and in December 2021 Marina's beloved husband, Greg, suddenly died.
"I immediately knew I didn't want to stay in a big house by myself, it was too much maintenance and too many memories," she said.
"Because I had been coming here (Nellie Melba) for 2.5 years to visit my mother in-law, I was familiar with the place, I decided to move here.
"I didn't even look at other places, I just knew I wanted to live here."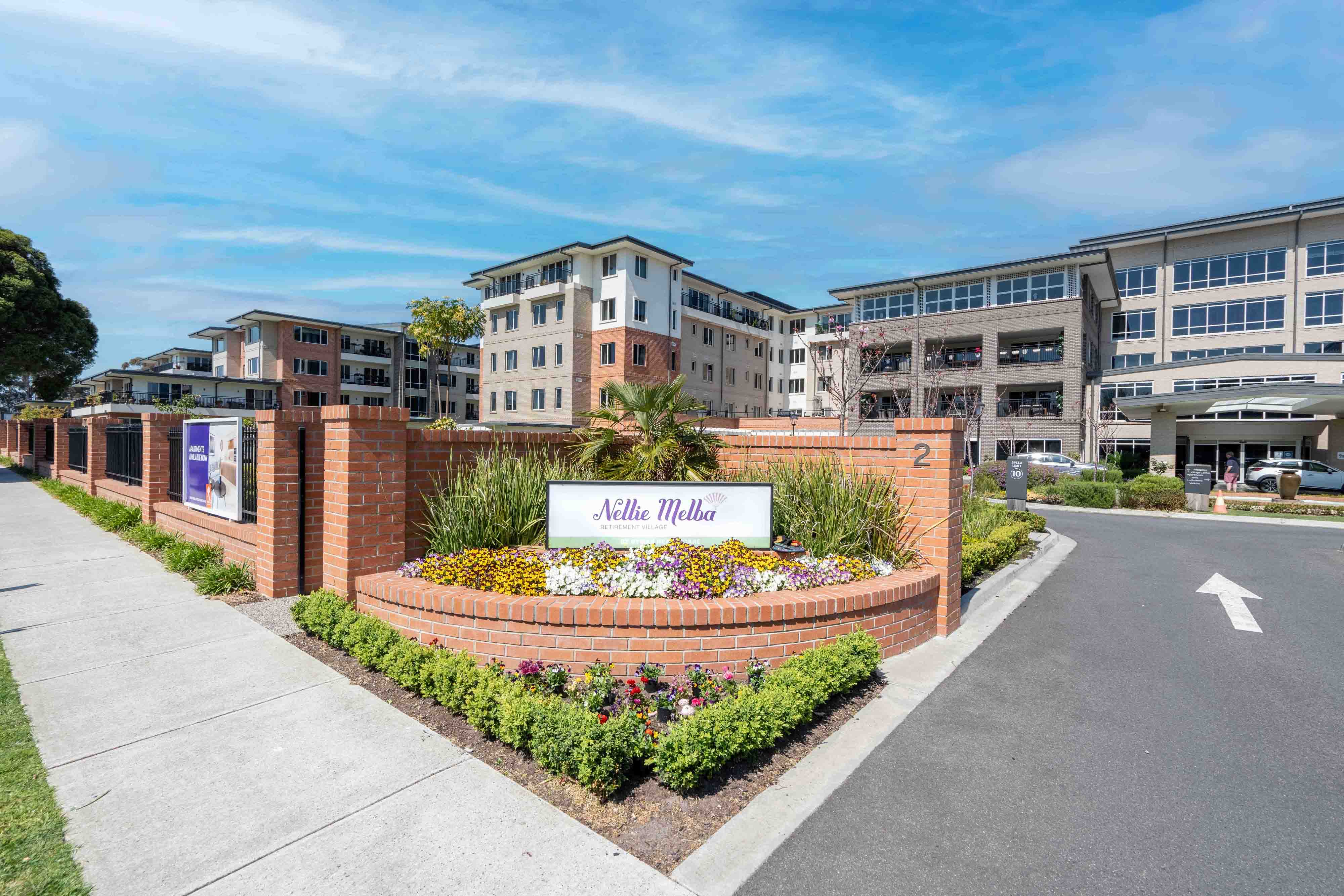 Marina said Ryman's continuum of care model, which incorporates independent living, assisted living, home care packages and low care, high care and specialist dementia care within the same village was a key reason she chose Nellie Melba.
She was also drawn to the security and safety of having an emergency call button in her apartment as she lives on her own. She liked the extra services that are available on-site if needed, the general amenities including pool, gym, exercise classes, library and gardens, the organised outings and the fact she can book a handyman to help with maintenance issues.
"Ageing in place was very important to me because I know from all the research I've done that moving gets more difficult as you get older," she said.
"The fact you've got continuum of care here is one of the factors that really drew me in.
"I know from the research I have done on dementia that if you keep physically active and socially active and you eat well, all of those factors are as important as any medication.
"I have made some very good and supportive friends here who made the transition of moving to a retirement village after the sudden death of my husband a lot easier.
"A sense of community is very important to me."
WATCH: What does Continuum of Care mean?
As one of about 40 residents in the village's new Mimi building, Marina made a concerted effort to grow a sense of community within the building.
"I have morning teas at my place every six months and just about everyone turns up," she said.
"I've also made a contact list of all the people in the building so we can contact one another, and it's made a huge difference."
Marina felt the benefit of these relationships most acutely after a recent total knee replacement.
"When I came home the number of people that said, 'can I do anything for you?' brought me meals and offered to take me to appointments was really lovely," she said.
"Plenty of residents at the village live with some sort of disability but still have quality of life and I think that's due to the safe, supportive and secure environment."
The sense of safety and community at the village meant residents and partners of people newly diagnosed with dementia sometimes approached Marina for advice and resources.
"I think it's really important to talk about dementia because for people who first get their diagnosis it's a big terrible thing and it really is not as scary if you know what it is and how you can help people," she said.
"If you do get dementia, if you're in a safe and supportive environment like this village, then it's easier to cope with it and you can still have enjoyment in life."