The loving contributions of thousands of 'black belt knitters' from around the world have begun a quest to bring smiles to Ukrainian children displaced by war.
14,000 Yuri bears are now on their way to Warsaw, Poland, with the help of shipping company Mondiale VGL who donated their services to transport the precious cargo.
The bears are due to arrive in Poland, to be distributed with the assistance of New Zealand aid organisation Kiwi K.A.R.E., at schools, hospitals, and refugee camps, in mid-June.
READ MORE:
Among the countless boxes of bears stitched with love are the creations of the Australian Crafters' Aid Network (ACAN).
ACAN member Jenny O'Brien said that since 2019, knitters from around Australia had made toys and clothing for people living in difficult circumstances.
"We began by sending handmade items to children in camps in Syria," she said.
"We've always had a policy that refugees, asylum seekers, and children who are victims of conflict or disaster are the cohort we want to support.
Prior to COVID-19, bearskins were knitted for projects run through several schools in Victoria and South Australia, in which school children were taught a little about the plight of refugees, and then completed a bear.
When the bearskins project was halted by the pandemic, the network of knitters was left with bags of half-finished bears unable to reach their intended recipients in Syria.
"We really wanted to send handknits to Ukraine, but didn't know how to, so it was a win-win when we heard about the Yuri Bear Project.
"Nell, an ACAN member from Adelaide, has been working with schoolchildren to finish many bears," she said.
A message for the Yuri Bear recipient.
Among the 415 bears donated by ACAN are 30 made by the woman who taught Jenny to knit, her mother Lilian, who is 93.
The bearskins knitted by Lilian along with those made by many others over the past few years were finished by Jennifer and her cousin specifically for the Yuri Bear Project.
"We're all what you might call 'black belt knitters'," Jenny laughed.
"Knitting is so labour-intensive, so tactile, so nurturing, and it's imbued with your memories of your own grandmother or mother teaching you to knit.
"You feel part of the great chain of women now and throughout history who have nurtured children in this way.
"To find a way to help these little children in this ghastly war has just been fantastic."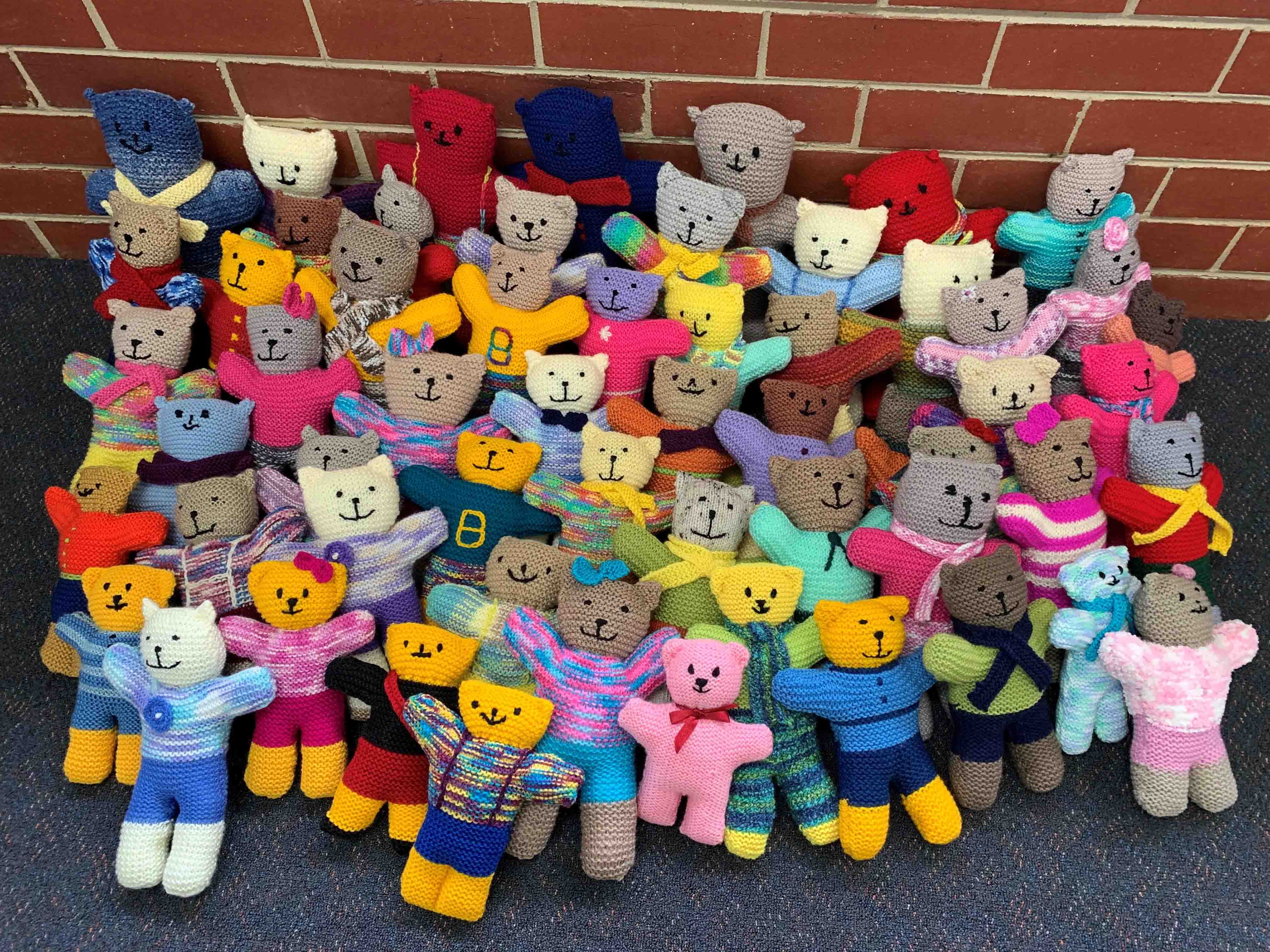 The Langwarrin CFA Craft Group also championed the Yuri Bear Project.
Over tea and scones the group made about 100 bears for the project.
Yuri Bear Project Organiser and Ryman Healthcare Victorian Sales and Community Relations Manager Debra Richardson said the generous response of community craft groups had been "overwhelming and humbling".
"What began as a way for me to feel I could do something to show I was thinking of my foster son Yuri grew into a movement which was championed by the likes of the Australian Crafters' Aid Network and Langwarrin CFA Craft Group, and empowered thousands to take action in response to the horrors of war.
"To say I am overwhelmed and humbled by the outpouring of help is an understatement; there are simply no words to convey my appreciation."
Debra will join Kiwi K.A.R.E in Poland to help distribute the bears.
"It will be an immense privilege to literally place these cuddly gestures of love and support into the arms of Ukrainian children on behalf of all project contributors," Debra said.
Ryman Healthcare would like to bring smiles to the faces of a further 150 children impacted by the war. If you would like to contribute another Yuri Bear please send it to: Debra Richardson, Level 5/6 Riverside Quay, Southbank, Vic, 3006

by May 31

.