When Weary Dunlop nurse Blossom Casama was named Ryman Healthcare's 2020 Young Achiever of the Year the moment marked a milestone in her life.
Having worked night shifts at the village since it opened six years ago, Blossom says she was "overwhelmed" by the nomination, and even more so by the win.
"I think it really is one of the milestones in my life to get this award," she said.
READ MORE:
"To be recognised for the job I do as a night shift nurse, I never thought I would be recognised for that job because not many people are there to see me do it.
"That's why I'm so overwhelmed and grateful to all the staff who voted for me and have thought I am worthy of the achievement."
Blossom's team describe her as an extremely competent, fearless and thorough nurse.
Much has changed at the village since she first stared working there.
"The first night I worked there was just one carer, one resident and me," Blossom says.
"Now it is much livelier.
"People think residents will be asleep because it is night-time, no, no they are not, they are definitely awake," she laughs.
As well as managing nurses doing rounds and a 'floater' nurse, Blossom is particularly interested in caring for residents living with dementia.
"Sometimes people with dementia revert back to their younger years," she says.
"Maybe you won't be able to reason with them when they revert back, but when they have their lucid days they will be able to tell you a story from 50 years ago about their life, and you go 'wow, this person did these amazing things'. It's very special."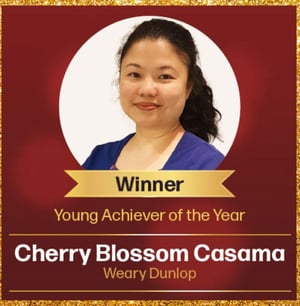 Another important and privileged part of her role is offering palliative care.
"I want to help families of residents have a better understanding and experience of palliation," Blossom says.
"It is about supporting the resident and their family during a very difficult time."
While Blossom has received a flood of congratulations from her team at Weary Dunlop, her achievement was also celebrated by her family in the Philippines.
"My family watched the live awards and they posted a lot on Facebook about it," Blossom says.
"I know they are very proud and pleased for me.
"I am very, very grateful to my parents, all of the staff, my night shift team and my managers for helping me get to where I am today."
Having attained huge success early in her career, Blossom now has her eyes set on new goals.
"I want to buy a house and become a palliative care nurse," she says.
"It's so nice to know I have so many supporters behind me."