Weary Dunlop Retirement Village resident Marg Picking has always tackled life with a crafty and industrious spirit.
Her response to COVID-19 is no different.
For the past month Marg and her 14-year-old granddaughter Olivia have completed a series of sewing lessons while self-isolating.
READ MORE:
Unable to show Olivia how to use her sewing machine in person, Marg is drawing on skills learnt at computer lessons given by village concierge Heidi Reece, to teach Olivia over video messaging app Facetime.
"The way I have always seen things is, we don't have problems, we only have challenges," Marg said.
"From when I was about 15, I was sewing virtually anything.
"Because I didn't have much money to spend, I would find out how to make it."
Restoring a home built in 1880 back to its former glory, and French Polishing a 1912 Bechstein Piano, are among the DIY challenges Marg has taken on.
Now she is conquering technology.
"I hadn't used the computer much, but I am certainly using it now.
"The next thing Heidi is going to show me how to do is access podcasts."
Moving from phoning her family to doing video calls had been a "wonderful step", she said.
"I couldn't have helped Liv to set up the machine or inspired her to sew if it wasn't for Facetime."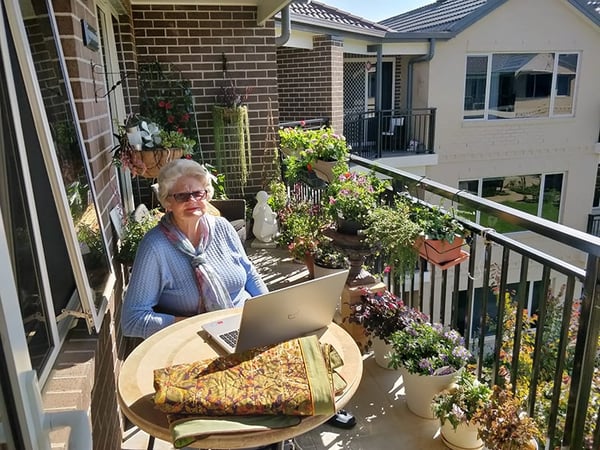 Marg says she loves being able to Facetime Olivia from her "green forest".
The lessons had revealed Olivia's natural sewing ability.
"Nana has taught me how to thread the needle properly, she's taught me about which stitches are needed for which projects, and I've made a bag and re-purposed some of my clothing," Olivia said.
The video calls also offered something else.
"The video calls have given me another way to view my Nana as well.
"Usually I see her, and she's all dressed up for an occasion.
"Now I see her just in her home, doing something she enjoys.
"It's nice."
Marg said the video calls have given her a "new lease on life".
"All in all, I've been able to turn this situation (COVID-19) into something fantastic."