For Nellie Melba Retirement Village resident and founding AFL Commissioner Dick Seddon this year's Grand Final is bittersweet.
It's been 57 years since Dick's beloved Melbourne Football Club (the Demons), of which he was CEO and Executive Director from 1980 to 1985, won a Grand Final.
But, Dick won't be watching the final "as it should be", rather he will watch it with wife Carol from the comfort of their Nellie Melba apartment.
READ MORE:
"I'm a traditionalist. I believe, as it should be, that the Grand Final is played at the MCG on the last Saturday in September at 2.30 in the afternoon, and it's a shame, but it's not to be this year," Dick says.
"Gillon McLachlan promises me as far as he is concerned it's only temporary, it will go back to being an afternoon Grand Final at the MCG on a Saturday afternoon, last Saturday in September."
While Dick describes his path from wool classing at Elder Smiths in Geelong to establishing a law firm and being appointed as an inaugural Investment Commissioner of the Federal Government's first Investment Program as "pretty serendipitous", the Demons haven't been so lucky.
And Dick's legacy both with the Demons and the AFL is part of it.
"It's not surprising that they (the Demons) last won a Grand Final in 1964 when you think about the background," he says.
"They got so far behind with all the other clubs commercialising that there was a lot of catching up to do."
Australia's most iconic game was founded by the Melbourne Football Club in 1858, however it was a sporting section of the Melbourne Cricket Club (MCC) until Dick took the reins.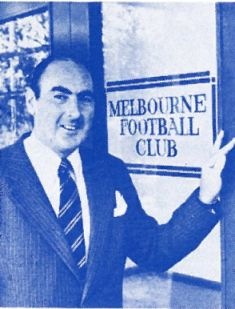 Dick Seddon during his time leading the Melbourne Football Club.
"Even though it sounded like heresy, it had to break away from the wings of the MCC, it had to incorporate and be a commercial entity like the other clubs were," he says.
"I had to drive that to happen, so I let go of my law firm and set it up as a professional football club."
When he left the MFC Dick played an even more influential role as a founding AFL commissioner, orchestrating the implementation of salary caps, franchising and drafting.
"There wouldn't have been an AFL without those reforms," he says.
"It would have collapsed.
"The big problem was the clubs were bidding up against each other for players, they were stealing each other's players and they were doing it by offering very attractive financial investments for players to change the colours of their guernseys.
"We saved the AFL from extinction and it has now grown into probably the most powerful sporting body in Australia."
The reforms enabled the then Victorian Football League to become the Australian Football League.
Dick only left the AFL in 1988 because then Federal Minister for Industry, John Button, persuaded him his legal knowledge and business nous could be utilised to attract direct investment to Australia from North America.
From an apartment in Museum Tower in New York, Dick and Carol enjoyed New York at the height of its financial boom.
"When we arrived in New York in 1988, greed was rampant, corporate excesses were the order of the day, and conspicuous consumerism was commonplace," he says.
Forbes Magazine executive Steve Forbes and his brother Chris became good friends of Dick and Carol.
"They were very special friends of ours and they treated us very handsomely with a level of entertainment we had never even imagined including cruises on their yacht, which had a dining room that sat 50, where you'd meet some extraordinary people," Dick says.
In 2015 Dick received an Order of Australia (AM) for services to the business sector and AFL.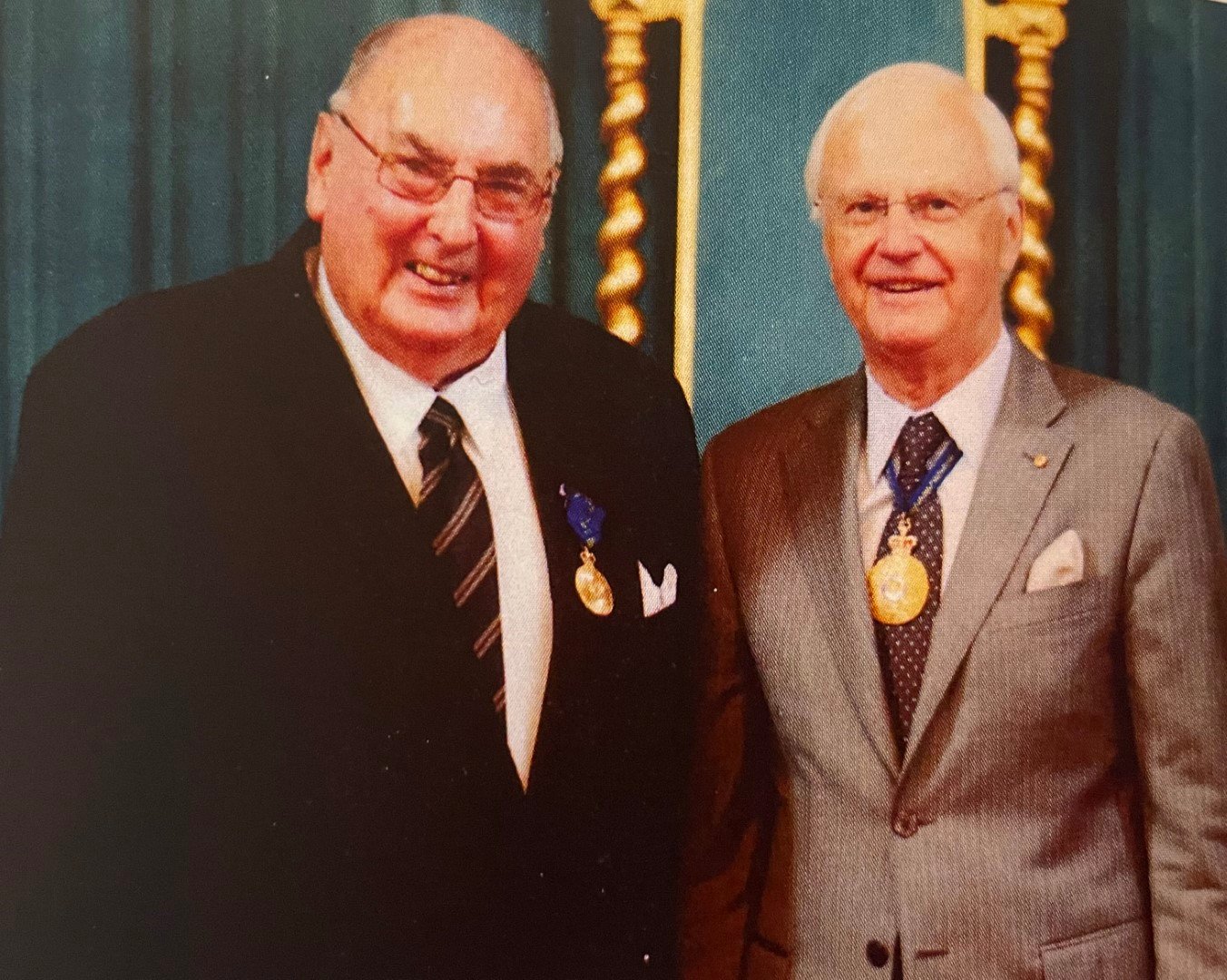 Dick Seddon (left) with the Governor Alex Chernov at Dick's investiture for an Order of Australia at Government House.
While he has held many roles, Dick has always remained loyal to the Demons.
"I call out, I barrack a bit, I can't help myself," he laughs.
"Carol and I will be speaking by telephone constantly before, during and after the game to lots of old friends who are similarly passionate Melbourne supporters."
And while they won't be at the MCG, Nellie Melba Retirement Village will be a great place to watch the drought be broken.
"We've got a lovely place to watch it here because the Ryman people are absolutely superb," Dick says.