Malawi is a long way from Australia at the best of times but when COVID-19 meant the Derrick family couldn't mourn together they felt as if they were on different planets.
Deborah Cheetham Retirement Village resident Neil Derrick was overcome by emotion recently when he recalled the moment he was reunited with his son Wayne, daughter in-law Pascale and granddaughter Nina, following the death of his wife Meriel last October.
"I know Meriel would have been looking forward to this so much," Neil said.
READ MORE:
"I was just overflowing with joy and happiness."
Having last visited in early 2020, boarder closures meant Wayne and Pascale who are teachers, and Nina couldn't make their annual Christmas trip to Ocean Grove.
However, when Meriel passed away the need to visit Australia became more urgent.
"In December eight countries in Africa, including Malawi were shut off and our flights were cancelled days before we were due to come for mum's memorial service," Wayne said.
"It was two things; not being able to be there to give the support you would like to was incredibly tough, and not being able to grieve with the family was tough."
It was the third time their flights had been cancelled.
"So being able to finally send that message to dad and say 'yup, it's all going to happen' that was a massive moment, and probably the most emotional moment," Wayne said.
Despite Malawi having a relatively low rate of COVID-19 due to a young population and outdoor living, the family self-isolated upon arrival in Australia before heading to Neil's villa at the village.
"We were fortunate to manage to get vaccinated in Africa, but we were still very conscious about not bringing the virus with us," Pascale said.
With Neil and all his other children living in Ocean Grove the visit was packed with family gatherings, but it was also a special opportunity to celebrate Meriel.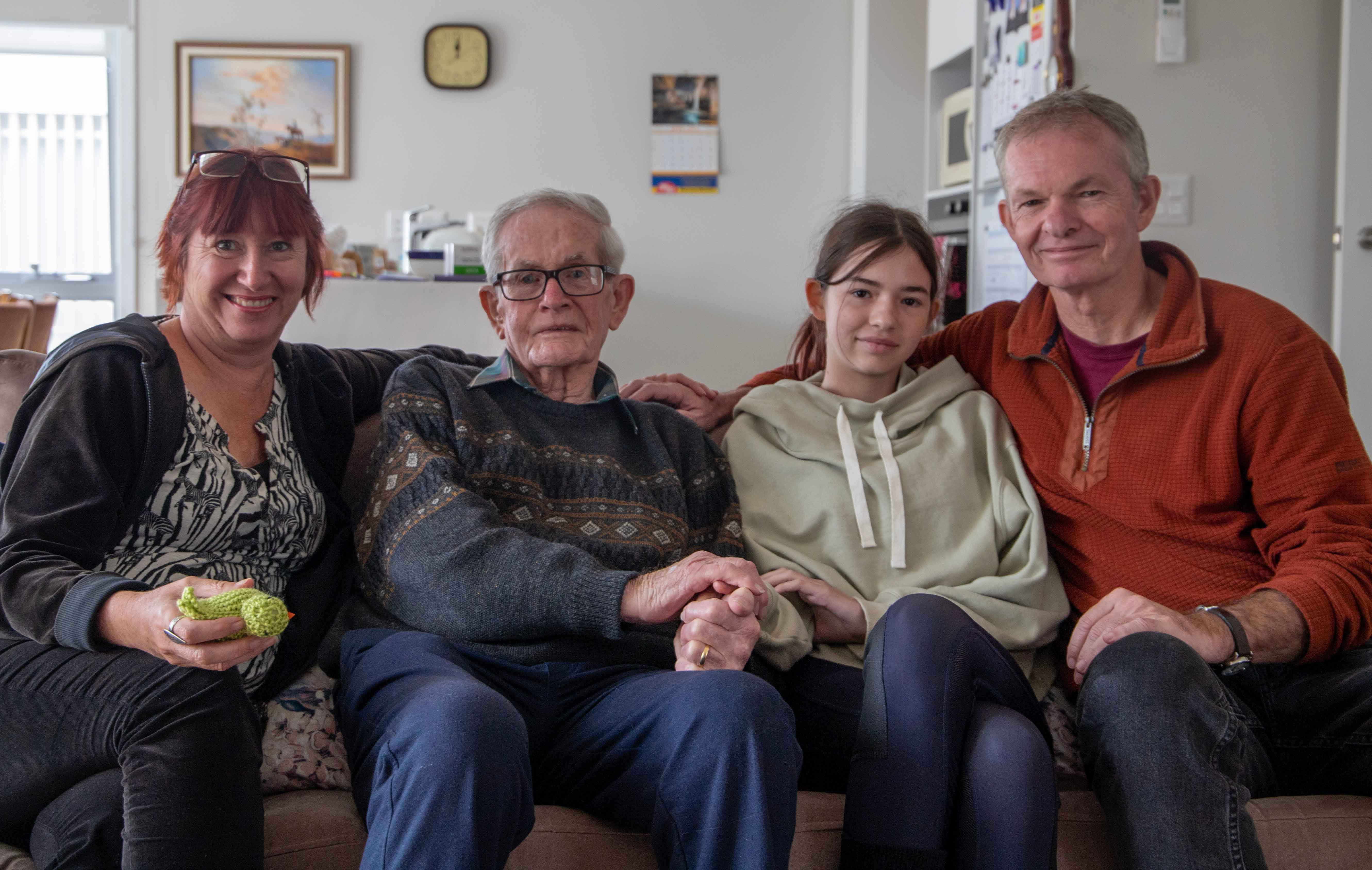 Pascale, Neil, Nina and Wayne at Neil's Deborah Cheetham Retirement Village villa.
The family scattered Meriel's ashes on Good Friday.
"We were able to be part of her memorial service, and we were able to contribute to the service and then it was all recorded, so that was important, but being here for this is important too," Wayne said.
The visit was also a chance for the family to see Neil's new home following his move to the village last September.
Wayne said while they had a virtual tour via Zoom, seeing it first-hand offered another level of assurance that his dad was in the best place.
"From a family point of view there is much more peace of mind in knowing that dad's here," he said.
And Pascale was impressed by the villa's amenities.
"We're quite taken by it, we live in a third world country, so it was a bit of a culture shock coming back, we're thinking heated floor in the bathroom, everything is new, it's definitely got an appeal," she laughed.
Importantly, Meriel who lived in an aged care facility, was also reassured by Neil's move.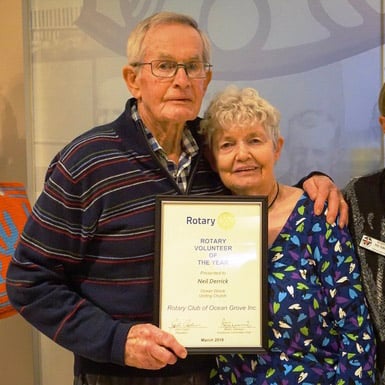 Neil and Meriel Derrick.
"After her second visit she said 'Darling, I'm really happy for you, it means a lot to me to know that you are going to be happy so close to where we used to live'," Neil said.
"We were married for 60 years, and three weeks and it made me feel good that she was happy for me.
"I'm very happy here and I was pleased Meriel got to see it."