It's the brightly coloured tights and broad smile that first give away how Triple A instructor Kerri Stephens feels about her job.
Kerri has led the Triple A (Ageless, Active, Aware) functional fitness program at Ryman Healthcare's Weary Dunlop and Nellie Melba retirement villages in Melbourne since the villages opened in 2014 and 2018.
"I fell in love with it (Triple A) the minute I started," she says.
READ MORE:
Kerri's Triple A classes help residents to stay physically active and well, but the social benefit is equally obvious, she says.
"We've got residents who are life-long gym goers that can do it all, and then we've got residents who have never been very active, and the great thing about Triple A is everyone has a go and it's a social thing.
"A lot of people have become really good friends through attending Triple A."
The classes also enable Kerri to educate residents about "little changes" they can make, like not sitting with their legs crossed, which will help their posture.
"I've even now got residents that go around and tell people to uncross their legs," she laughs.
Having worked in the fitness industry for about 20 years, the mentality of Ryman's Triple A goers is particularly inspiring, she says.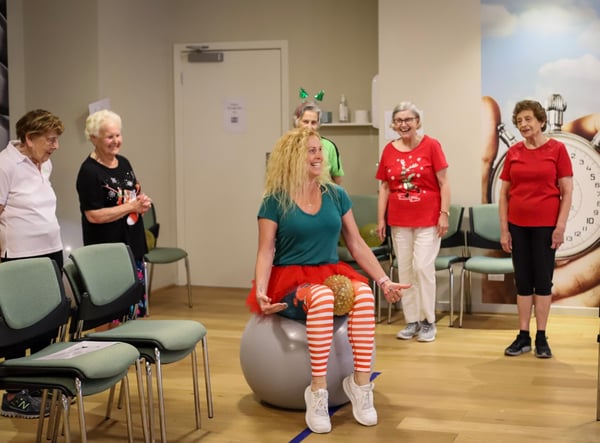 Kerri Stephens (centre) leads a Triple A class at Weary Dunlop Retirement Village.
"I want to be half as good as they are when I am their age."
"I've trained with a lot of age groups and they think they are going to walk out a different person.
"The residents come, they do all the tricky things I give them to do with a smile and a laugh, and then they come back and do it again."
It wasn't until after she had her children, and was working in sales, that Kerri decided to make a career out of her love of "the exercise burn".
"It was like an early mid-life crisis," she laughs.
"I went and did a personal training course; I bought a women's gym and I have not looked back.
"This is the best destination."
"I love the exercise burn and some people will say 'your idea of fun and my idea of fun are different'.
"But I'm the fittest and most inspired I've ever been."