Ryman Healthcare's 'Flynn's Flyers' relay team did their moniker proud when their feet flew around the track to win the Melbourne Olympics@Ryman relay final.
Relay teams from Nellie Melba, John Flynn and Weary Dunlop retirement villages went toe to toe at Elgar Park Oval in Mont Albert North, to walk a collective 21.6km, with each individual walking 1.2km three times to vie for Olympics@Ryman glory.
The shared Ryman and Olympic values of determination, spirit and kindness were palpable as the residents power walked around the oval to a soundtrack of enthusiastic supporters cheering them on.
READ MORE:
John Flynn Retirement Village relay team member Stewart Andrew said while he was not "in the slightest bit sporty" the competition was fantastic.
"I was a seafarer by trade, so I've never been in the slightest bit sporty, but this has been terrific," he said.
"Now that I've done it and the team have gone so well, I'd love to do it again at the next Ryman Olympics, if my health allows."
The Melbourne teams were joined virtually by groups from Ryman villages in New Zealand who competed in relay finals over three days.
Each competitor was kitted out with high-tech scanning technology which measured each completed lap, and a Fitbit to record time, distance and steps.
Weary Dunlop Retirement Village resident Diana Gatehouse said the words of her late husband, and former Sri Lankan swimming Olympic representative, Geoff Marks, were with her as she walked.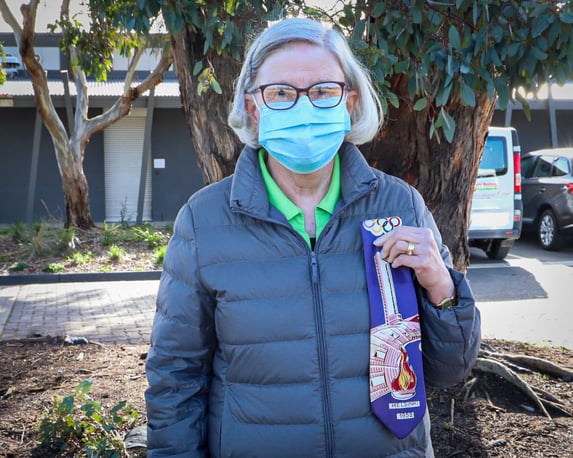 Diana Gatehouse with the Olympic tie worn by her late husband Geoff Marks.
"In 1952 Geoff was selected to go to the Olympics in Helsinki," she said.
"Geoff was one of those people that always said 'you can do it', so I was definitely thinking about him today."
Along with a sense of competition, Diana brought Geoff's Olympic tie to the final.
"It's very, very special just thinking that it would have been around his neck at such an important event in his life," she said.
Nellie Melba Retirement Village resident Premila Brito said the relay also made her reflect on the sporting success of family members.
Premila's daughter Sonia Brito represented Australia in hurdles and sprints at the Commonwealth Games in 2002 in Manchester and 2006 in Melbourne.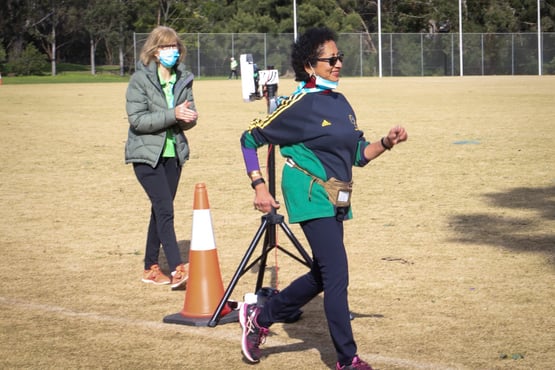 Nellie Melba resident Premila Brito competes in the relay.
"She is very proud that her older mother is now competing, she thinks that's great," Premila said.
"Instead of her following in my footsteps it's almost like I am emulating her.
"Of course, I'm never going to be at her standard, but I am having fun."
The Olympics@Ryman relay gold, silver and bronze medal winners will be announced once teams' times from New Zealand and Melbourne are tallied.