As Victoria emerges from restrictions imposed to stop the spread of COVID-19, Ryman Healthcare's construction team has its eyes firmly fixed on an increasingly busy future.
While the public health emergency brought much of the state's economy to a grinding halt, Ryman's nimble response to the disruption has kept its construction sites working, albeit at reduced capacity.
Victorian construction manager Martyn Osborn said the output of operations at John Flynn in Burwood East, Aberfeldie, and Geelong was cut by around half in order to implement social distancing requirements on site.
READ MORE:
Work on extensions to Nellie Melba in Wheelers Hill, which is an operational village, had to stop completely for six weeks to keep residents safe.
"COVID-19 slowed us down a bit but we're charging on," Marty says.
"It was a challenge like nothing we've faced before but health and safety is baked into our culture, so the team was able to look at it with clear eyes and adapt quickly.
"I'm very proud of how my team stepped up to the mark and took on that challenge."
Marty says the disruption will result in minor delays to the handover of some apartments at John Flynn, Nellie Melba, and at the village under construction at Geelong.
"It's always disappointing when delays happen, but that's tinged with a lot of relief because we're aware that it could have been much, much worse.
"The fact that it isn't, and we've only been held up a few weeks, is testament to the way the team tackled a massive logistical problem to ensure work could continue safely."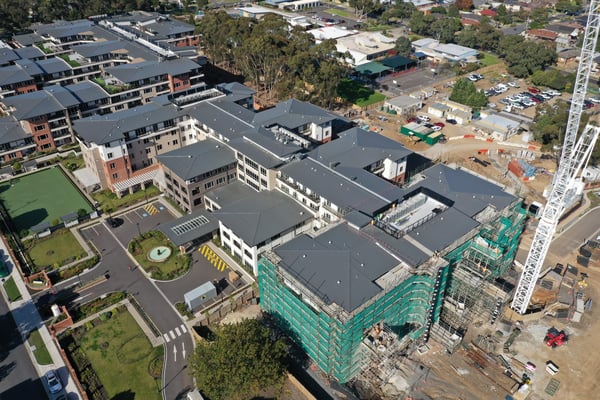 Nellie Melba's new apartment block is quickly taking shape.
The first Geelong residents are due to be given the keys to their new home in August, John Flynn residents will begin moving in in November, and apartments at Aberfeldie will be handed over in early 2021.
Nellie Melba will welcome residents to its new apartment block at the end of July.
And with construction of a new village at Ocean Grove set to begin in the coming weeks, the second half of 2020 is shaping up as a busy one.
"At the start of the year we certainly weren't factoring a global pandemic into our 2020 constriction schedule.
"But solving problems and getting on with the job just comes with the territory, and our team has been able to get us through it and looking ahead at what's to come."