When Glen Waverley's top cop Senior Constable Marc Burley first joined the force, he walked away after just one year.
"I originally joined in 1989 and then got out because I didn't think it was for me at that point," Snr Const Burley says.
More than 30 years on, it is this honesty which makes him the respected and skilled police officer he is today.
READ MORE:
"I was only 19 when I first joined and didn't have much life experience so I talked with my dad and uncle, who were in the police, and they said 'if you're not enjoying it then get out and if you want to get back in at a later time do that', and that's worked out really well," he says.
Snr Const Burley returned to the police just before his 40th birthday, equipped with life experience gained in trades, as a postie and a father.
The early days were still a baptism by fire, he says.
"Going from delivering mail to some of the jobs I've done as a police officer over the years was definitely challenging, but it was something I enjoyed from the first day."
Now, 13 years into his role as a general duties officer at Glen Waverley Police Station, Snr Const Burley's outstanding work ethic, professionalism, initiative, integrity, leadership, teamwork, community engagement and selflessness have earnt him the title of 'Glen Waverley Police Member of the Year'.
Snr Const Burley says he was "shocked" and "very humbled" to receive the award, sponsored by Ryman Healthcare, for "just doing my job that I don't expect recognition for."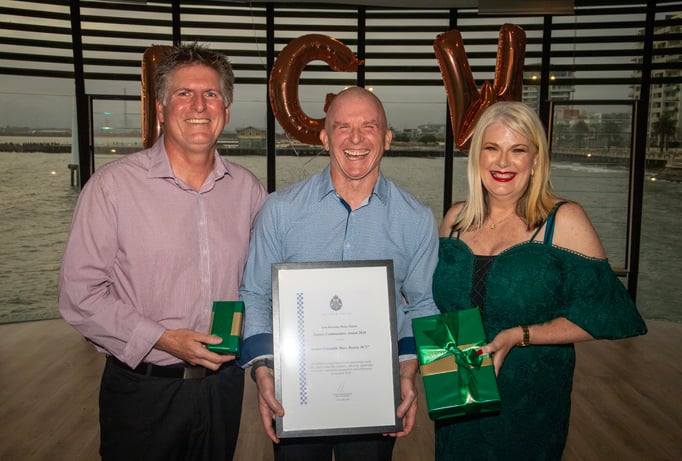 Glen Waverley Police Station Senior Sergeant Greg Dean, Senior Constable Marc Burley and Ryman Healthcare Victorian Sales and Community Relations Manager Debra Richardson.
As a general duties officer Snr Const Burley is at the coalface of policing in the Glen Waverley area, and when he talks about his approach to the role, it is evident why he is the division's member of the year.
"It's never been all about punishment for me, where there's crooks to be caught I still love that, but I like the community involvement more to be honest," he says.
"That's where I feel I can really make a difference.
"I'm a people person, I love speaking to people and hearing their stories."
Sadly, the prevalence of family violence incidents in the area means many shifts involve responding to domestic incidents.
But Snr Const Burley believes there is always an opportunity to make a positive impact.
"With family violence you like to think you are playing a part in that you can try and stop that family's violence, whether that means the two parties stop having contact with one another, or if the family has kids, hopefully keeping the family unit together and supporting them."
He is also passionate about engaging with at-risk youth.
"When you sit down with many of the kids and have a chat with them, they're actually really decent kids considering the backgrounds they come from and challenges they face," he says.
Snr Const Burley's grassroots approach to policing has not only earnt him the respect of colleagues, but also offenders.
"I've dealt with people who haven't been very fond of the police and as a result of our interaction they've sent a letter saying I've changed their opinion, and that's another rewarding part of the job."
His success comes down to approaching his work with care and being part of a strong team, he says.
"I'm pretty empathetic, and I love helping people.
"We've got great leaders here and that goes down to the troops as well. Quite often after a major job all of the members will sit down and have a debrief and I think that really helps as far as dealing with what we may have seen and continually improving in our work."
He has no plans to trade general duties for a desk job.
"To be stuck inside it's not me, I like getting out there and helping where I can."
Ryman Healthcare sponsored the Glen Waverley Police Member of the Year Award as part of a broader partnership between the two organisations.
The partnership will include connecting Ryman villages with police to offer residents a chance to learn more about scams, road safety and security.