Rapid house sales with healthy profits have shown two future John Flynn Retirement Village residents Melbourne's post lockdown property market is alive and well.
It took just four days for Julie Gray to sell her Burwood East home after it went on the market last month.
Julie said acquaintances had expressed doubts about the viability of selling her three-bedroom, two-bathroom home during COVID-19, however her experience was far from negative.
READ MORE:
"I decided I'd take the plunge and thanks to my real estate agent it worked out extremely well," she said.
The quick sale meant Julie could focus on preparing for her move to a two-bedroom apartment at John Flynn Retirement Village, not far from the home she sold.
"I'm very pleased with the result of my sale and how easy it was," Julie said.
"Some people are really worried about the state of the economy and whether that would impact on the sale of their home. However, my experience was extremely positive."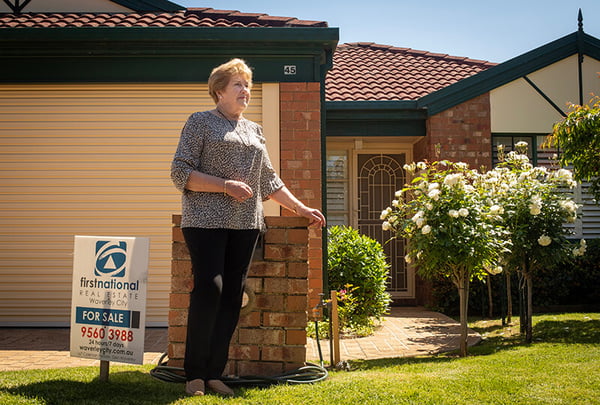 Julie Gray outside her Burwood East house.
Just 10 minutes away from Julie, Geraldine Jenkins' three-bedroom Vermont home was also snapped up.
Geraldine's real estate agent had a long list of prospective buyers eager to purchase in the area, meaning when restrictions were eased to allow property viewings, only two parties inspected the home before it was sold.
"It was so much easier than I expected it would be," Geraldine said.
"I wasn't expecting it to be that quick, personally I was thinking it may have to go to auction."
Both Geraldine and Julie said despite not being tech-savvy themselves, virtual walk in tours of their homes created by their real estate agents had been hugely beneficial.
"I'm not on the internet myself, but the agent stepped in and sorted it all and the result was fantastic," Geraldine said.
John Flynn Retirement Village sales advisor Michelle Shaw said she was thrilled to hear of the sales.
"It is fantastic that our residents under contract are having great success selling their homes following the easing of COVID-19 restrictions.
"I am aware of several residents who have listed homes during a weekend and sold them for more than they were hoping for by midway through the following week, and I certainly hope this gives others confidence."
Figures on Domain.com.au revealed Melbourne house prices increased 1.6 per cent on September last year despite COVID-19.
Domain senior research analyst Nicola Powell said demand for houses had built up during lockdown.
"I do think pent-up demand and supply will see a flurry of activity and that this will support prices," she said.
"It's something we've seen in other countries that have come out of a strict lockdown."