Deborah Cheetham Retirement Village sales advisor Janine Wilde says the success that has earnt her a place as a finalist in the National Retirement Living Awards comes down to two things.
"You have to genuinely care about what you do and love what you do," she said.
Janine is one of two finalists in the Victoria/Tasmania Salesperson of the Year category of the retirement industry awards.
READ MORE:
The award recognises a salesperson who provides exceptional customer service, demonstrates strong resident and community engagement, and drives retirement living sales.
Janine started her role at Ryman Healthcare after working as a kindergarten teacher and later excelling in the real estate and aged care industries.
It was "an absolute privilege and honour" to be nominated.
"To be honest, I still can't believe I was nominated, let alone being a finalist," she said.
"It is an absolute privilege and honour, not only on a personal level, but on behalf of Ryman and my Victorian sales team."
As a sales advisor, Janine is often the first point of contact for people enquiring about Deborah Cheetham Retirement Village. However, her role does not end there, rather she embarks on a journey with residents, from offering advice about downsizing to handing them the keys to their villa on the day they move in.
Helping people to make informed decisions about the next chapter of their lives was incredibly rewarding.
"People put a huge amount of trust in me when they are considering the move," she says.
"It's really important I listen with empathy so I can understand what brought them to consider retirement living, and so I can provide the best advice and options based on their individual needs."
As well as fostering strong relationships with residents, Janine has established several community partnerships, including with the Ocean Grove VIEW Day Club.
Her passion for her job is met with appreciation and respect by village residents.
Earlier this year residents Fred Andrews and Geoff Chandler nominated Janine for the Ocean Grove Rotary Team Member of the Year Award.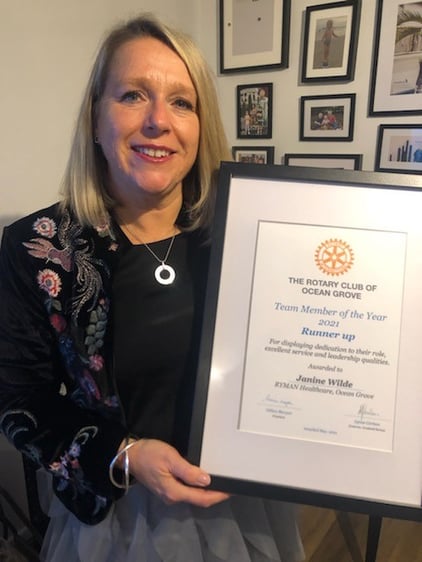 Janine Wilde with her Rotary Club of Ocean Grove award.
Fred said Janine's dedication was what motivated them to nominate her for the award.
"She's always smiling, nothing is ever a problem and she really puts the time into her job," he said.
The regional winners of the Retirement Living Awards will be announced in an e-campaign later this month.