Janine Wilde knows better than most what the comfort of retirement feels like.
While the Ocean Grove retirement village sales advisor is far from retiring herself, she says her "dream job" offers the same sense of contentment that residents living at a Ryman village have.
"For those moving into a Ryman village it is the last move when it comes to a home, and I feel that way with my career with Ryman," she says.
READ MORE:
"I think that's a pretty special way to feel about a job."
Having worked as a kindergarten teacher, before excelling in the real estate industry and more recently in the aged care sector, Janine's role as a sales advisor is the culmination of her strengths and experiences.
"The two things I've been so passionate about, caring and sales, have now been rolled into one, and so for me, I've absolutely come home, helping residents on this journey is my dream job," she says.
As a sales advisor, Janine is often the first point of contact for people enquiring about the Ocean Grove village, however her role does not end there, rather she embarks on the journey of moving with them, from offering advice on downsizing to handing the keys over on move-in day.
"The fact people put their trust in me like this is very empowering, and a real privilege," she says.
"My previous role gave me a great insight, not only into the industry, but also into the community, because I experienced all of the aged care facilities and retirement villages in the Geelong region, the Bellarine Peninsula and the Surf Coast."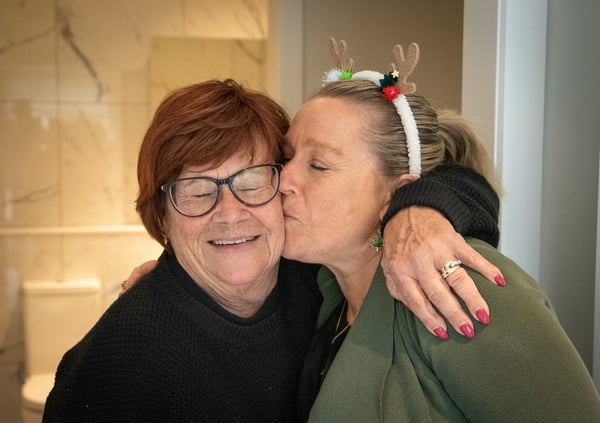 Ocean Grove retirement village resident Lola Fisher and Janine Wilde.
These insights not only allow Janine to go about her work with understanding and empathy, but they have also enabled her to establish community partnerships including with the Ocean Grove Day VIEW Club.
When she is not sharing her bubbly personality with Ocean Grove village prospects and residents, Janine is busy with three children and "an incredibly supportive husband".
"He has lived and breathed my careers, and is so grateful that I'm clearly really, really happy in what I do," she says.
"It gives us great peace of mind that I have found my 'retirement' career'."