Ryman Healthcare Australia's first CEO Cameron Holland's life could look very different had he accepted the offer of a place at a prestigious music school.
Blessed with both academic ability and musical talent, Cameron found himself choosing between the Melbourne Conservatorium of Music where his skill playing the double bass caught the eye of examiners or studying business at Monash University.
READ MORE:
Having held senior leadership positions with Australian Unity and Jetstar, and most recently as the CEO of Luxury Escapes, Cameron says he is pleased he chose the latter.
"It was probably a pretty mature decision for a 17-year-old, but I thought it would be easier to have a business role and I could always do music on the side," he says.
"It's harder to do it the other way around.
"The only flaw in that plan is having the time to do something on the side. I was pleased to hear that Ryman sponsors the MSO though!"
While he says he doesn't have a lot of spare time after work, as a father to 10-year-old Bella and 7-year-old Sophie, in his downtime Cameron swaps the title of 'CEO' for 'taxi driver'.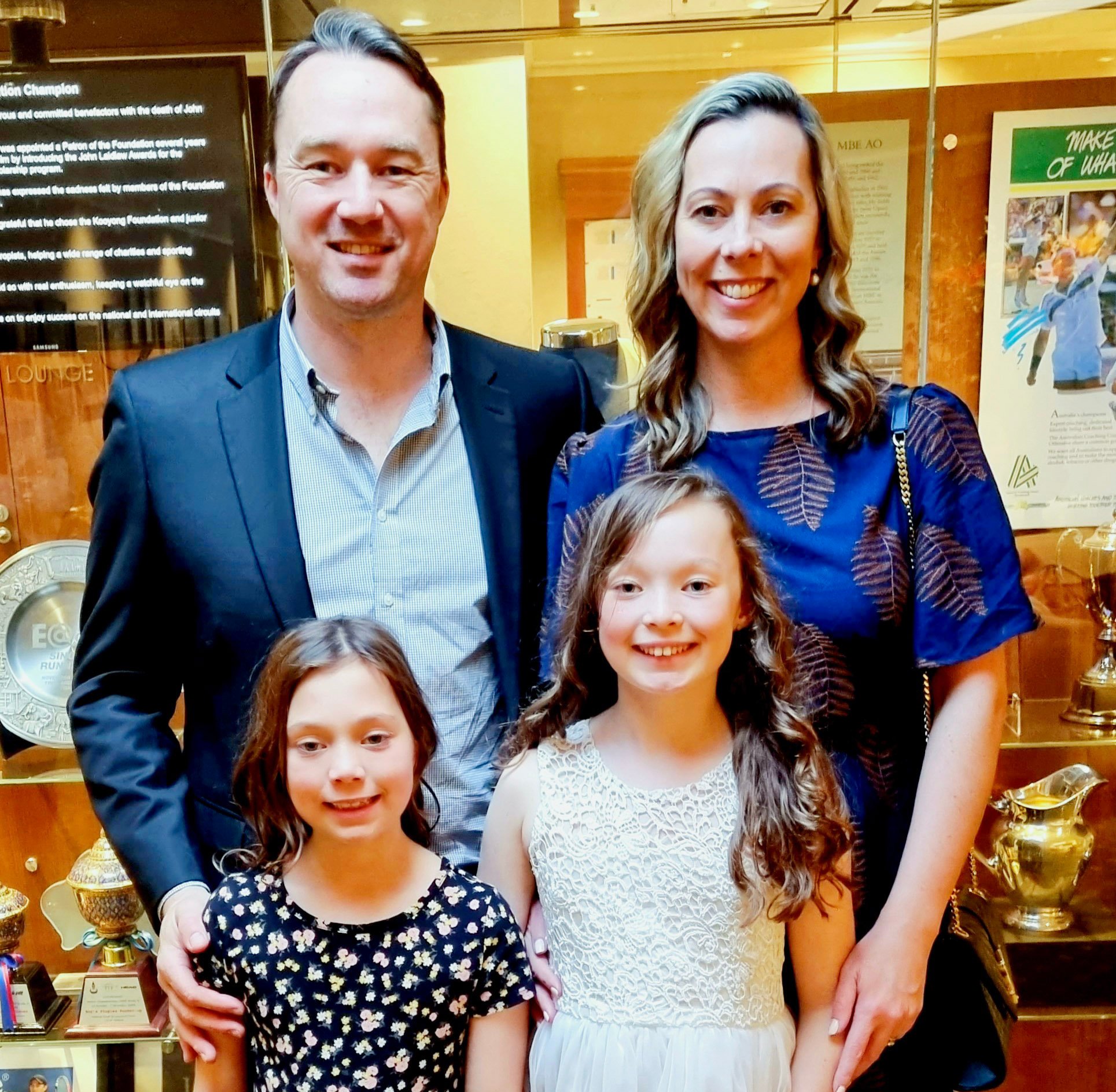 The Holland family, a bunch of intrepid travelers, are looking forward to more overseas adventures when borders reopen.
"There is a lot of music lessons and sport on at the moment, so during the weekend I'm dad's taxi, and then we might go bike riding at the beach, visit friends and family or play tennis," he says.
"They [Bella and Sophie] seem to have a new thing every week."
It was while working for Australian Unity as the Chief Operating Officer, running the company's retirement living, aged care and home care divisions, that Cameron discovered a passion for genealogy.
"I'm really fascinated by family history, so I'm the chief documenter, I'm the one with the Ancestry account finding our family's secrets all the time."
He hopes that what he discovers will be of value to his children in the future.
"What I've noticed having kids is I want to make sure they know their grandparents and their stories, because when you're a child you don't really care about the history, that comes later, often when it's too late.
"I had a conversation with my grandmother before she passed away. She had pretty serious dementia, but when she talked about her early life it all came back and she became quite animated and energetic.
"I never recorded it, which really annoyed me because it would have been fascinating to watch later and share with my family. There were some cracking stories!"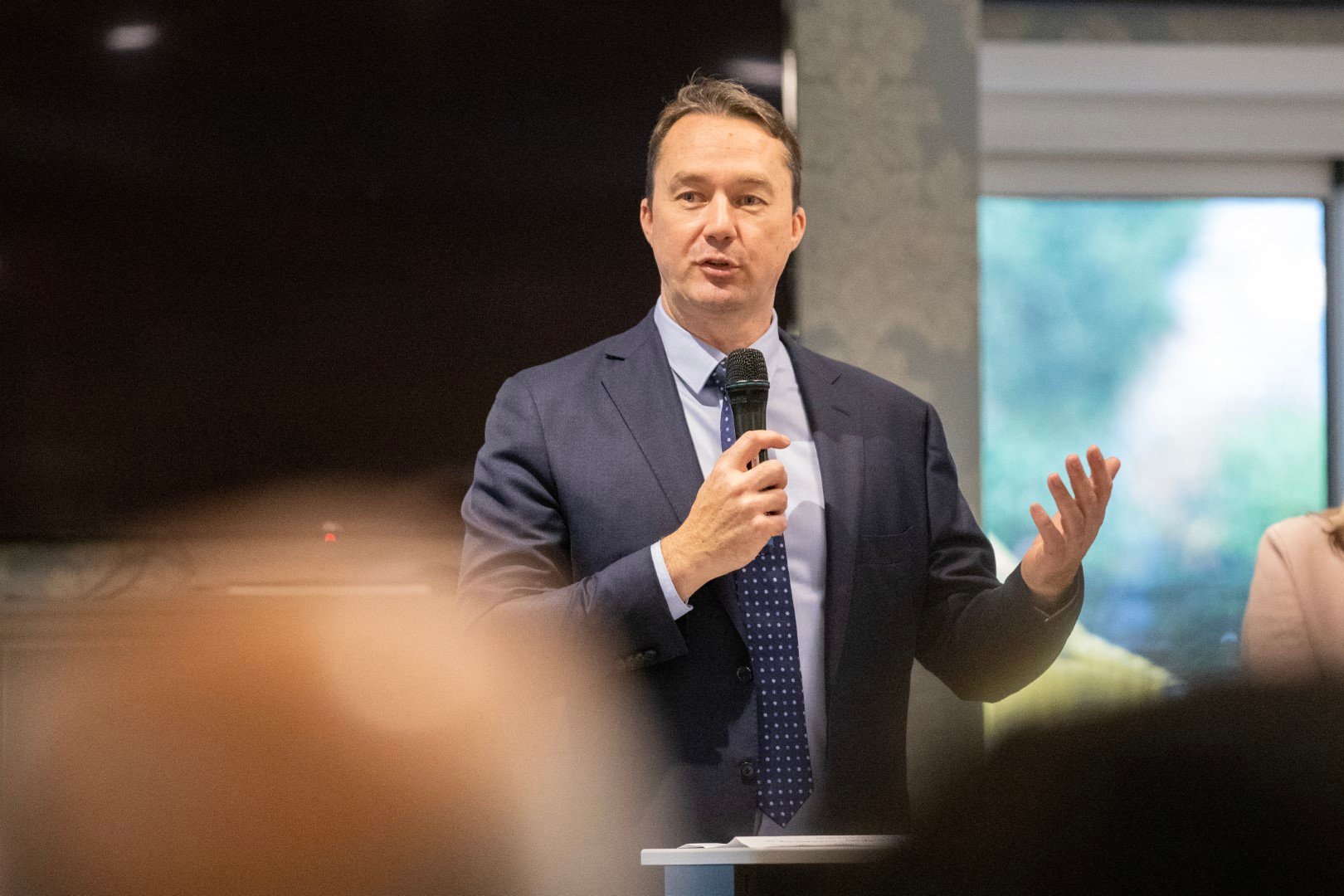 Cameron speaks to residents at Nellie Melba Retirement Village about his plans for Ryman's future in Australia.
Cameron's latest project has been to interview his father, mother, and aunts on camera to ensure their stories are documented.
He also enjoys sharing his passion for travel with his family.
Having got a taste for "the real Japanese life" as a high school and university exchange student, he and his family have returned to the country many times.
"We prefer depth over breadth. It might be strange, but I like to be able to return to the same café, restaurant or museum we enjoyed last time."
When travel restrictions allow, the intrepid family plan to add Portugal, Morocco, and other parts of northern Africa to their list of countries visited.
For now, though, Cameron is diving headfirst into his newest adventure, as the first CEO of Ryman Australia.
"I like purpose-driven companies, ones that are actually contributing to society, that are also commercially savvy and growing" he says.
"I'm excited about getting stuck in and kicking some more goals with Ryman."