The name of one of Australia's brightest Indigenous stars has a found a new stage at Ocean Grove's newest retirement community.
Ryman Healthcare today announced its retirement village in the Victorian seaside settlement will be named in honour of Deborah Cheetham AO.
The renowned Yorta Yorta soprano, composer, and educator is the first Indigenous Australian to have a Ryman village named in their honour, joining Weary Dunlop, Nellie Melba, John Flynn and Charles Brownlow.
READ MORE:
A member of the Stolen Generations and the LGBTQI community, Deborah Cheetham has been an influential advocate for First Nations people and a powerful public voice in the fight against all forms of discrimination.
More than 120 people attended the unveiling of the village's name at The Dunes, in Ocean Grove today.
Deborah Cheetham was among them and said she was honoured to be recognised in this way.
"In my conversations with Ryman I discovered a level of understanding, a duty of care to its residents and a welcoming heart," she said.
"Ryman are pouring their understanding of country and their willingness to learn further into the bricks and mortar of their establishment.
"I'm so incredibly proud to be associated with them in this way."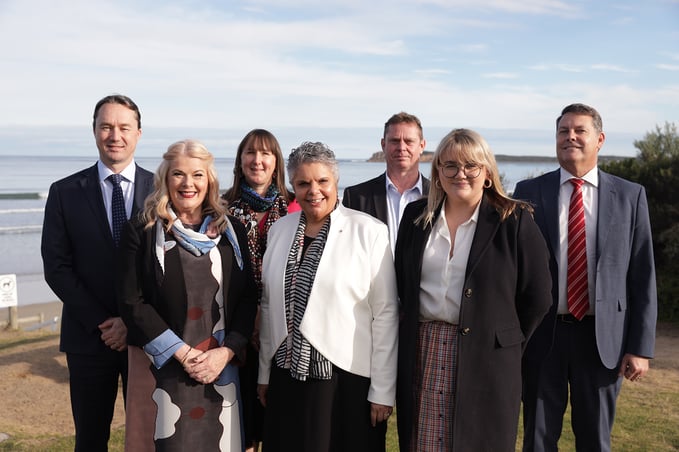 Ryman Healthcare Australian CEO Cameron Holland, Victorian Sales and Community Relations Manager Debra Richardson, Victorian Marketing Lead Kiely Buttell, Deborah Cheetham, Victorian Construction Manager Martyn Osborne, HR Manager Emma Hogan and Victorian Operations Manager Paul Sutton.
Ryman Healthcare's Victorian Sales and Community Relations Manager Debra Richardson said it was fitting the announcement of the first Indigenous Australian to be honoured in this way took place during NAIDOC Week.
Debra noted the theme for NAIDOC week this year was "Heal Country".
"Today is about acknowledging one outstanding Australian in her own right – a once-in-a-generation talent and a national treasure – but we hope in some small way it will also be about healing.
"And I don't mean to suggest that putting an Indigenous Australian's name on a retirement village is in itself the balm for what ails race relations in this country.
"But by amplifying the voice of someone who has been an agent of understanding and reconciliation we hope to help hasten the process of healing in our own unique Ryman way."
Ryman has been naming its villages after outstanding people for more than 35 years, Debra said.
"First and foremost, this tradition is about honouring the contribution of that person and doing what we can to help preserve their legacy.
"But it's also about creating a unique identity for that village. The village community becomes coloured by their character and imbued with the values that set that person apart.
"Deborah is a voice of honesty, a builder of bridges, and an irreplaceable leader in the Indigenous community."
The unveiling also included performances by the Dhungala Children's Choir which was formed by Deborah Cheetham in 2009.
The Deborah Cheetham Retirement Village will include villas, assisted living in serviced apartments and an aged care centre.
It will have a gym, a bowling green, a hair and beauty salon, a chapel, a cinema, a bar, a cafe and an indoor swimming pool, among other amenities.
The village will be home to around 280 people when complete. The first residents moved in in December last year, and more will join them as the rest of the village is completed.