Ryman Healthcare's coastal community is open after three couples moved into villas at its stunning Ocean Grove village.
Lola Fisher, who was the first to move into a villa with her husband Graham, said it was "very special" to be a pioneering resident.
"It's impressive, amazing," Lola said.


READ MORE:
"It's very special to be the first, and what Ryman has done the whole way through has been fantastic."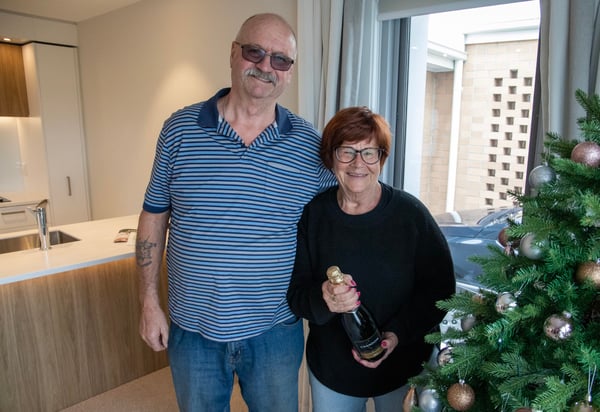 Graham and Lola Fisher in their new villa.
The move to the Shell Rd village signaled an exciting new phase, while being just 500m from their previous home.
"It's a whole new chapter, and we are not ever going to move, ever," Lola said.
For Ocean Grove sales advisor Janine Wilde the significance of the arrival of the first residents was immense.
"I feel like I'm at a wedding and I'm the mother of the bride," she said.
"Seeing the residents go into their villas gives me a real peace of mind that it has been the right decision for them."
Ocean Grove village resident Lyn Carey-Nicholson, who moved into the village with her wife Anna, said her villa and surrounds had exceeded expectations.
"I just can't believe that it is so large, it's just beautiful and Ryman have done such a great job in setting us up, and all the way through, right from the get go, Ryman have looked after us beautifully," she said.
The couple's lovely two-bedroom villa felt like home "straight off", she said.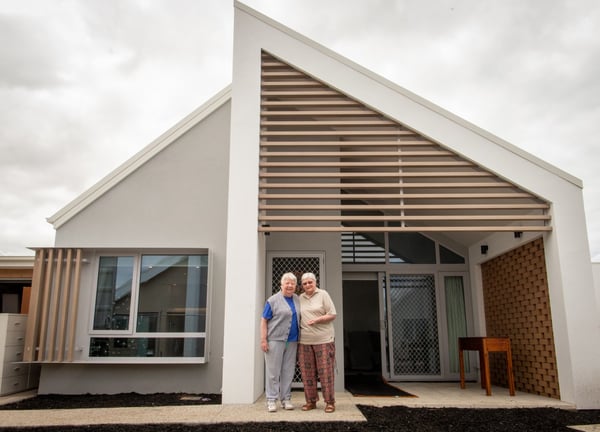 Anna and Lyn Carey-Nicholson outside their villa.
With the residents moving in just days before Christmas, the Ryman team ensured they were greeted by Christmas trees, decorations, bubbles and treats in the fridge and pantry, Janine said.
"To be able to present the villas like they were homes already, and really welcome the residents to the next step in their lives, was so important," Janine said.
"To see a whole team of people from all different parts of Ryman just working together to help the residents make their homes was awesome."
John and Marie Hughes enjoy their villa.
The sense of community at the village will continue to grow over the coming months with a steady stream of residents due to move into villas in January and February.
When completed the village will include more than 300 residents, villas and serviced apartments as well as aged care comprising low care, high care and specialist dementia care.