Not many people can put a smile on the face of nearly everyone they interact with.
Nellie Melba construction site member Peter Gertos is one of the rare few.
The modest foreman says he has been left stunned and honoured after being
named 'Construction Team Member of the Year' at the recent 2020 Annual
Ryman Awards.
READ MORE:
"I just didn't believe it, I still can't believe it," Peter says.
"It's a real big deal."
A self-confessed "person's person", Peter is described by his team as one of
the most helpful, capable and polite people you could meet.
For Peter, being a good colleague and having good relationships with
residents comes down to listening.
"I've got time to chat with everybody, I really do enjoy hearing what they
have got to say," Peter says.
"I'm not bragging about myself, but I've had tradies say 'we don't mind
working with you because you get the job done but in a fun way'.
"It's not just point the finger and get it done, we have a joke on the way, or
two, maybe even three, but it is about holding people to the level you hold
yourself to."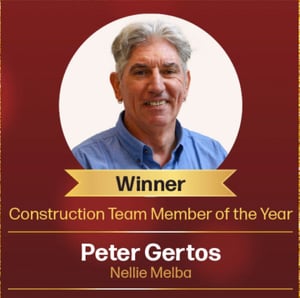 Before becoming a foreman Peter "worked on the tools" for Ryman for about
1.5 years.
"I enjoy carpentry, I enjoy doing the work, but also the role I am playing now as foreman.
"What I enjoy about Ryman is the amount and quality of work that we do here.
"I've been around for many years, I've had my own business, I've worked for
other people, and with Ryman the quality is right up there."
And when he is not at the site, he is striving to maintain that same quality in
his own projects.
"We've got a property down at Rye that my wife Sylvia and I spent two years
renovating," he says.
"It was 80-plus years old and it has three little bedrooms.
"So we've done that and we are really happy with what we achieved and now
I'm looking for another project.
"We've got two daughters and I've suggested maybe it's time that they
bought a house just to keep me out of mischief," he laughs.
As for his grandest project, Nellie Melba's stunning new Violetta building,
Peter says the team is busy putting the finishing touches on the apartments
of future residents.
"I look forward to keeping busy with that," he says.