Blue skies and crashing waves set the scene for public meetings about Ryman Healthcare's new coastal retirement village in Ocean Grove.
Residents, and a daughter of residents of the resort-style village, shared their experience of Ryman with others considering the move.
Lyn Carey-Nicholson, who was among the first to move into the village on December 23, 2020 with her wife Anna, said she was thrilled to call the new community home.
READ MORE:
"It (moving to the village) was the best decision we've ever made," she said.
"I've been a resident of Ocean Grove since 1957, I would not want to live anywhere else and I've made many friends here and I've made many friends in the Ryman village since we've been there."
With a lift installed in their former home, Anna and Lyn decided the only point in moving would be to settle somewhere they could receive care and support should they need it.
"We wanted somewhere we could go and know we wouldn't have to be farmed out somewhere else if we got sick," Anna said.
The continuum of care on offer, coupled with the quality of their "beautiful" villa, made Ryman stand out.
"We knew there were a couple of places down on the other side of the peninsula, but they would never be suitable for us," she said.
"When Lyn walked into the villa for the first time, she was speechless, and then she found one word: 'Wow! Wow! Wow!'"
Fellow village resident Lorraine Mentha, who spoke at the meeting with her husband Lew, said Ryman changed her mind about retirement villages.
"I really didn't think I was ready to move into a retirement village," she said.
"But when I saw the display kitchen at the Ryman sales suite on The Terrace, and I learnt there were three tiers of care, I thought 'yup, now's the time'.
"No more stairs to climb, no more pools to have to keep clean, I was ready to go."
Lew and Lorraine moved into their "very nice, beautiful and modern" villa in January.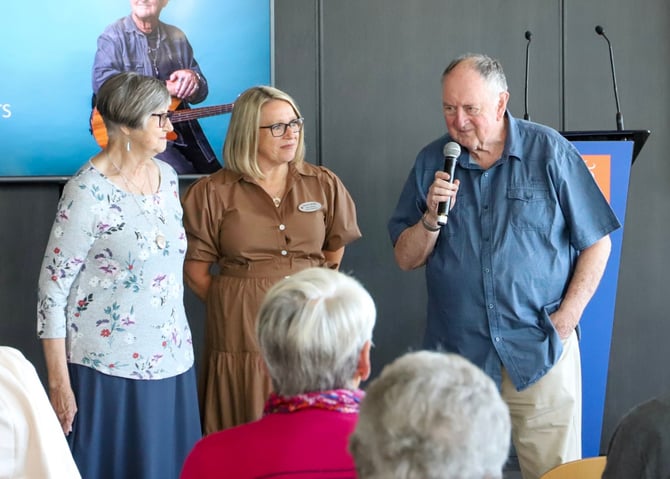 Lorraine Mentha (left), Ryman Healthcare sales advisor Janine Wilde and resident Lew Mentha at the public meeting.
Penny Stephens, whose parents Bruce and Geraldine recently moved into the village, said she would be "forever grateful to Ryman" for the support her family had received.
"It's been about peace of mind," she said.
"When my parents sold their home of 50 years in Jan Juc, we wanted to find something that was right for them now, but also something that might be right for them in 15 years."
With a job in banking, Penny said she was 'the daughter looking for the gotcha moment'.
"The information you'll see in the contracts is absolutely phenomenal," she said.
"There is nothing hidden in there, there are no 'gotcha moments'."
Ryman's "extremely professional, very transparent but very friendly" approach lessened a stressful time.
"As a next of kin, or child, helping their parents do this, the peace of mind I have got from Ryman is probably the thing that I appreciate the most," she said.
"I'll be forever grateful to Ryman for the experience that we've had."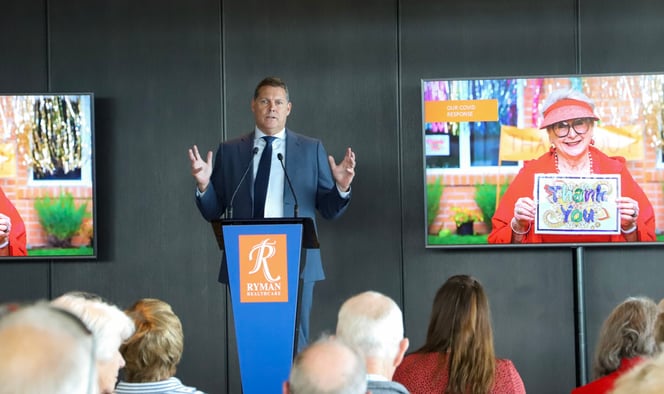 Ryman Healthcare Victorian Operations Manager Paul Sutton discusses Ryman's history.
Upon completion the village at 181-195 Shell will include villas and serviced apartments as well as aged care comprising low care, high care and specialist dementia care, a bowling green, indoor pool, cinema, bar, café and gym.
It will be home to more than 300 people.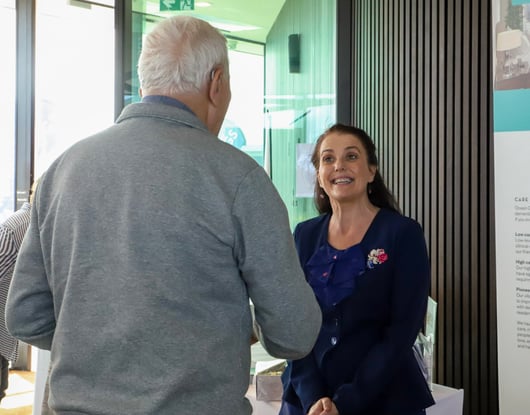 Ryman sales assistant Theresa Turner.
The three public meetings, at The Dunes, were led by Victorian Operations Manager Paul Sutton, Victorian Sales and Community Relations Manager Debra Richardson and Regional Sales Manager and Community Relations Team Leader Denise Thompson.
They discussed Ryman's 37-year history, explaining all aspects of life in a Ryman village.