On the 11th day of the 11th month Ryman audiences honoured those who made the ultimate sacrifice by bearing witness to the haunting artworks of prisoner of war Jack Chalker.
When Thai-Burma Railway POW leader and Ryman Healthcare village namesake Colonel Edward 'Weary' Dunlop had the wherewithal to ask Jack to document the atrocities, neither man knew if the images would see the light of day.
Jack hid at least 100 confronting artworks in bamboo and prosthetic limbs to conceal them from the Japanese guards, enabling them to ultimately be used as evidence at the Tokyo War Crimes Tribunal in 1946.
READ MORE:
Ryman Healthcare Victorian Sales and Community Relations Manager Debra Richardson said Remembrance Day was a fitting time to acknowledge the more than 60,000 Allied POWs, and 16,000 POWs who died, after being captured by the Japanese and put to work on the Thai-Burma Railway.
"You are looking at an act of heroism that has ensured that one of the most important episodes of Australia's war history will never be lost or forgotten," she said.
The late Jack Chalker (centre), John Dunlop and Ryman Healthcare Victorian Sales and Community Relations Manager Debra Richardson.
Weary Dunlop's son, John Dunlop, spoke to a collection of the artworks.
"Jack was occasionally caught 'up to mischief' with his paintbrushes and on occasions that that happened, he usually got a rifle butt planted firmly between the eyes," John said.
Jack was not the only artist in captivity on the railway, and others created works documenting the beatings he received because of his bravery
A painting of Jack Chalker following an attack by Thai-Burma railway guards.
Among the other images shown by John were several highlighting the resourcefulness of his father and rank and file who fashioned whatever materials they could get their hands on into medical supplies.
One work showed a water bottle and army belt used as a colostomy bag, while another showed a contraption used to create suction used during jungle surgeries.
"Without some improvisation there was no way they could arrest the death toll," he said.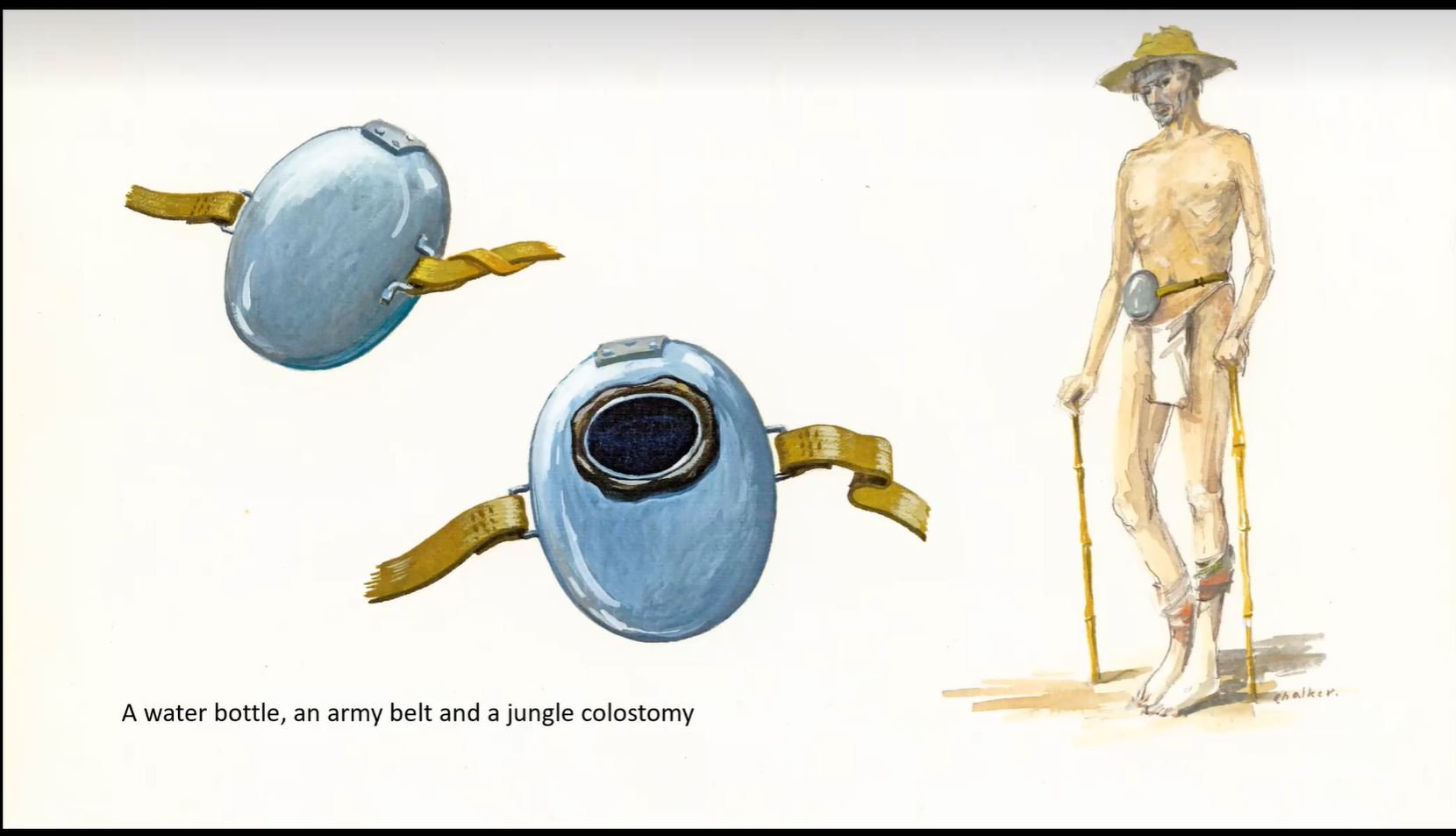 Following their release from captivity, both Weary Dunlop and Jack Chalker, who held half of the collection of artworks each, did not look at the works for many years.
"For all the years that he (Weary Dunlop) held half of the exhibition, he never took it out and showed it to his children, or said very much about it," John said.
Following his father's death in 1993, John made the Australian War Memorial custodians of Weary Dunlop's collection of Jack's artworks.
Later, many of the works from Jack's half of the collection were also donated to the memorial.
Ryman Healthcare has publicly exhibited Jack's artworks three times, with plans for further exhibitions.
The Jack Chalker artwork event was one of several Remembrance Day services held by Ryman.
At Ryman's Weary Dunlop, Nellie Melba, John Flynn, Charles Brownlow and Deborah Cheetham retirement villages moving services were held where residents and staff gathered to lay wreaths and acknowledge those who sacrificed so much to protect our freedoms.

Nellie Melba residents and staff at the village's Remembrance Day service.