One hundred and one years after the guns on the Western Front fell silent so too did residents at Ryman's Weary Dunlop and Nellie Melba villages.
Adorned with poppies and strings of gleaming medals, former servicemen and women gathered with others in the villages on the 11th hour of the 11th day of the 11th month to remember those who made the ultimate sacrifice for King and country.
Weary Dunlop Village Manager Kym Faulkner said similar "simple services" were being held across Australia, but that did not make the service any less moving.
READ MORE:
Weary Dunlop Resident Jim Garrie recounted the courage and bravery of VC-recipient Keith Payne, who was commanding the 212th Company of the First Mobile Strike Force Battalion in Vietnam when the company was surrounded on three sides by Vietcong in 1969.
Despite suffering wounds to both his arms and legs, Keith threw grenades to keep the encroaching group at bay.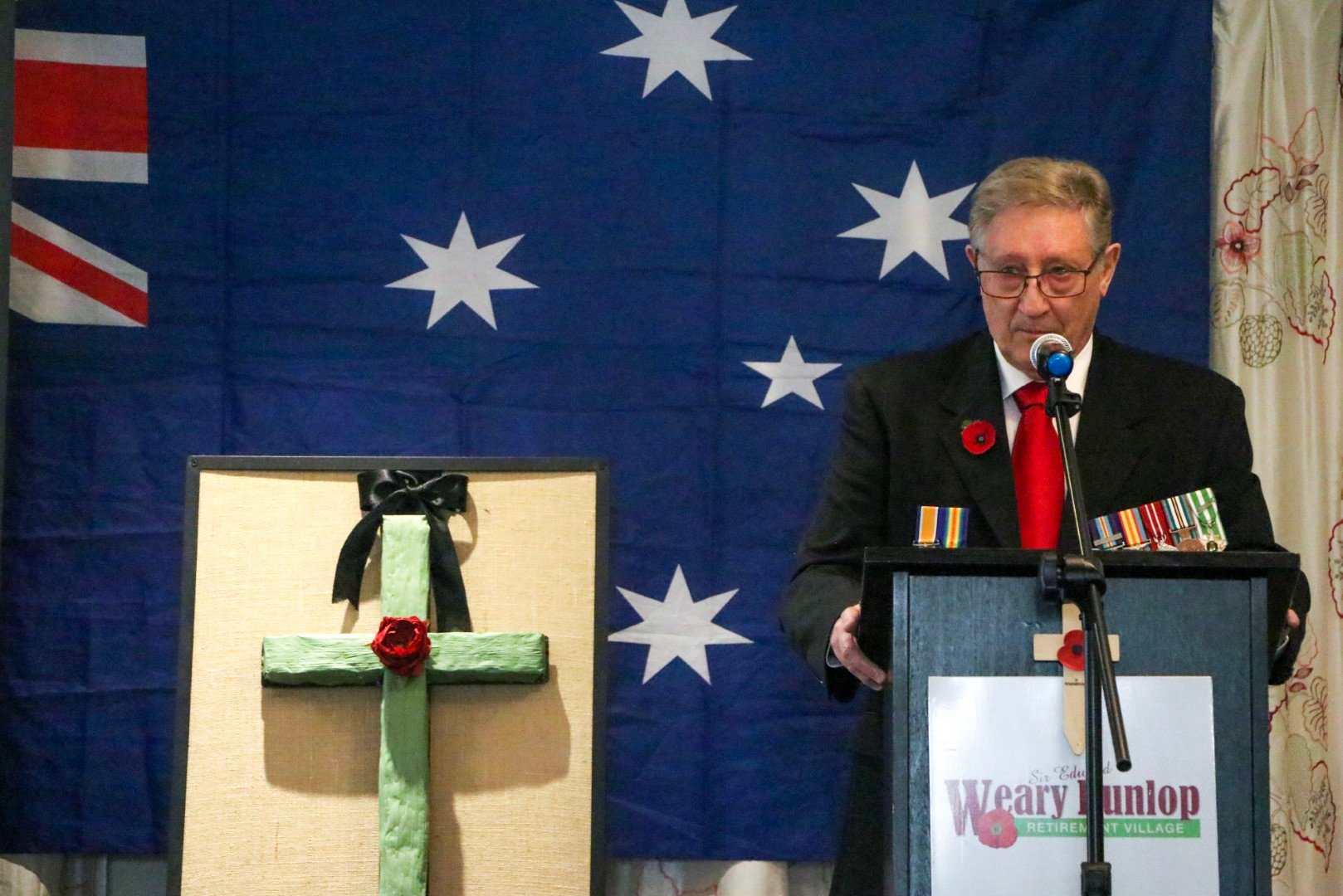 Weary Dunlop resident Steve Costelow recites Duncan Butler's famous poem 'Mates'.
"Payne then spent three hours looking for wounded and isolated soldiers," Jim said.
The following year Queen Elizabeth II awarded Keith the Victoria Cross for his actions. Today he is the last living recipient of the original "Imperial" Victoria Cross.
Such acts of bravery are echoed in the actions of the village's namesake Weary Dunlop who is renowned for his courage and leadership while being held prisoner by the Japanese on the Thai-Burma Railway during WW2.
The service revealed a former Royal Australian Airforce hero pilot, marriages that were formed during the war effort and the children of WW1 soldiers with everlasting memories of the impact of war on their fathers.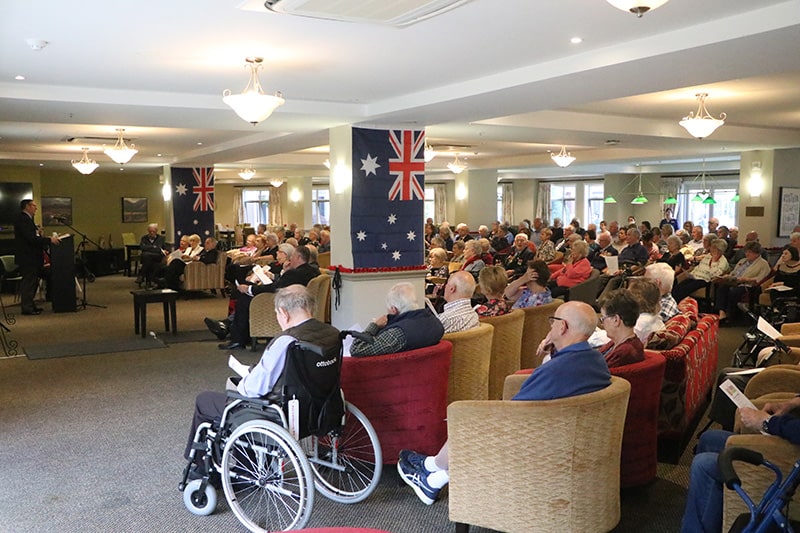 Weary Dunlop's village centre was packed for the service.
Weary Dunlop resident Margaret Jenkinson's father Frederick Lucas was wounded five times since he enlisted at the age of 19.
For Frederick, the scars of war were far from just physical, Margaret said.
While the service highlighted the outstanding actions of Australians in wartime, it was the very ordinariness of those on the front line, oceans away from home, sons and daughters, mothers and fathers, that shone through.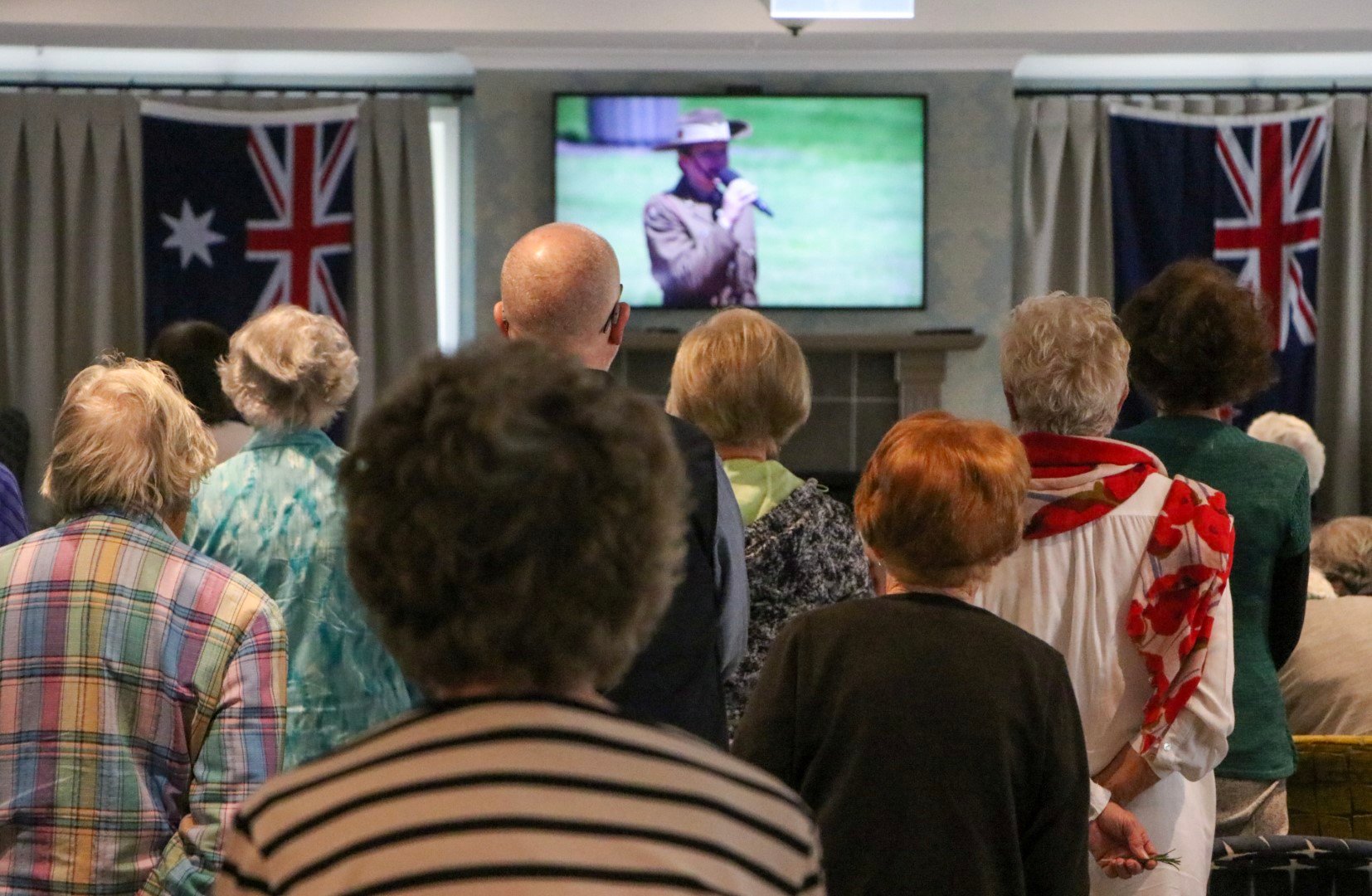 Around 100 people attended Nellie Melba Retirement Villages first Remembrance Day service.
Steve Costelow's reading of Duncan Butler's "Mates" perhaps best summed this up.
"And so to all that ask me why we keep these special dates, like 'Anzac Day'… I answer WHY??! - We're thinking of our mates."
At Nellie Melba, around 100 residents, family members and staff gathered in the village centre to pay their respects.
It was the village's first Remembrance Day service since officially opening in April this year.
Both services were followed by a morning tea.