September 14 is R U OK? Day
The day is an opportunity to meaningfully connect with people in your life who may be experiencing a tough time.
It's a chance to invest in personal relationships and build connections which enable people to seek help before they're in crisis.
To recognise this important day, we spoke with John Flynn Retirement Village resident and Vietnam veteran Robert Creek about his experience of living with Post Traumatic Stress Disorder (PTSD).
John Flynn resident Robert Creek is ok, but the Vietnam veteran says there have been many times in his life when he's not been.
It's been 56 years since Robert, then 22-years-old, arrived in a ravaged Vietnam to serve as a member of 3 Troop 1 Field Squadron, Royal Australian Engineers (RAE).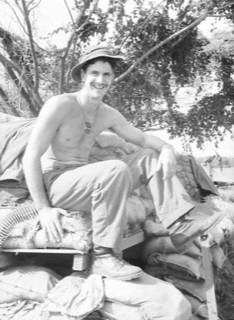 Robert spent 3 ½ months in Vietnam, but it was the events of a few hours in 1968, while Troop 3 was on an overnight standing patrol of Fire Support Base Andersen on the north-easterly outskirts of Saigon, that irreparably changed him.
READ MORE:
"I had never been so heavily loaded with arms in my life," he said.
"I carried a hand grenade in each top breast pocket, seven magazines of twenty rounds of SLR bullets were clipped to my web belt, a continuous metal belt of machine gun rounds hung over my shoulder down to my thigh, a claymore mine complete with detonators, wire leads, hand generator, and a rifle made up my armament."
Despite this, during 3.5 hours of fierce grenade and mortar attack on The Fire Support Base by the Viet Cong, Robert and his mates was unable to defend themselves.
"We weren't able to fire a shot in reply, the circumstances didn't permit it," he said.
When dawn finally broke four of Robert's mates had been killed.
"To this day the sight of my four deceased friends, just lying there, squashed one on top of the other in a disheveled heap on two stretchers is as clear as it was then, and often brings tears to my eyes," he said.
Robert was treated for shrapnel wounds to his left arm and right leg in Vietnam, and later in Melbourne, but it was the unseen mental wounds which caused the most damage.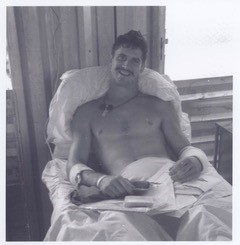 "I came back with a lot of guilt, and it stayed with me for years and years and years," he said.
"I was constantly thinking 'I should have done more', I was trained to kill, I was trained to wound, I was trained to capture, and I didn't do any of that."
In Melbourne, Robert and his wife Kay raised two daughters, and Robert threw himself into a career as a teacher.
"I had become a workaholic, I just wasn't coping with work, so I threw myself into it 24 hours a day," he said.
"There was just an emphasis on work, work, work, nothing else mattered but work.
"And that kind of decision making has consequences on your everyday life, it hurts relationships with the people you love the most."
In 2000, Robert had a nervous breakdown at work.
"And then one day I realised I needed some help," he said.
A call to the Vietnam Veterans Counselling Service (now 'Open Arms') offered a "personal lifeline".
"I had an in-person appointment with two female psychologists within an hour," he said.
"That hour was one of many, many visits, but that hour changed my life."
During the sessions Robert was diagnosed with Post Traumatic Stress Disorder (PTSD).
In hindsight, Robert believes he was ill for a long time before his diagnosis.
"Mental illness can creep up on you," he said.
But a diagnosis for what he had been grappling with for years was initially overwhelming.
"For several years now, I have been able to accept the diagnosis and that it's something I and my family live with," he said.
"But there was a shocking stigma to being mentally ill for a long time and initially it was like getting a bolt of electricity through me, you think to yourself 'this is not fair'."
Robert has seen the same psychiatrist for the past 23 years, and regular therapy, the unwavering support of family and a passion for travel, including a return trip to Vietnam, have transformed his life.
"The shame isn't there like it used to be, thank goodness," he said.
Writing, which has been a lifelong passion for Robert, has also been helpful.
"I have written a lot of stories, not only about the war," he said.
"Writing one of the stories, about my experience during the war, I just sat and cried at the computer.
"I cried and cried and that was very therapeutic."
While awareness of mental health and the ability to talk openly about challenges had improved, stigma, cost and availability were still obstacles for many needing support.
Robert said it was important people having a tough time felt safe to speak with a trusted person.
"And I think the first thing to do when you are supporting them through a tough time is to encourage them to get professional advice," he said.
"Mental health is too serious to be taken half-heartedly."
Today Robert has a perspective on life that only time affords.
"I'm very happy," he said.
"I've had an amazing life.
"I'm an ordinary guy, with an amazing life (without putting medals on myself!)," he laughed.
*If you, are someone you know is struggling with mental health, phone Lifeline on 13 11 14, or Beyond Blue on 1300 224 636.