Ryman Healthcare's John Flynn Retirement Village manager Roslyn Prentice has been recognised as Australia's best.
Roslyn was named 'Village Manager of the Year' at the Leading Age Services Australia Excellence in Age Services Awards which were held on Aged Care Employee Day.
The award recognises Roslyn's total commitment to the wellbeing of residents and staff at the village, leadership during COVID-19, and creation of initiatives to improve the lives of older people.
READ MORE:
Her award-winning initiatives included the creation of a 'Resident Directory' featuring comprehensive information on everything from allied health professionals in the area to fun things to do.
The directory, which is given to all residents upon their move to the village, has received praise from people who moved from outside of Melbourne to John Flynn.
Roslyn was surrounded by residents and team members at the village when she found out she had won and was greeted by rapturous applause.
"I'm incredibly humbled to be named 'Village Manager of the Year," she said.
"This is an acknowledgement of not only myself, but the amazing people at John Flynn and at Ryman Healthcare who support me to lead such a fabulous community.
"Everyday it is an absolute privilege to work with such a dedicated team who provide outstanding care to our residents."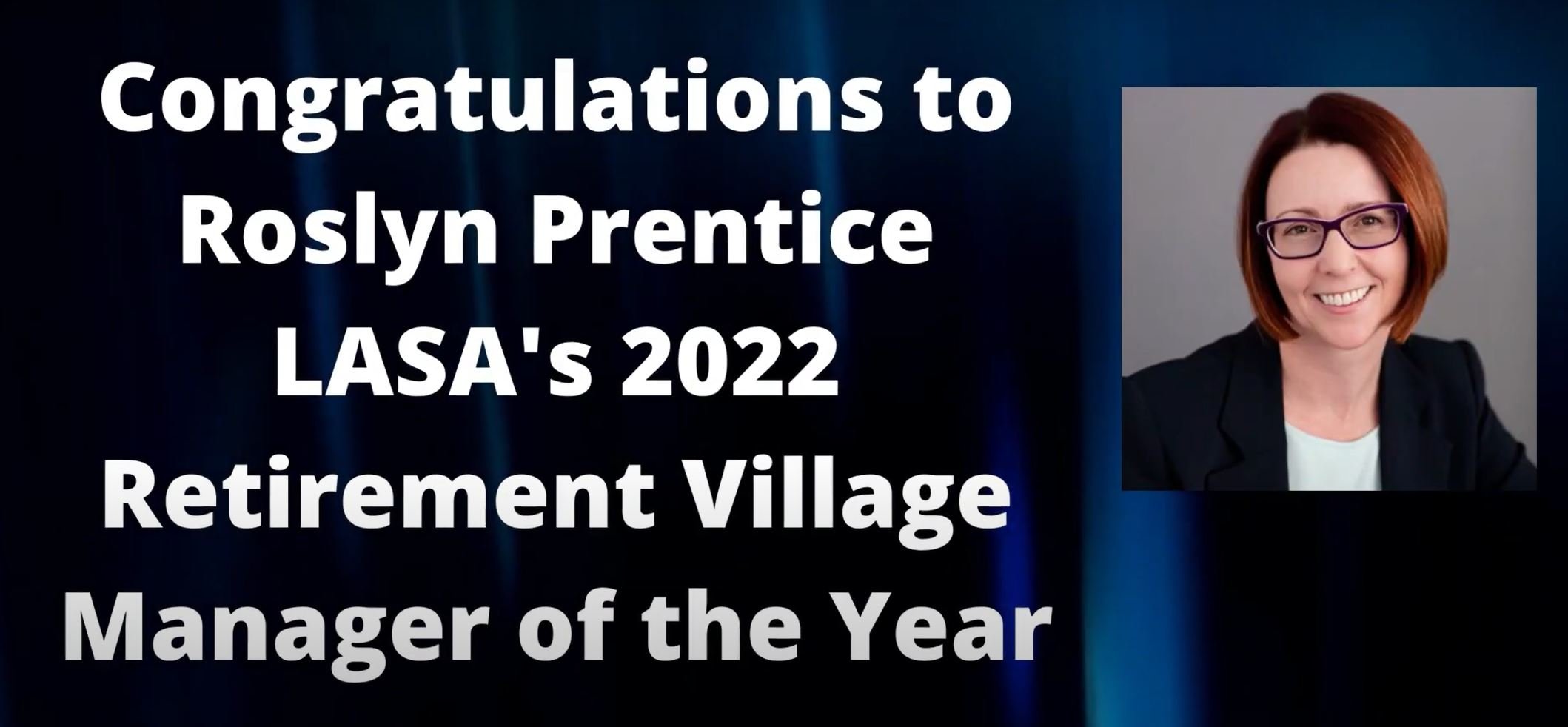 Roslyn was one of three finalists in the Village Manager of the Year category.
Since she began working for Ryman in 2019 she has worked at three villages.
During this time, she has led the establishment and management of John Flynn, including welcoming more than 140 residents to the village and recruiting a team of 90 staff.
Upon completion of the village, she will lead 120 staff supporting more than 500 residents.

Ryman Australia CEO Cameron Holland with Roslyn Prentice.
Ryman Australia CEO Cameron Holland said Roslyn was an extremely deserving recipient.
"Roslyn not only manages the independent living, but residential aged care and serviced apartments and home care as well," he said.
"The size of the team and the responsibility this requires is immense.
"We are extremely lucky to have a leader like Roslyn as part of the team."
Ryman Australia Operations manager Rami Kamel said Roslyn always strived for excellence.
"We expect care that is 'good enough for mum and dad', but Roslyn makes it even better, she takes it higher," Rami said.
"I'm really, really proud of her and her team is really, really proud of her.
John Flynn Retirement Village Resident Services manager Meagan Spicer said Roslyn was a manager who led with confidence, compassion, and kindness.
"I applied for the vacant position because of Ryman; I wanted and accepted the offer because of Roslyn," Meagan said.
"We all want to work harder for our teammates and see the village grow as a result of the example Roslyn sets."

Roslyn with John Flynn resident Graeme Barr during the screening of the awards.
John Flynn resident Ray Keppie said Roslyn's leadership of the village made him 'proud' to call it home.
"She's a very strong person, and that's what I like about her," Ray said.
"I'm really proud, because it's not only a reflection of Roslyn, but the village and residents."