Team members from Ryman's Nellie Melba and Weary Dunlop villages are rolling up their sleeves in more ways than one to help with Victoria's COVID-19 vaccination blitz.
About 100 Ryman staff spread cheer and gratitude to people administering the vaccination, and staff from other aged care providers queuing to get the vaccine, by handing out baked treats and goodie bags while they waited to be vaccinated recently.
Ryman Healthcare Quality Operations Manager Joanne Wang said Ryman team members wanting to get vaccinated and say thank you to Melbourne vaccinators, attended the Sandown Racecourse vaccination hub across four days.
READ MORE:
"The vaccinators are playing a huge part in helping our population stay safe from COVID-19," she said.
"The process was very well organised and it enabled us to protect more staff, and consequently residents.
"Because of this we wanted to thank the vaccinators for their tireless work to support our communities."
The gifts were a wider Ryman team-effort, with more than 150 freshly baked muffins prepared by Nellie Melba head chef Lawrence Manohara-Seelan and his team, and goodie bags containing chocolates, a Department of Health post-vaccine information sheet, a thank you note and copy of the Ryman Quarterly magazine, packed by other staff.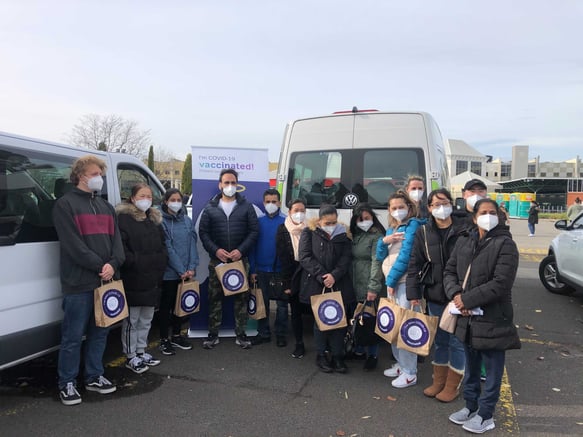 Ryman team members after being vaccinated at the Sandown Racecourse.
Vaccinators and staff from other aged care providers were blown away by Ryman's kind gesture, Joanne said.
"They were really amazed and appreciative of Ryman's generosity.
"We aren't aware of any other aged care provider in Victoria who has given thank you gifts to the vaccination team."