A charitable morning at Nellie Melba Retirement Village saw Cameron Holland, CEO of Ryman Healthcare Australia, hand over a cheque for $33,835 to the Prostate Cancer Foundation of Australia as well as announce a new partnership with The Fred Hollows Foundation.
Each year, Ryman selects a charity partner to support for the next 12 months.
Residents and staff focus their fundraising efforts on the charity for the coming year, and Ryman matches every dollar they raise at the end of the year.
Ryman villages in Australia raised over $16,000 to help reduce the impact of prostate cancer on Australian men, their partners and families – a further $16,000 was contributed by Ryman.
READ MORE: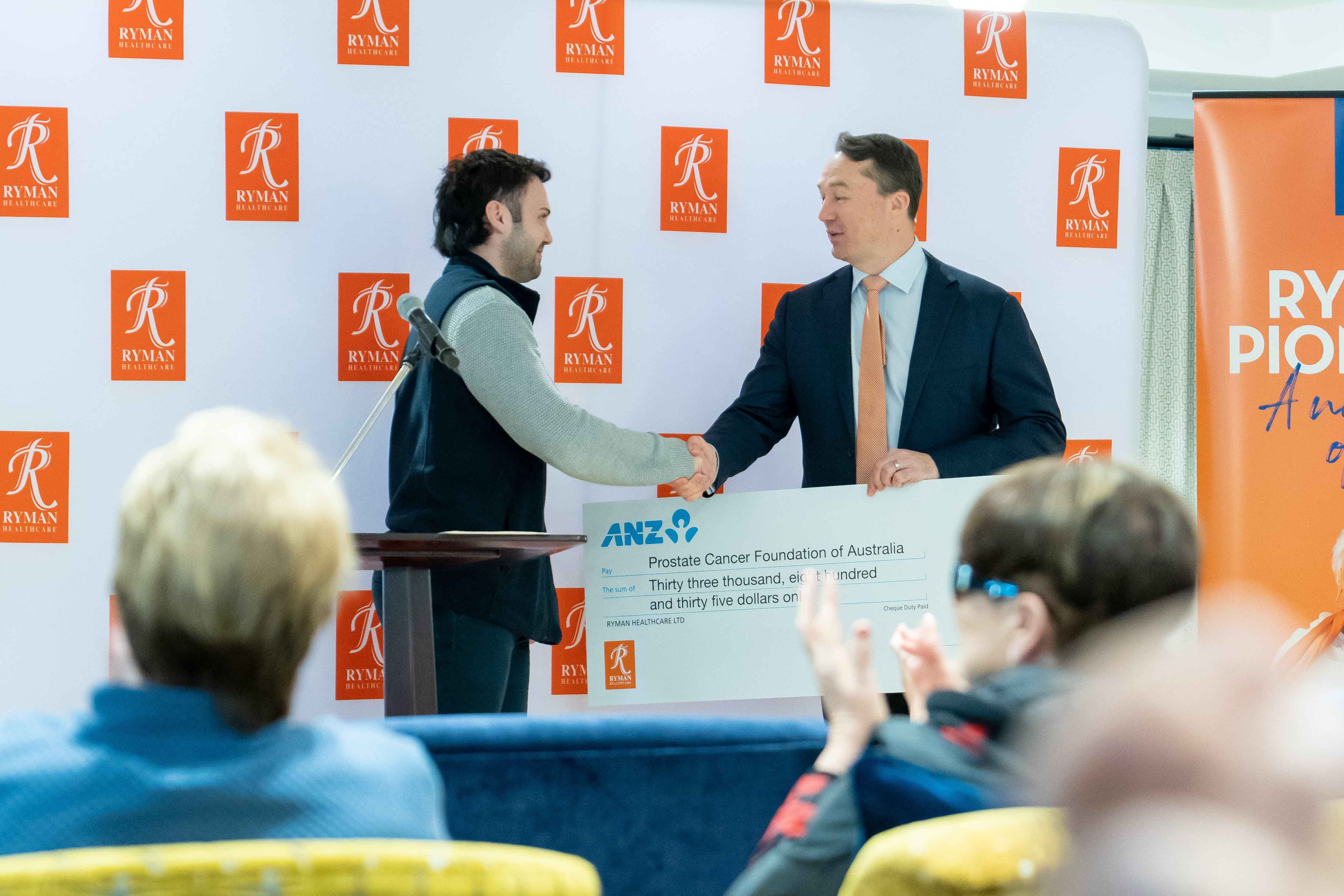 Chris Harding from the Prostate Cancer Foundation of Australia receives the donation from Ryman Australia CEO Cameron Holland.
Chris Harding, the Victorian Community Engagement Manger for Prostate Cancer Foundation of Australia, said Ryman's donation "is incredibly important and helpful" for their foundation.
"We really think our partnership with Ryman is so important because as a not-for-profit organisation we run on donations and awareness,'' Chris said.
"At the moment we have 105 prostate cancer specialist nurses over 96 sites, and our goal is to have a specialist nurse in every hospital around Australia, in the public and private sector, because they're free to access."
Chris said detecting prostate cancer early is key and he's looking to continue to spread awareness and break the stigma around getting tested.
"Prostate cancer is the most diagnosed cancer in Australia, so it's a disease that's affecting a lot of people and their loved ones,'' Chris said.
"We want to break the stereotype of testing for prostate cancer. In some cases, people do get tested in the way you're thinking, but other options like a blood test and MRI scan can be used now as well.
"The old way of doing it is not completely gone but it's getting phased out because we're getting more and more advanced."
After handing over the cheque, Cameron announced that The Fred Hollows Foundation had been selected as Ryman's new charity partner for the year ahead.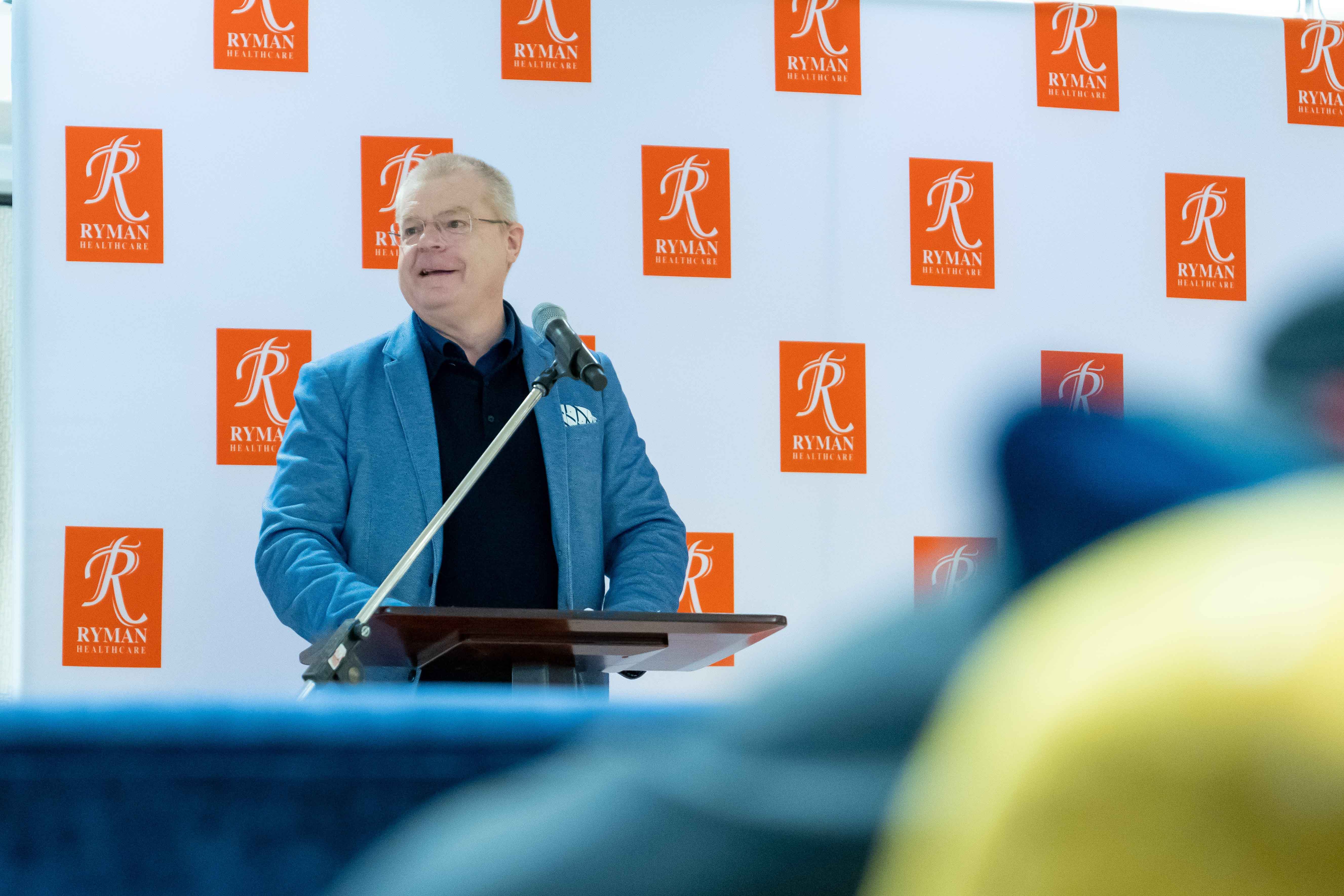 Ian Wishart, CEO of The Fred Hollows Foundation, speaking to Nellie Melba residents and staff.
Ian Wishart, CEO of The Fred Hollows Foundation, spoke to the importance of their new relationship with Ryman.
"We are extremely grateful to be chosen as Ryman Healthcare's charity of the year. As an organisation that invests in community and values access to quality care, we are excited for what should be a rewarding partnership," Ian said.
"The Foundation can only do its work restoring sight because of the support of Australians and the generosity of organisations like Ryman Healthcare.
"Our partnership will help close the gap in eye health between Indigenous Australians and non-Indigenous Australians, ensuring everyone in Australia has the right to sight."
Speaking with Nellie Melba residents, Ian touched on The Foundation's ultimate goal, which is to ensure everyone has access to high quality eye health care.
"In Australia, that means closing the eye health gap between Aboriginal and Torres Strait Islander people and other Australians by building an eye health workforce and infrastructure to enable Aboriginal and Torres Strait Islander organisations to design, lead and implement eye health and vision care services for their various communities." he said.