Ryman Healthcare has an emerging operatic superstar to call its own, and his name is Samuel Piper.
The Melba Opera Trust has just announced the seven young singers accepted into its 2019 scholarship program, with Samuel the recipient of the inaugural Ryman Healthcare Opera Scholarship.
READ MORE:
Ryman named its new village in Brandon Park Nellie Melba, after working closely with the opera trust to secure the blessing of the iconic opera singer's descendants in the UK.
As part of the partnership, Ryman sponsored the creation of a scholarship in the company's name.
Melba Opera Trust General Manager Amy Black said the scholarship will provide Samuel, a baritone, with a year-long program of intensive artistic development alongside business training, mentoring and performance experience.
"We are enormously grateful to Ryman for the valuable philanthropic support they are providing to the Melba Opera Trust and, most importantly, to Samuel and the future recipients of this perpetual scholarship," Amy said.
Samuel said the year ahead of training and performing will be hard work, "but it's always so exciting and it's such a joy to do what we do".
"I'm really excited to be associated with Ryman Healthcare, and I'm really looking forward to heading out to Nellie Melba Retirement Village and sharing a few arias and duets with my colleagues.
"I'm extremely passionate about and dedicated to this career, Without the support of generous organisations and companies such as Ryman Healthcare and Melba Opera Trust, it really would not be possible for us to gather the amount of training and experience that is necessary for us to be competitive on an international stage."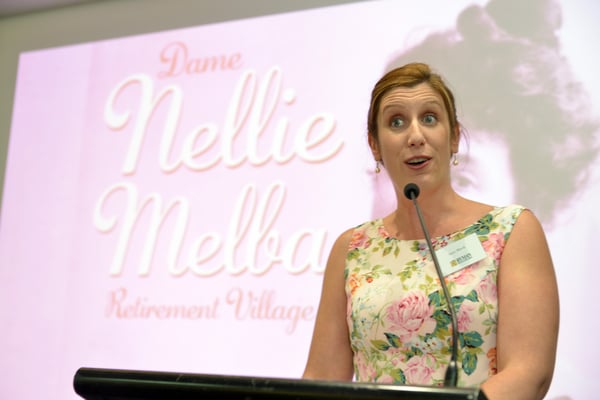 Melba Opera Trust General Manager Amy Black
Amy said alumni who have completed the program are now performing in major opera houses all over the world.
"This is the pathway and opportunity that the Ryman Healthcare Opera Scholarship will now provide to a deserving recipient each year.
"We're especially thrilled to be offering the inaugural scholarship in the same year that Ryman officially launches the Nellie Melba Retirement Village.
"There is certainly much to celebrate, and I feel that Dame Nellie would be both impressed and proud."