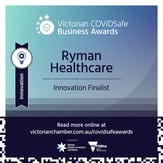 Ryman Healthcare has racked up another accolade for its award-winning COVID-19 response, with the retirement living and aged care provider named a finalist in the Victorian COVIDSafe Business Awards.
Today the Victorian Chamber of Commerce and Industry announced Ryman's innovative measures to keep residents, their families and team members safe from COVID-19 were not only exemplars for the retirement and aged care sectors, but for all Victorian businesses.
READ MORE:
The awards judging panel, chaired by Victorian Chamber of Commerce Chief Executive Paul Guerra, said Ryman's response "helped save lives".
"The judges thought this was a fabulous response that was ahead of the curve in preparedness," the panel said.
"There was a clear level of care, compassion and selflessness in the actions taken and their efforts and commitment helped save lives."

Nellie Melba Retirement Village resident Premila Brito thanks village team members for their response to COVID-19.
Ryman Healthcare Australian CEO Cameron Holland said when COVID-19 first emerged as a threat in early 2020, the company "moved heaven and earth to ensure our villages would be safe havens for our residents".
"We took the approach that no stone would be left unturned, and no expense spared, to protect society's most vulnerable people from the virus.
"That required a constant focus on innovation and out-of-the box thinking, and a mindset that we needed to be really agile in responding to a constantly-evolving threat."
Mr Holland said while that took strong, proactive leadership from Ryman's operational managers, he said the kindness and professionalism of the company's frontline staff underpinned the success of its COVID-19 strategy.
"What we know about covid is that it'll find a weak link in any defences, so our response required literally hundreds of our team members - cooks, cleaners, carers, nurses, everyone - being laser-focused on doing the right thing every day."
The nomination recognises Ryman's industry-leading innovations, including moving staff who were at high risk of contracting the virus outside work into villages, developing a digital contact-tracing tool, and being the first aged care provider in Victoria to introduce rapid antigen testing of visitors and contractors.
The nomination is the latest in a string of wins for Ryman's COVID-19 response.
The team responsible for leading its COVID-19 strategy took out the 'Team' category of the Victoria/Tasmania Leading Age Services (LASA) Awards, and Ryman Victorian Operations Quality Manager Joanne Wang was named national LASA 'Next Gen Young Leader' for her work during COVID-19.
Ryman is one of three finalists in the 'Innovation' category of the Victorian Chamber of Commerce and Industry's inaugural Victorian COVIDSafe Business Awards.
The winner will be announced early next year.