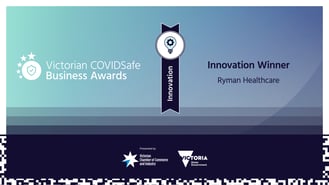 Ryman Healthcare's "ahead of the curve" approach to keeping residents and staff safe from COVID-19 has been recognised as the gold standard for Victorian businesses.
Today the Victorian Chamber of Commerce and Industry announced that Ryman won the 'Innovation' category of the inaugural COVIDSafe Business Awards.
The award recognises Ryman's industry-leading innovations, including moving staff who were vulnerable to contracting the virus into its villages, developing a digital contact-tracing tool, and being the first aged care provider in Victoria to introduce rapid antigen testing of visitors.
READ MORE:
The awards judging panel, chaired by Victorian Chamber of Commerce Chief Executive Paul Guerra, said Ryman's response "helped save lives".
"The judges thought this was a fabulous response that was ahead of the curve in preparedness," the panel said.
"There was a clear level of care, compassion and selflessness in the actions taken and their efforts and commitment helped save lives."
WATCH: Take a look inside Ryman's award-winning COVID-19 response.
The Victorian COVIDSafe Business Awards were established to recognise industry leaders who have been exemplars in their response to the pandemic.
Ryman Healthcare Australian CEO Cameron Holland said the win was a great recognition of the company's ongoing fight against the virus.
"COVID-19 continues to create new challenges for all sectors, and the aged care sector in particular," he said.
"Our response requires the kindness and professionalism of hundreds of frontline staff who work tirelessly to ensure they are doing the right thing every day."
Mr Holland said when COVID-19 first emerged as a threat in early 2020, the company "moved heaven and earth to ensure our villages would be as safe as possible for our residents".
"Two years on we continue to take the approach that no stone will be left unturned, and no expense spared, to protect society's most vulnerable people from the virus.
"That requires a constant focus on innovation and out-of-the box thinking, and a mindset that we need to be really agile in responding to a constantly-evolving threat.
"The emergence of the Omicron variant has put the entire aged care sector under a massive strain, and we've had to draw on all our resources and expertise to keep our villages operating safely."