Trans-Tasman rivalries were cast aside at the 2022 Ryman Awards when outstanding Rymanians from both sides of the ditch were honoured for their achievements.
Victorian award winners Deborah Cheetham Retirement Village Manager Charisse Spence, Ocean Grove Construction Site Manager Brett Johnson and Raelene Boyle Construction Manager Connell Bergin were met with rapturous applause when they took to the stage to accept awards.
Charisse's tireless work and dedication to leading Ryman's Deborah Cheetham Retirement Village in Ocean Grove was recognised with her being named Leader of the Year.
READ MORE:
She was humbled to receive one of the most prestigious awards of the night.
"I found myself reflecting on just how much of a privilege it is to lead and empower others to succeed," she said.
"To be recognised with such a prestigious award when I am surrounded by so many wonderful leaders at Ryman is a true honour."
Charisse was recognised as a crucial team player; committing to travel from her home to Nellie Melba Retirement Village in Wheelers Hill to lead Nellie Melba through the Omicron outbreak in January while still managing her own village.
Since starting with Ryman in 2021, she has led the establishment of a thriving village community at Deborah Cheetham, recruited a talented team of staff and offered knowledge gained from more than 25 years' experience in the healthcare sector to other villages.
With the Deborah Cheetham village centre and care centre set to open next year, the next 12 months would be full of opportunities to build on her own and the wider village team's success.

Charisse accepts her award for Leader of the Year.
"I want to promote a diverse, welcoming and nurturing culture that sets the foundations for an adaptable and versatile workforce," she said.
Fellow Ocean Grove team member Brett Johnson received the award for Construction Team Member of the Year.
Similarly to Charisse, Brett rolled up his sleeves to help another village, answering the call to lead construction at Charles Brownlow Retirement Village in Highett.
Brett said he was "truly shocked" to win.
"It was an overwhelming feeling being nominated let alone winning the award," he said.
"I felt truly shocked, but I'm appreciative of the recognition of my hard work."
Now his attention was firmly set on completing the village centre at Deborah Cheetham.
"We can only fulfil our true potential when surrounded by supportive and competent people which is what we had at Charles Brownlow and what we have at Deborah Cheetham," he said.
Construction Site of the Year was awarded to Raelene Boyle in Aberfeldie.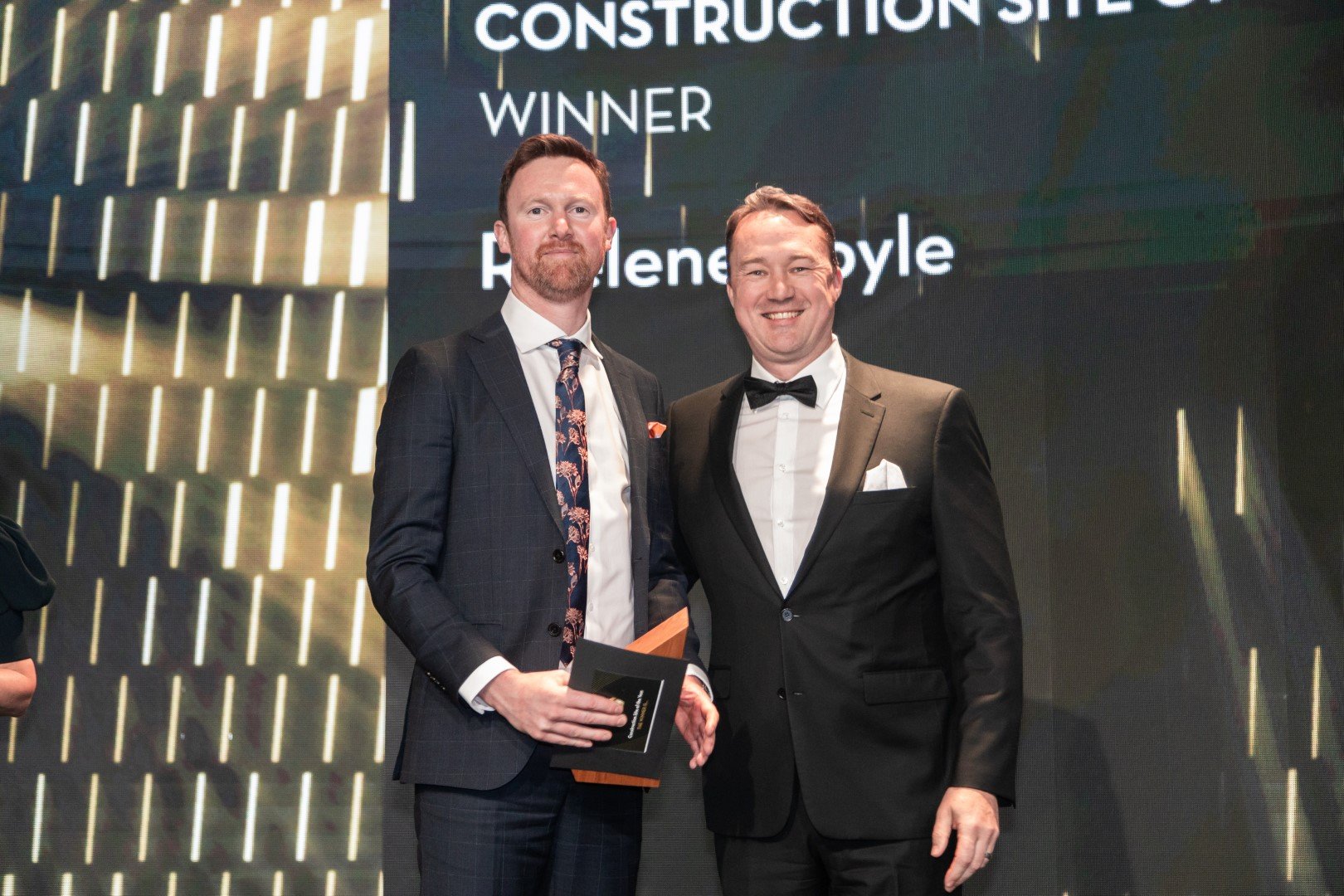 Raelene Boyle Project Manager Connell Bergin (left) and Ryman Australia CEO Cameron Holland at the awards.
The team, led by Project Manager Connell Bergin, worked through the height of the pandemic to successfully deliver all stages of the build on time.
The village was completed in late August.
Connell said a positive culture was crucial to the success of a construction site.
"At Raelene Boyle we worked hard to ensure that we established a collaborative culture where we had each other's backs," he said.
"We had team members with skills sets that came to construction through non-traditional routes which brought new ways of thinking and alternative problem-solving skills to the existing construction knowledge within the group."
While the Raelene Boyle construction team were now working on different sites, celebrations were ongoing.
"As our team have now dispersed to other sites, they have brought with them the confidence and lessons learnt at Raelene Boyle," Connell said.
"It's great to see how Ryman develops our people to assist upcoming projects and become our future leaders."