Ryman Healthcare's Angela Redgewell is a woman of many talents.
From donning a hard hat and managing contracts, to keeping the construction team at Nellie Melba Retirement Village in steady supply of mouth-watering cakes.
Now she is giving the Ryman team a reason to devour beautifully handcrafted biscuits without feeling guilty.
READ MORE:
Angela is donating all proceeds from her pink 'Covered in Sweetness' biscuits to the National Breast Cancer Foundation, Ryman's 2020 charity partner.
The biscuits, some featuring intricate patterns, and some in the shape of the National Breast Cancer Foundation ribbon, cost just $3.
Angela says she would "never make money" from her sweet side project, but that is not the point.
"It is just another way to make money for charity, and I love it."
With more complex designs taking up to three days, were it not for such a worthy cause, one might feel a pang of guilt biting into the exquisite biscuits.
"I see things and I think, yeah, that would look good on a biscuit," Angela says.
Cue the fondant, Royal Icing, airbrush, and hours of patience.
When Ryman released eco-friendly carry bags featuring Julia Wallace Retirement Village care-giver Kimberlee Robertson's design earlier this year, Angela was inspired.
Kimberlee based the stunning floral design around the theme of kindness.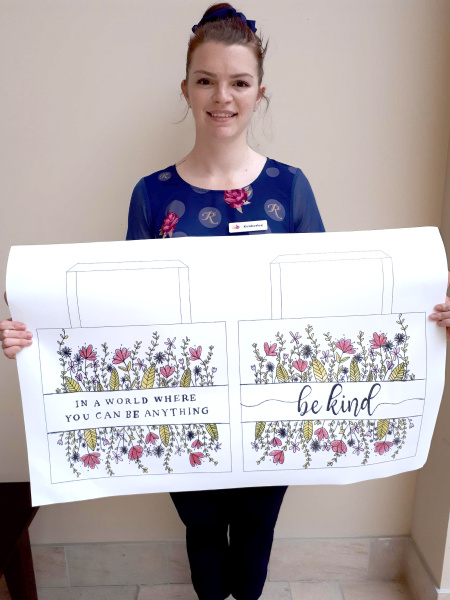 Kimberlee with her inspirational design.
"I loved the design, and I thought I wouldn't mind giving it a go on icing," Angela says.
The result: A beautiful biscuit combining Angela's passion for Ryman and creativity.
Asked if her penchant for classy biscuits had put her off supermarket classics, Angela laughs.
"I don't discriminate against biscuits!"