August 7 is Aged Care Employee Day.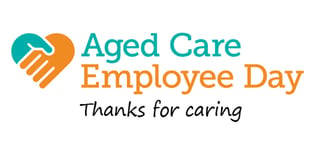 It's an opportunity to acknowledge and celebrate the outstanding care our team members provide, and the special bonds they form with residents.
With COVID-19 still impacting the lives of older people and aged care staff, the day is also about recognising the immense sacrifices being made to keep our most vulnerable safe.
We speak with Nellie Melba Retirement Village Personal Care Assistant Aileen Malang about what she loves about caring.
With a family full of nurses, a duty to care is in Aileen Malang's blood.
"When I was a kid, I never imagined doing any other profession," she says.
While Aileen's job as a Personal Care Assistant at Nellie Melba is a childhood dream come true, it would not be possible without true passion.
READ MORE:
"I believe you cannot be a nurse without the passion to do it because it's not an easy job," she says.
"There are a lot of sacrifices you have to make to look after your residents, you focus on their needs before yours."
As a neonatal intensive care nurse and pharmaceutical specialist in the Philippines, Aileen was no stranger to the sacrifice needed to provide outstanding care. However, she made her greatest sacrifice for Ryman residents during Victoria's COVID-19 outbreak.
Aileen was one of more than 30 team members to move into villages to keep residents safe.
"The initiative shown by Ryman to have staff move in was great because they were one step ahead of the public response and I just considered it a little way I could help that would go a long way," she says.
"It helped to keep our residents safe, so it was definitely worth the sacrifice of being away from home."
Aileen lived at the village for four months last year and moved in again earlier this year when COVID-19 spread in Melbourne.
Since starting at Nellie Melba in 2019 she has juggled work with study, completing a course in leadership management. She plans to complete further study to become a qualified nurse in Australia.
While managing work and study could be challenging, interacting with residents was a great motivator.
"In the Philippines I took care of my grandmother because she had complex needs," Aileen says.
"She passed away a long time ago, but it makes me remember her when I work with the residents."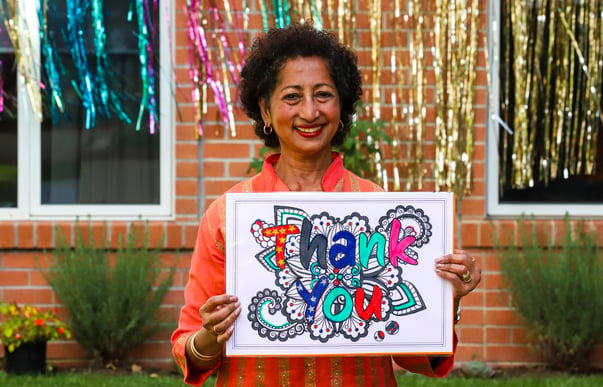 Nellie Melba resident Premila Brito thanks staff for their care during COVID-19.
And the impressive experiences of Aileen's residents give her encouragement to always strive for better.
"The residents have had such vast and rich lives, some are former nurses and doctors, it's a privilege to now care for them in their older age as they did for others when they were younger," she says.
This Aged Care Employee Day Aileen has a simple message for her fellow team members.
"I want you to know that you are doing a great job and your hard work is so appreciated by our residents."