Mother's Day DIY High Tea

High tea is commonly associated with special occasions and is served with sophistication in a beautiful environment.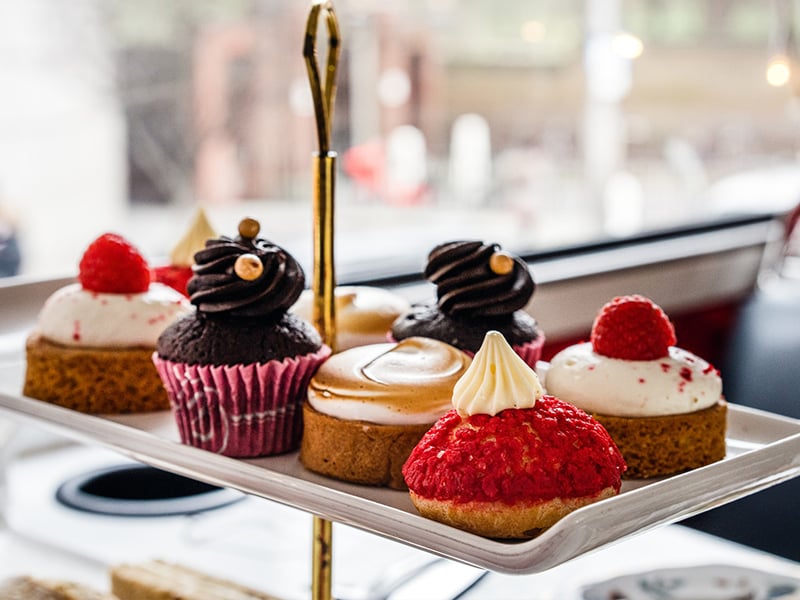 If you're living with a mum you want to celebrate, why not high tea at home for Mother's Day this year?

High tea décor

Dress a table with a tablecloth. Lace, cotton, linen, or a crisp cotton sheet will do perfectly. Cut lace shapes into triangles of paper to hang as delicate bunting around the walls and craft small card place cards for each setting. If you have a tiered plate stand, place this in the centre of the table. Sandwiches sit on the bottom tier, savoury bites on the middle tier, and sweets on the top tier. If you don't have a tiered stand, simply use pretty plates instead. Place these in a cluster on the table with the sweets in the centre plate so they're eaten last, the savoury bites on the middle plates, and the sandwiches on the plates closest to the seats. Finish the scene with cutlery, teacups, and folded napkins at each place setting.

Drinks to begin

The formal aspect of high tea begins with an arrival drink. This is enjoyed while seated at the table. A glass of champagne is common, as well as a variety of teas. Remember to have a milk jug and sugar dish set up on the table. If your high tea is happening on a warm day, add iced tea to the menu for a refreshing touch.

Tasty bites

Now that everyone has a drink in hand, it's time to move onto the spread. Most high teas feature crust-less sandwiches, miniature savoury pies, scones, and miniature cakes and pastries. While the sandwiches are best fresh, most items can be made in advance leaving you with time to relax and enjoy the special day. If you're not sure what to include in your high tea menu, start with these easy recipes.

Carrot and raisin sandwiches

These grace the bottom tier of the high tea stand and can be club sandwich style or regular. This vegetarian recipe features a twist will keep people wanting more. While they don't take long to prepare, it's wise to prep the filling in advance to save time. Then, assemble the sandwiches just before your guests arrive so they aren't left eating soggy bread. This recipe makes 8 serves.

Ingredients
1 large carrot, peeled and grated
2 tbsp raisins
½ tbsp white wine vinegar
1 tbsp olive oil
1 tbsp mint, chopped
6 brown bread slices
3 tbsp plain hummus (alternative: garlic hummus)
Salt and pepper, to season

Method
1. Mix the carrot, raisins, vinegar, and oil then season and add the mint. (If preparing this filling in advance, store it covered in the fridge)
2. Spread 3 slices of the bread with hummus and top with the carrot mix, then sandwich with the remaining 3 slices.
3. Remove the crust and cut the sandwiches into shapes. Delicate triangles are perfect for high tea.

Classic scones

This traditional scone recipe only takes 20 minutes to whip up. If you're tight on time, they can be cooked a day or two earlier and stored in the freezer. Thaw frozen scones in the oven on low. Regardless of when they're cooked, serve the batch of scones with some cream and jam. These sit on the middle or top tier of your high tea stand. This recipe serves 8.

Ingredients
2 ½ cups flour (set aside extra for dusting)
1 tsp baking powder
¼ tsp salt
85g butter, cubed
3 tbsp caster sugar
175ml milk
A dash lemon juice
1 tsp vanilla essence
1 egg, beaten to glaze
Jam and whipped cream, to serve

Method
1. Heat oven to 220°C fan bake.
2. Mix the flour, baking powder, and salt.
3. Using your fingers, rub the butter cubes into the mix until it resembles breadcrumbs, then add the sugar and stir well.
4. Heat the milk in the microwave until warm (not hot). Depending on the microwave this will take about 20 seconds.
5. Add the lemon juice and vanilla essence to the milk and set aside.
6. Line a baking tray with baking paper or use a baking sheet and place it in the oven to heat.
7. Make a well in the dry mixture and pour in the milky mixture. Quickly stir the mixture using a butter knife. Don't be alarmed if the mixture seems wet at first. Set aside.
8. Dust a chopping board with flour and coat the dough and your hands with flour as well before folding the dough over 3 times. Shape the dough into a circle about 4cm thick.
9. Dip a baking shape cutter in the flour and use it to cut 4 scones. Reshape the circle of dough if required and cut the remaining 4 scones.
10. Brush the tops of the scones with the egg and bake on the hot tray for 10 minutes until they are golden on top and have risen.

Teacake

Designed to be paired with tea or coffee, this loaf tastes great fresh and even better after a few days of storage in an airtight container. Set aside 20 minutes for the prep and 1 ½ hours for cooking. If you think you'll eat the lot during high tea, make two! This recipe serves 10.

Ingredients
170g sultanas
170g raisins
Zest of 1 orange
300ml Earl Grey tea, hot and strong (alternative: Lady Grey tea)
2 cups flour
1 cup brown sugar
2 eggs, lightly beaten
Butter, to grease and to serve

Instructions:

1. Mix the raisins, sultanas and orange zest in a large bowl then pouring the tea over top. Cover the bowl and let sit for a minimum of 6 hours. If possible, leave overnight. This will allow the fruit to completely absorb the liquid.
2. Preheat the oven to 180°C fan bake and line a loaf tin.
3. Add the flour, sugar, and eggs to the fruit mixture. Mix well.
4. Spoon into the tin and bake for 1 ½ hours until firm to touch. Let it cool for 15 minutes before removing from the tin and resting it on a wire rack.

Coconut cookies

These vegan treats are for all the coconut lovers out there. Requiring less than an hour to create, these cookies can be made the morning of your high tea or the dough can be frozen a few days before you're ready to bake. This recipe makes 30.

Ingredients

Biscuit:
1 tbsp linseeds
3 tbsp water
400g flour
200g coconut oil
50g desiccated coconut
280g golden caster sugar

Topping:
4 tbsp coconut cream
225g icing sugar
50g desiccated coconut

Method
1. Heat oven to 180°C fan bake.
2. Combine the linseeds and the water in a small bowl. Set aside for 10 minutes to soak.
3. Rub the flour and coconut oil together in a large bowl until the texture resembles breadcrumbs then add the desiccated coconut and stir well. Set aside.
4. Blend the linseed and water mixture until frothy in a food processor. Add the sugar and blend again until well mixed. Add the linseed mixture to the flour mixture.
5. Knead together to form a dough. If the dough is too dry to be rolled without cracking, add water 1 tsp at a time.
6. Roll the dough on a floured surface until 1cm thick. Cut into 7cm x 4cm rectangles and place them on a baking tray. Leave 2-3cm space between each cookie.
7. Bake for 10-12 mins until the edges start to turn golden.
8. While the cookies cool, make the icing. Mix the coconut cream and icing sugar until it forms a thick paste. Once biscuits are cool enough, pipe the edges with icing and dip them in the coconut. Another option for decorating is to cover half the biscuit in icing and dip in the coconut.

Raspberry mille-feuilles

This recipe is no easy feat for the most skilled of bakers. Pastries are notorious for being difficult to perfect, but when you do nothing tastes quite as good as Parisian-standard pastry. These mille-feuilles will take your high tea to the next level. If you're ambitious enough to give them a go, prepare them the night before your high tea. This recipe serves 6.

Ingredients

Pastry:
200g plain flour
175g butter, cold and cubed
¼ tsp salt
1 tsp lemon juice
100ml water, cold

Filling:
crème pâtissière
300g raspberries (alternative: seasonal berries)
Icing sugar, to dust

Method
1. In a bowl, mix the flour, butter, and salt. Make sure that the butter remains in cubes. Pour the lemon juice and water into a well in the centre of the flour mixture. Mix well before bringing together with your hands.
2. Knead the pastry on a lightly floured surface until smooth. Roll into a rectangle and wrap it before placing in the fridge to chill for 30 minutes.
3. Once chilled, ridge and roll the pastry using a rolling pin until it's a rectangle shape three times as long as it is wide. About 15 x 45cm with straight edges.
4. Fold the bottom third of the pastry up and over the middle third, dusting off excess flour as you go. Then fold the top third down over the middle third. You will have created three layers of pastry in a tidy rectangle. Wrap this rectangle and chill for another 15 minutes.
5. Turn the pastry 90° right so it's facing you like a book. Repeat steps 3-4 four more times. Each time, turning the pastry 90° right after its last fold. Chill for 30 minutes.
6. Heat oven to 180°C fan bake.
7. Roll the pastry into a 32cm square on a lightly floured surface. Trim the square to a tidy 30cm using a sharp knife. Cut the pastry into 3 long 30 x 10cm strips. Place the strips on a baking tray lined with baking paper and chill for another 30 minutes until firm.
8. Top each strip with a sheet of baking paper and stack them on top of each other then place another baking tray on top. Weigh the pile down with an ovenproof dish.
9. Bake for 25-30 minutes or until golden and crisp.
10. Leave to cool slightly then cut each strip into 6 smaller rectangles measuring 10 x 5cm.
11. To create your 6 mille-feuilles, place one piece of pastry on a serving place, pipe a dollop of crème patisserie, top with raspberries, top with another layer of pastry, top with another dollop of crème patisserie and raspberries before adding the final layer of pastry, dusting with icing sugar and topping with raspberries.
12. Repeat until you have 6 mille-feuilles. Enjoy!

Combine this high tea menu with sips of tea and delightful table décor to give your Mother's Day celebration a touch of glamour. We've combined the perfect combination of sweet and savoury to delight the senses. While some might push you out of your baking comfort zone, part of the fun is in trying new things. So why not give it a go? Just have some biscuits in the pantry in case things don't work out!
Photo by Federica Giusti on Unsplash