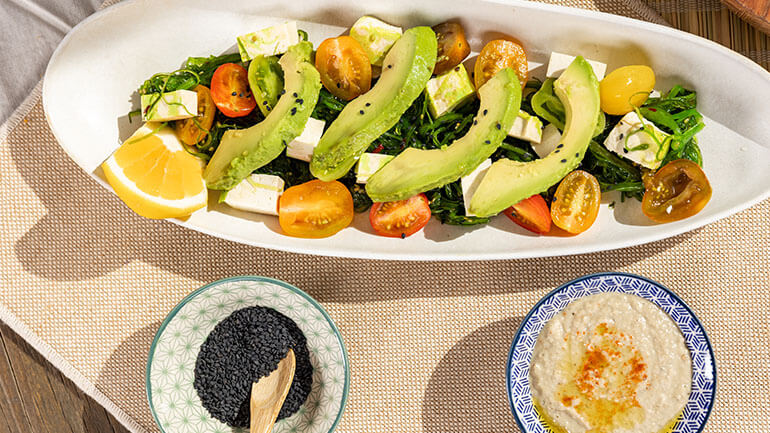 A fresh, nutritious dish for summer? Try this Japanese tofu and avocado salad. Ideal for a picnic in the park.
Serves 4

Ingredients
1 avocado
200g tofu
½ bunch basil
1 large bunch of lettuce, torn
1 tbsp dried wakame seaweed
5 cherry tomatoes, sliced

Dressing:
3 tbsp ponzu
½ tsp toasted sesame seeds
1tbsp sesame oil
1 tbsp light soy
½ tsp lime juice (Yuzu, if available)

Method
1. Rehydrate the seaweed in a little water for ten minutes then squeeze out the excess water.

2. Combine all dressing ingredients in a bowl and stir until well mixed. Set aside.
3. Cut the tofu into ½ inch cubes and set aside.
4. Slice the avocado and set aside.
5. Slice the basil into thin ribbons then toss the basil, cherry tomatoes, and torn lettuce together in a salad bowl.
6. Layer with avocado, then tofu, then seaweed.
7. Dress the salad.