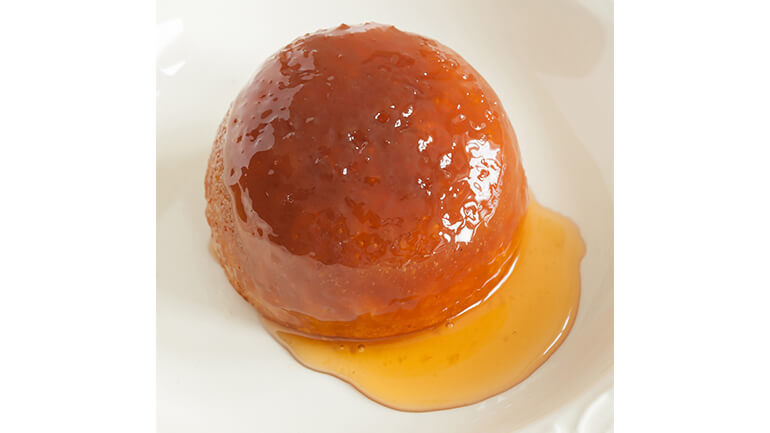 A childhood favourite, just like mum used to make! A steamed pudding is the perfect antidote to a cold winter night. Whip this one up whenever you need a comforting dessert. Cooked with traditional steaming, this sweet treat has a dense texture that 'fills the gap' and soothes the soul.
Ingredients
4 cups self-raising flour
⅓ cup caster sugar
4 tsp baking powder
¼ tsp salt
4 eggs
¾ cup milk
4 tsp vanilla essence
55g butter
4 tbsp golden syrup
Method
Sift the flour into a large bowl and mix in the sugar, baking powder, and salt. Create a small well in the middle of the dry mix. Set aside.
In a separate bowl or large jug, whisk together the eggs, milk, and vanilla essence. Set aside.
In a small saucepan or microwave-proof bowl, melt the butter and golden syrup together and mix until well combined.
Pour both the wet mixes into the dry mixture's well and mix thoroughly to create a runny batter. Set aside while preparing the pudding bowl for steaming.
Prepare a large, ceramic pudding bowl by ensuring it is well greased. On a work surface, layer a sheet of baking paper and foil together. Fold a 3cm-wide pleat down the centre.
Pour the pudding batter into the bowl and then cover the top of the bowl with the layered paper and foil sheet, paper-side down. Secure the paper and foil with kitchen string by wrapping it tightly around the rim of the bowl to ensure it's airtight. Fold the edges of the paper and foil up so they will not come into contact with the water while cooking.
Place the pudding bowl into a large saucepan and half fill the saucepan with boiling water from a kettle. Place the saucepan on the stove and boil gently for approximately 1 hour 30 minutes. Check occasionally to top up the boiling water as it evaporates.
Once the pudding is ready, remove the saucepan from the heat. Remove the bowl very carefully as it will be hot then cut the string free and remove the paper and foil sheet. Carefully slide a knife around the pudding before turning it out onto a serving plate.
This cosy, heart-warming pudding is best served while still warm with custard, ice cream, or yoghurt. For an extra special touch, drizzle a little more golden syrup over the top before serving.