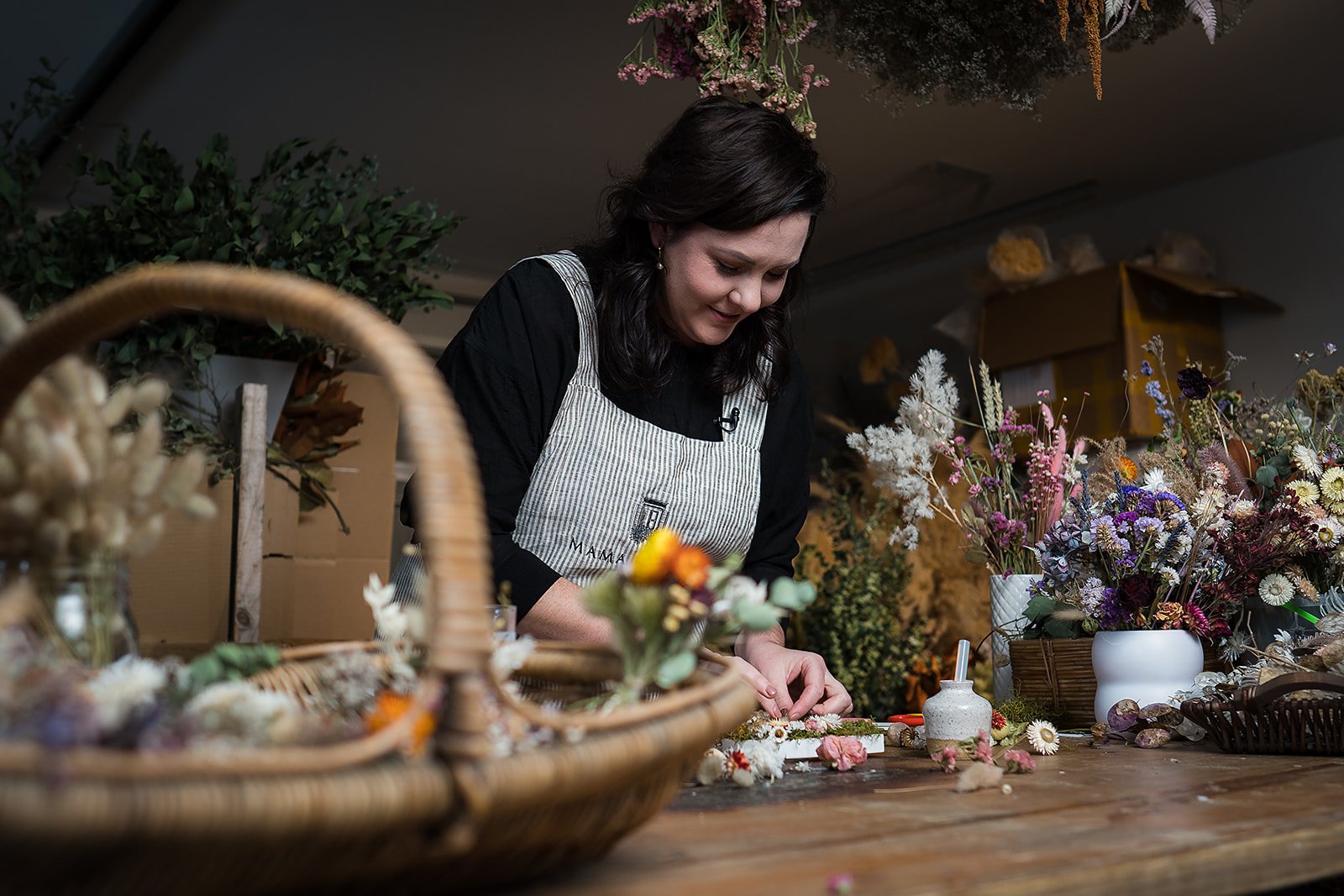 Crafting with dried flowers
All you need to dry flowers is twine and a warm, dry, dark space. You can also dry seed pods and greenery. Seed pods, or seed heads, come in a range of beautiful textures and shades. Full of character, these are the true stars of floral arranging. Pop a few into your arrangement or dried flower craft to add texture and visual interest.
Many types of greenery also dry well for use in floral arranging. Dried greenery is perfect for adding volume and bulk to a creation. Popular choices are magnolia branches for the bright copper underside to their leaves and eucalyptus which looks almost the same dried as when fresh.
The key to a successful arrangement or dried craft is a well-considered colour palette. Once your colours are set, bunch your leafy foliage and partner it with your preferred flowers before finishing with seed pods for texture and 'pop'.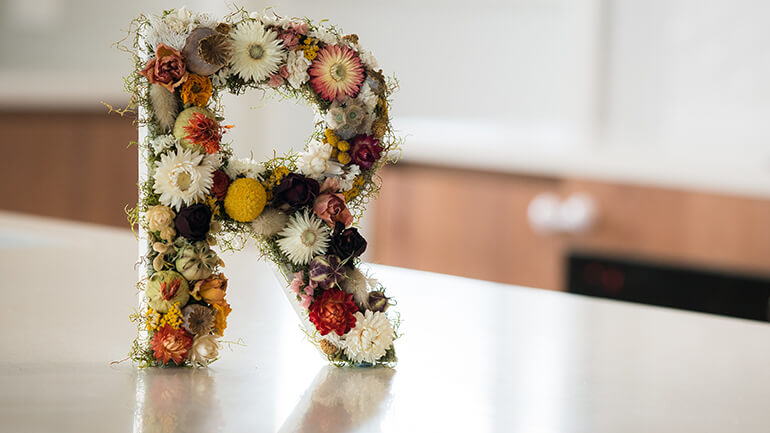 Create your own floral letter
Sarah Hoffman, the owner of Mama Bloom, spends her days weaving dried flowers and greenery into works of art. In this video, Sarah walks us through creating a gorgeous piece of dried flower home décor. Press pause at any time to follow along at your own pace. Written instructions are below.
Materials
Wooden letter

Hot glue gun and glue

Scissors

Dried floral moss

Dried flowers and seed pods (those with a flat back tend to work best, like strawflowers, rosebuds, ranunculus, bunnies tails – anything that will lay flat on the letter)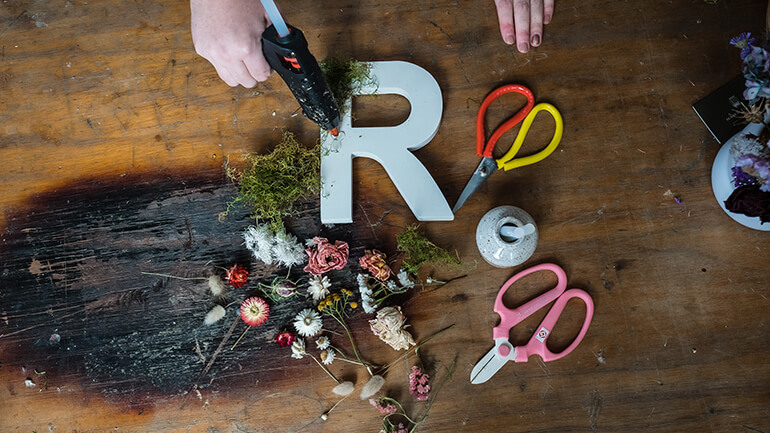 Step one
Begin by attaching the floral moss to your letter with hot glue. This moss base ensures that the letter will be completely covered with foliage, so don't hold back with your moss application.
You can also trim the excess Moss from around the outside of the letter too. Sarah notes that it's important to watch where you place your fingers during close-quarters hot glueing.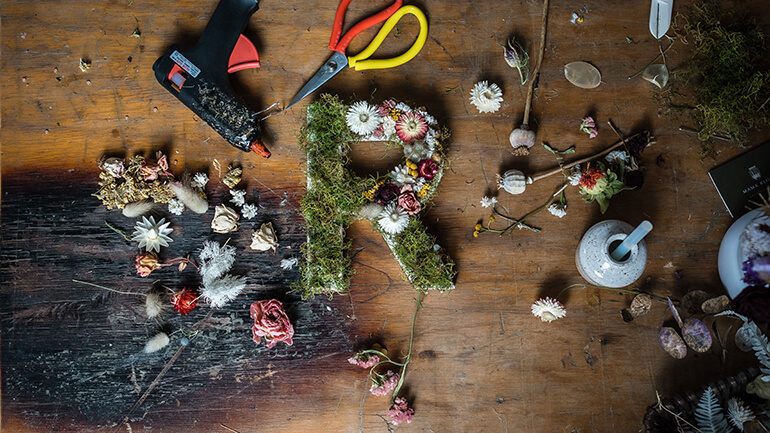 Step two

Select a range of locally grown dried flowers and remove their stems. Flowers with a flat back are best for this craft.
One at a time, spread some glue on the back of a flower and position it on the letter. Keep your flowers bunched tightly together to completely cover the letter surface.
Sarah likes to work on one small section at a time to slowly piece together her design and carefully consider each colour combination.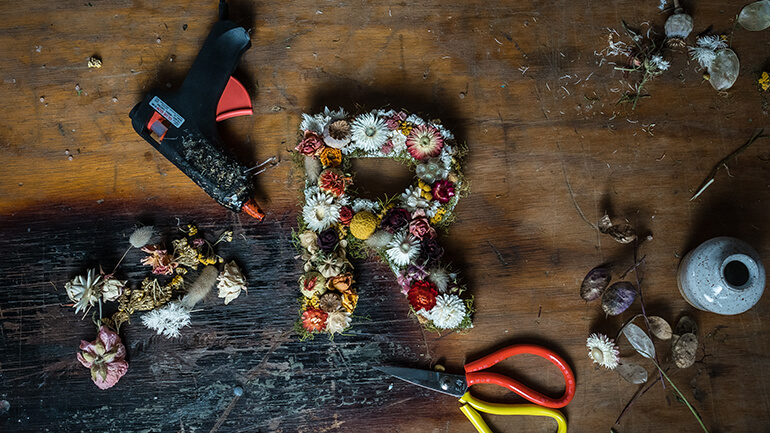 Step three

It's time to fill in the gaps. Sarah uses tiny flower heads, glueing them into any small gaps between her dried flowers. This will give your letter a full, complete look.
Sarah used statice flowers for this craft. Small and dainty, they're the perfect way to finish this letter craft. Because you're hot glueing small details, you might choose to use a pair of tweezers for these tiny details.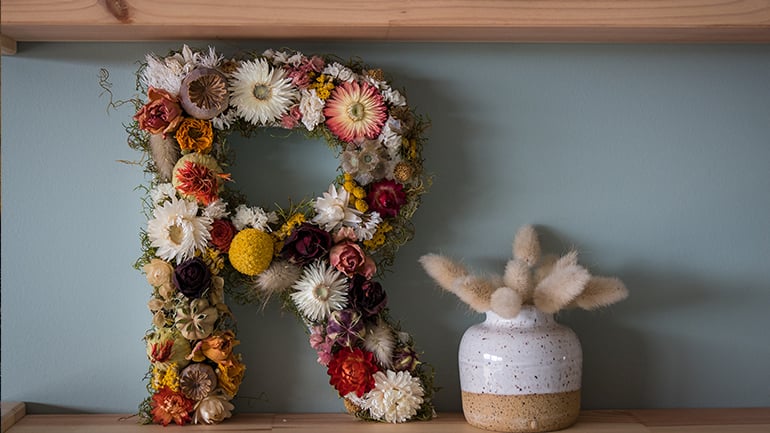 Step Four
Congrats! Your dried floral creation is ready to brighten up your décor with a pop of joyful colour and texture.
Hang it boldly on a wall or rest it on a shelf to add visual interest. If your letter doesn't have pre-cut hanging holes, some load-bearing 3M tape on the back will let it sit flat against the wall.
You'll find Sarah and Mama Bloom at mamabloom.co.nz.