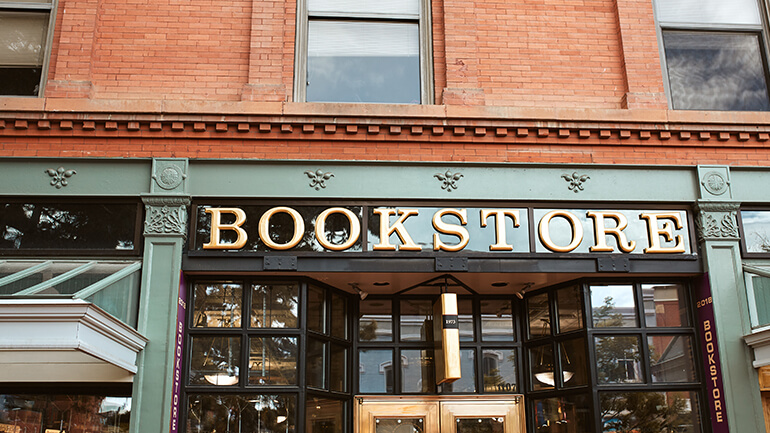 The Independent Bookshop Community

When did you last experience tranquillity? Hopefully, the answer is 'recently' because it's a precious commodity in these times of uncertainty and change. But if your answer is 'don't know', we have a treat for you. Because tranquillity is precisely how independent bookshops are often described. And we're about to take you on a journey through them. So, take a moment to hit the pause button and join us as we explore the refuge of independent bookshops.

Incredibly, the experience begins before you even step through the front door. Often steeped in history, independent bookshops can be found in delightful heritage buildings. The Paperback Bookshop in Melbourne has resided in the same building since the early 1960s. As a result, its peeling paint and architecture have reached iconic status. Literary events and local gatherings are frequent, making the bookshop an important fixture in its community.

Many independent bookshops share this iconic quality. And they continue to exude it as you step inside. As you do, be sure to pause and breathe deeply – there's nothing quite like the smell of books to calm the senses. An oasis for those who love words and storytelling, you're likely to find titles stacked every which way, into every crevice. This is part of what gives independent bookshops their one-of-a-kind quality. It's easy to lose time among their shelves, tables, and ad hoc stacks, and the experience is a rare treat.

The staff you'll meet in an independent bookshop tend to have extensive knowledge of authors, titles, and genres. So, make sure you take advantage of their expertise. It's a lovely opportunity to resist the urge to 'Google it' and instead make a connection with someone. These kinds of interactions are becoming rarer in the retail environment, but a connection with others is vital for our wellbeing. Aside from the pleasure of chatting with a knowledgeable stranger, there's the thrill of discovering an unexpected treasure. Trust us, they're hiding around every corner and behind each book pile!

Commonly open late and hosting local events, independent bookstores can be the heart of their communities and have the power to bring people together. Supporting them is rewarding – and easy. Many have online shopping available, so don't hold back! And while jumping online and placing a book order is fast and easy, it's also worth popping by in person. In-store, you'll receive personalised service and experience the relaxation of strolling the floor, discovering new authors. The most important part of supporting a locally owned, independent store is that your hard-earned cash goes straight back into the community.

Here are a few of our favourites:

Hill of Content Bookshop, Melbourne, Australia
If an orderly, well-kept bookshop is up your alley, look no further than Hill of Content in Melbourne. The building itself dates back nearly 100 years. The success of this bookshop is unsurprising. With a combination of friendly staff, efficient service, and special touches, this hot spot makes for a popular book shopping experience. If you're scratching your head in search of a last-minute gift, the team will swiftly guide you through the process, helping you select the perfect book.

Matilda Bookshop, Stirling, Adelaide
Matilda Bookshop has been serving book lovers in Adelaide and beyond for several decades. Situated in the Adelaide Hills, this independent store is an inviting must-visit. Stocked with a thoughtful and vast collection of books for readers of all ages, this charming destination is owned and staffed by people who love books as much as you! Simple to navigate, the shelves are well stocked and play host to a range of unique finds, popular reads, and classics. A great one for the kids, Matilda's specialises in children's books, new release fiction, gardening, cooking, art and design – and many, many more.

The Paperback Bookshop
Read our full-article ode to The Paperback Bookshop here.

Better Read than Dead, Newtown
Having thrived on Newtown's King Street for over two decades, Better Read than Dead is recognised as a literary Sydney landmark. And for good reason. The store offers one of the most eclectic shopping experiences around and regularly hosts author and community events. A contemporary space featuring ceiling-height bookshelves, the shop is a colourful, vibrant escape from daily life. Knowledgeable staff roam the floor, ready to share their specialised knowledge and lead their customers in the right direction. Pop in to experience it yourself or jump on a computer or smartphone to support them online.

Gertrude and Alice Bookstore and Coffee Shop, Bondi Beach, Sydney
A bookstore that feels more like a stylish living room, Gertrude & Alice is both a bookstore and coffee shop. Now, there's a dream combination – you can get your caffeine and book fix in the same place! Situated in Bondi Beach, this store is effortlessly cool. Stop by for respite after a morning at the beach, or meet a friend for a coffee slash stroll slash book purchase. The ocean breeze wafts through the store as relaxed customers sip and browse. Their online shop is beautifully designed and easy to navigate, so don't hesitate to browse online. And if you're in the area, drop in to bask in the leisurely ambience.

Whether you're a self-confessed bookworm or hunting down that perfect gift for a friend, supporting independent bookstores is the way to go. Days are made more interesting when we shop local and embrace the novel. Especially those that contribute positively to our local communities. Whether ordering online or shopping in-store, there's nothing quite like the smell of a new book!