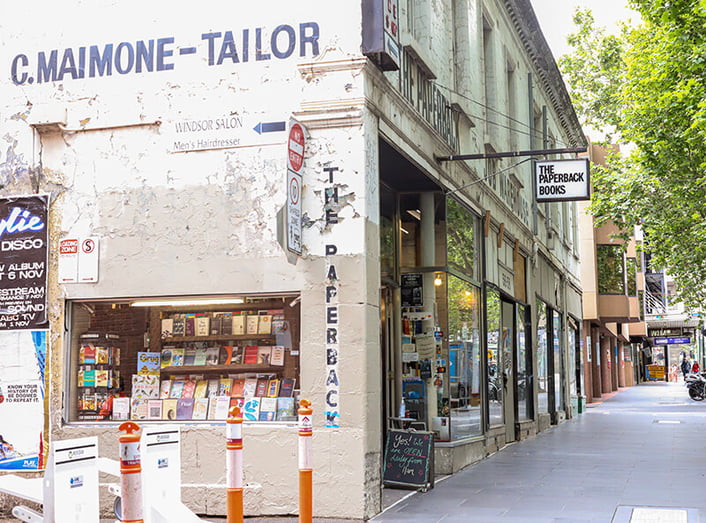 The Paperback Bookshop, Melbourne




Behind the peeling paint façade of a heritage building on Melbourne's famous Bourke Street, The Paperback Bookshop's interior is delightfully charming. Which should come as no surprise – after all, books should never be judged by their cover! In the heart of Melbourne's theatre district, surrounded by renowned restaurants and bars, this independent bookshop's late opening hours make for a delightful stop during a soirée in the city.

Established in the early 1960s, customers have since meandered the towering shelves and delightful stacks at Paperback in search of books to enlighten, entertain, and educate. This quirky, independent hot spot originally existed to stock paperback editions of books that could not be found in Australia. While the range has expanded to stock good writing wherever it's to be found, one upstanding aspect has remained the same – customers can expect an impressive collection of best-sellers and backlist titles from a wide range of genres.

The staff at Paperback live and breathe books – and they know the store book collection inside and out. But perhaps best of all, they'll get to know you – the customer – and your personal reading tastes. Such a level of service is rare in this modern world and is a far cry from the chain bookstore experience. The Paperback team love to chat about books, authors, and all things literary. Their extensive knowledge and insight make for high-quality recommendations that often give their readers the confidence to branch out and read a new style of book, author, or genre.

Here are some Paperback staff recommendations.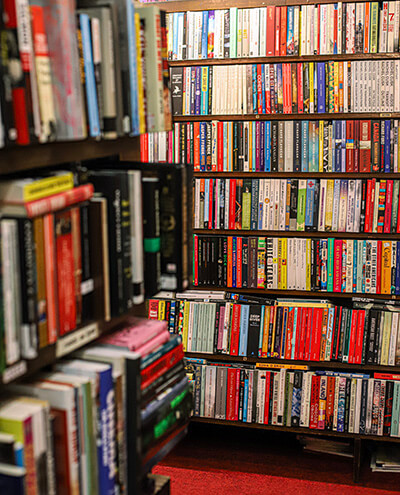 Bill's recommendations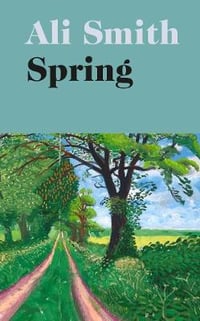 Spring by Ali Smith
$19.99 AUD
Category: Fiction
Series: Seasonal Quartet Series
What unites Katherine Mansfield, Charlie Chaplin, Shakespeare, Beethoven, Brexit, the present, the past, the north, the south, the east, the west, a man mourning lost times, a woman trapped in modern times? Spring. The great connective. With an eye to the migrancy of story over time, and riffing on Pericles, one of Shakespeare's most resistant and rollicking works, Ali Smith tells the impossible tale of an impossible time. In a time of walls and lockdown, Smith opens the door. The time we're living in is changing nature. Will it change the nature of story? Hope springs eternal.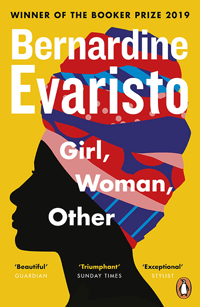 Girl, Woman, Other by Bernardine Evaristo
$19.99 AUD
Category: Fiction
Teeming with energy, humour and heart, a love song to black Britain told by twelve very different people. Grace is a Victorian orphan dreaming of the mysterious African father she will never meet. Winsome is a young Windrush bride, recently arrived from Barbados. Amma is the fierce queen of her 1980s squatters' palace. Morgan, who used to be Megan, is blowing up on social media, the newest activist-influencer on the block. Twelve very different people, mostly black and female, more than a hundred years of change, and one sweeping, vibrant, glorious portrait of contemporary Britain. Bernardine Evaristo presents a gloriously new kind of history for this old country- ever-dynamic, ever-expanding and utterly irresistible.
Anna's recommendations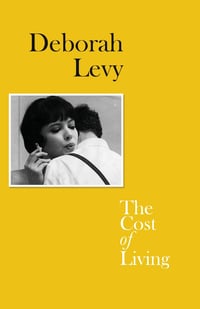 The Cost of Living by Deborah Levy
$19.99 AUD
Category: Biography & Memoir
Series: Living Autobiography Series
Longlisted for the 2019 Andrew Carnegie Medal for Excellence in Nonfiction From the twice-Booker-shortlisted author comes a witty and audacious examination of writing and womanhood "Life falls apart. We try to get a grip. We try to hold it together. And then we realize that we don't want to hold it together." Crystalline, witty and audacious, The Cost of Living addresses itself to the dual experiences of writing and of womanhood, examining what is essential in each. Following the acclaimed Things I Don't Want to Know, which reflected deeply on the nature of gender politics and a life in letters, The Cost of Living returns to the same subject and to the same life, to find a writer in radical flux. If a woman dismantles her life, expands it and puts it back together in a new shape, how might she describe this new composition? "Words have to open the mind. When words close the mind you can be sure that someone has been reduced to nothingness." In this elegiac second instalment of her "living autobiography", Deborah Levy considers what it means to live with value and meaning and pleasure. The Cost of Living is a vital and astonishing testimony, as distinctive, wide-ranging, and original as Levy's acclaimed novels.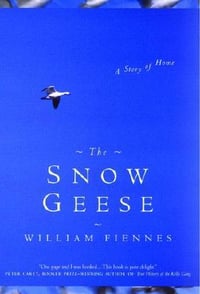 The Snow Geese by William Fiennes
$19.99 AUD
Category: Travel
Series: Picador Classic
I had attached myself to the birds. I couldn't move on until the birds moved on, and the birds couldn't move on without the spring. One winter, after an enforced period of recuperation, William Fiennes finds himself restless and yearning for adventure. He travels to Texas, where he begins a quest to trace the million-strong flocks of snow geese making their spring flight thousands of miles north to the Arctic tundra. On his epic journey, he meets people from every walk of life, from ex-nuns to train fanatics, and their stories resound with the longing to arrive at the right place in the world. Shortlisted for the Samuel Johnson Prize and winner of the Hawthornden Prize, The Snow Geese is a poignant and lyrical paean to the richness and wonder of the world around us. A unique blend of autobiography, travel and nature writing, this is a classic tale of belonging and the inescapable lure of home.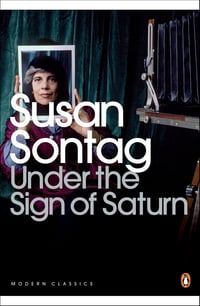 Under the Sign of Saturn: Essays by Susan Sontag
$27.99 AUD
Category: Anthologies, Essays & Journals
Series: Penguin Modern Classics Series
Susan Sontag's third essay collection brings together her most important critical writing from 1972 to 1980. In these provocative and hugely influential works, she explores some of the most controversial artists and thinkers of our time, including her now-famous polemic against Hitler's favourite film-maker, Leni Riefenstahl, and the cult of fascist art, as well as a dazzling analysis of Hans-Jurgen Syberberg's "Hitler, a Film from Germany". There are also highly personal and powerful explorations of death, art, language, history, the imagination and writing itself.
Robert's recommendations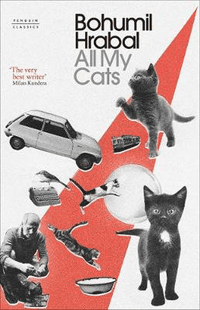 All My Cats by Bohumill Hrabal
$22.99 AUD
Category: Biography & Memoir
In the autumn of 1965, flush with the unexpected success of his first published books, the Czech writer Bohumil Hrabal bought a weekend cottage in Kersko, about an hour's drive east of Prague. From then until his death in 1997, he divided his time between Prague and Kersko, where he wrote and tended to a community of cats. Over the years, his relationship to them grew deeper, becoming a measure of the pressures, both private and public, that impinged on his life as a writer. All My Cats, written in 1983 after a serious car accident, is the chronicle of a cat lover who becomes overwhelmed by his cats and his life and is driven to the brink of madness by the dilemmas his indulgent love for the animals has created.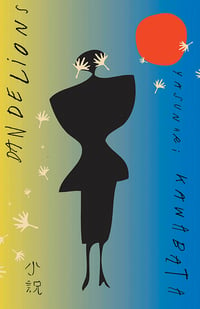 Dandelions by Kawabata Yasunari
$19.99 AUD
Category: Fiction
Series: Penguin Modern Classics Series
A fascinating discovery, Dandelions is Kawabata's final novel, left incomplete when he committed suicide in 1972. Beautifully spare and deeply strange, Dandelions explores love and madness and consists almost entirely conversations between a woman identified only as Ineko's mother, and Kuno, a young man who loves Ineko and wants to marry her. The two have left Ineko at the Ikuta Clinic, a mental hospital, which she has entered for treatment of somagnosia, a condition that might be called "seizures of body blindness." Although her vision as a whole is unaffected, she periodically becomes unable to see her lover Kuno. Whether this condition actually constitutes madness is a topic of heated discussion between Kuno and Ineko's mother: Kuno believes Ineko's blindness is actually an expression of her love for him, as it is only he, the beloved, she cannot see. In this tantalizing book, Kawabata explores the incommunicability of desire and carries the art of the novel, where he always suggested more than he stated, into mysterious and strange new realms. Dandelions is the final word of a truly great master, the first Japanese winner of the Nobel Prize.
Esther's recommendations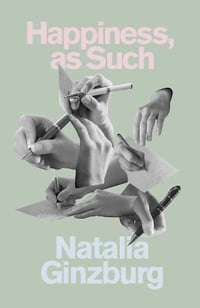 Happiness, As Such by Natalia Ginzburg
$19.99 AUD
Category: Fiction
Natalia Ginzburg's most beloved book in Italy and one of her finest achievements, Happiness, As Such is an original, wise, raw, comic novel that cuts to the bone. 'Dear Michele, she wrote, I'm writing principally to tell you that your father is sick. Go visit him. He says he hasn't seen you for days.' Michele is the beloved only son of a large, dysfunctional family in 1970s Italy. Headstrong and independent, he has disappeared to London without explanation. Back in Italy, his father lies dying. Michele's departure sets forth a series of events that will bring together everyone in his life - his mother Adriana, living in the countryside with her two twin daughters Bebetta and Nannetta, his long-suffering sister Angelica, his loyal and sad friend Osvaldo, and Mara, a young woman who is prone to showing up on doorsteps with a baby that may or may not be Michele's. The story of the Prodigal Son turned on its head, Happiness, As Such is a short, absurdly funny novel-in-letters about complicated families and missed connections.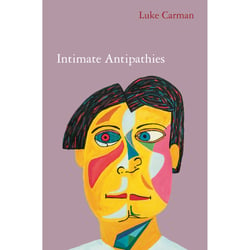 Intimate Antipathies by Luke Carman
$24.95 AUD
Category: Anthologies, Essays & Journals
Intimate Antipathies is a collection of essays on the writing life, offering Luke Carman's unique comic perspectives on writers' festivals, residencies and conferences, the particular challenges faced by writers who grow up in contested borderlands like the suburbs of Western Sydney, and the connections between writing and dreaming, writing and mental illness, writing and the complications of family life. From his famous jeremiad against arts administrators in 'Getting Square in a Jerking Circle', through the psychotic attack brought on by the collapse of his marriage, to his surreal account of meeting with Gerald Murnane at a golf club in the remote Victorian village of Goroke, the essays follow the writer in his oscillations through anxiety, outrage and ecstasy - always returning to his great obsession, the home on a small mountain in Sydney's west, where his antipathies with the real world first began to shape his imagination.
Rosy's Recommendations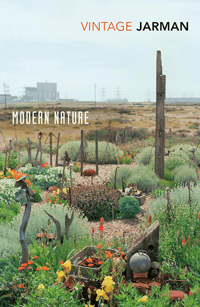 Modern Nature by Derek Jarman
$22.99 AUD
Category: Biography & Memoir
A divine, meditative and inspiring diary of Derek Jarman's famous garden at Dungeness. 'An essential - urgent - book for the 21st Century' Hans Ulrich Obrist with an introduction by Olivia Laing In 1986 Derek Jarman discovered he was HIV positive and decided to make a garden at his cottage on the barren coast of Dungeness. Facing an uncertain future, he nevertheless found solace in nature, growing all manner of plants. While some perished beneath wind and sea-spray others flourished, creating brilliant, unexpected beauty in the wilderness. Modern Nature is both a diary of the garden and a meditation by Jarman on his own life: his childhood, his time as a young gay man in the 1960s, his renowned career as an artist, writer and filmmaker. It is at once a lament for a lost generation, an unabashed celebration of gay sexuality, and a devotion to all that is living.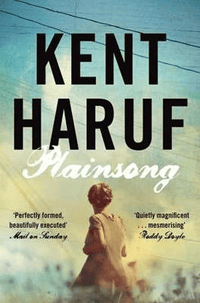 Plainsong (Plainsong #1) by Kent Haruf
$19.99 AUD
Category: Fiction
Series: Plainsong
In Holt, Colorado, Tom Guthrie is struggling to bring up his two young sons alone. In the same town, schoolgirl Victoria Roubideaux finds herself pregnant and homeless. Whilst Tom's sons find their way forward without their mother, quiet and gentle Harold and Raymond McPheron agree to take Victoria in, unaware that their lives are about to change forever. A novel of haunting beauty, Plainsong explores the grace and hope of every human life and mankind's infinity capacity for love.
Paperback welcomes customers searching for one thing only: high-quality literature. A book-lovers paradise, the store is bursting at the seams with books. An eclectic shopping experience, Paperback's collection is huge, with a special focus on celebrating Australian authors and stories.
A quintessentially Melbourne book shop, locals and tourists alike can be spotted curiously entering and sometime later departing with a newfound treasure. By choosing to shop at local, independent book shops like Paperback, you're playing a critical part in helping your local community to flourish. And when you can't step foot in the store itself, the Paperback website is an online store complete with staff favourites, a monthly newsletter, and personalised literature recommendations. Have fun!