Innovation in healthcare - myRyman Care
At Ryman, your care is customised according to your needs and preferences. This is made easy via our award-winning myRyman Care app. A device, located in every care room, enables nurses and carers to access clinical data and record daily care tasks for you at the bedside. This means our teams can spend more quality time with you, and less time manually writing up notes. And should your primary carer be absent, everything is securely recorded on your myRyman device, making the transfer of care seamless.
"The myRyman app has been invaluable for Ryman, in how much it has improved residents' lives."
Victoria Brevoort | Clinical Nurse Specialist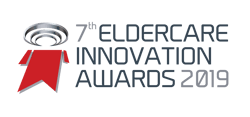 Eldercare Innovation Award - myRyman Care
In 2019, myRyman Care was named Innovation of the Year – Care Model at the Asia Pacific Eldercare Innovation Awards in Singapore. The award recognises the best care model that improves the quality of life for older people.