About the events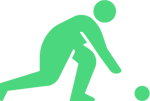 Lawn bowls
Residents will play in four-person mixed teams each playing 10 ends. They will compete in inter-village knockout tournaments to determine the teams that will go through to the semi-finals. With the assistance of artificial intelligence, semi-finals and finals can be played in real time despite games being played in different locations. The bowls final will be screened at every Ryman village.
---

Endurance walk relay
This event involves a 21.6km endurance walk, split between six competitors (3.6km each). Following village time trials, six competitors plus two reserves from each village will compete at athletics parks across multiple locations. Races between villages will be animated as a race to the top of Mount Fuji, with screens being displayed at each village so walkers can keep an eye on their competitors.
---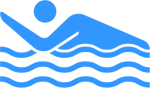 Swimming
Our swimming event will include a men's and women's 30m breaststroke. Following individual time trails, the fastest six men and six women will go through to the final. Advanced technology enables athletes to compete in real time at six different venues. The race can be viewed as a single, multi-lane swimming event and advanced time-keeping technology ensures athletes know their time and position relative to other swimmers.
---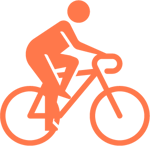 Cycling
This is an individual 10.5km cycling time trail. The event uses a Zwift bike (stationary road bike) with a screen attached that projects a virtual reality course through villages in Japan. Following the village time trials, the fastest 15 males and 15 females from will compete in the final for the chance to win gold, silver and bronze.
---

Quiznastics
This is an opportunity for residents to put their brains to work while they enjoy one of their favourite village activities – Happy Hour! Individual village quiznastics heats will determine the teams that will represent their villages in the virtual inter-village quiznastics final. Questions will combine general knowledge with, you guessed it, Olympic trivia. Th quiznastics final will be broadcast live to all of our villages.