Care options to suit your needs
Our goal is the same, no matter what village you live in. Since Ryman began, 35 years ago, our standard has been: It's got to be good enough for Mum.
Aged-care centres are staffed 24 hours a day, 7 days a week. A clinical manager and unit coordinators oversee our trained carers and registered nurses in the delivery of your daily care. Our staff ratios are some of the highest in the aged-care sector in Australia.
Private rooms are spacious and air conditioned, with monitored call bells in your room and ensuite. you can choose from a selection of room layouts, all with an ensuite bathroom. It's your own personal space, and you can furnish it with your favourite pieces.
It all combines to create a haven for you to relax in, with many rooms overlooking beautifully landscaped gardens or courtyards. There is plenty of space to welcome visitors and all rooms have a television. Many rooms feature an alcove that can fit a display cabinet, drawers or a small fridge.
Our staff work tirelessly to ensure your comfort and happiness and, if your needs change, you have priority access to other levels of care - right there in the village.
Award-winning innovation in healthcare - myRyman
At Ryman, our care plans come to life through our own electronic care app, myRyman. The app engages residents and their families in the care plan. Located in every care room, a device enables nurses and carers to view the care plan, and record daily care tasks for each resident.
This award-winning technology creates links and prompts, so our nurses and carers know exactly what they need to do. Everything is securely recorded. Our teams can access and update clinical data more efficiently and spend more time with residents as a result.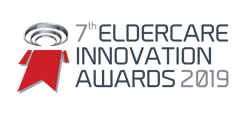 What low care means to residents and families:
"The Ryman staff adapted to my Mother's needs with patience and provided 'Philippa-centred care' catering for her likes and dislikes in a respectful manner."
Juliet
Family member
Click here to read the guide to living in an aged-care centre.