When GP Dr La Silva began working with Ryman Healthcare at Weary Dunlop, he didn't know the retirement village offered the best medical care in the area.
"I started working with the Weary Dunlop team when the village opened in 2014 and I've got to say it's still the best retirement village I've ever seen."
For the past nine years, Dr Silva and his colleagues at the Wheelers Hill Clinic have visited Weary Dunlop every week. They also provide onsite medical care for residents at Nellie Melba.
READ MORE:
Every Wednesday and Friday morning the doctors visit residents in their apartments or rooms, providing easy-to-access care. They also deliver flu and COVID-19 vaccines and give educational talks on health issues.
According to Dr Silva, Ryman Healthcare provides unmatched medical support and has innovated above and beyond the industry standard.
"Ryman makes it as easy as possible for us to provide a high standard of care for residents.
"We can access patient records from our medical clinic and issue prescriptions remotely, which most retirement villages don't have the technology to offer," he said.
In 2020, Ryman's commitment to providing care that's good enough for mum and dad became more important than ever before.
Ryman was one of the first three aged care providers in Australia to obtain accreditation to administer COVID-19 vaccines itself and Dr Silva played an important role in the vaccination rollout in Weary Dunlop and Nellie Melba.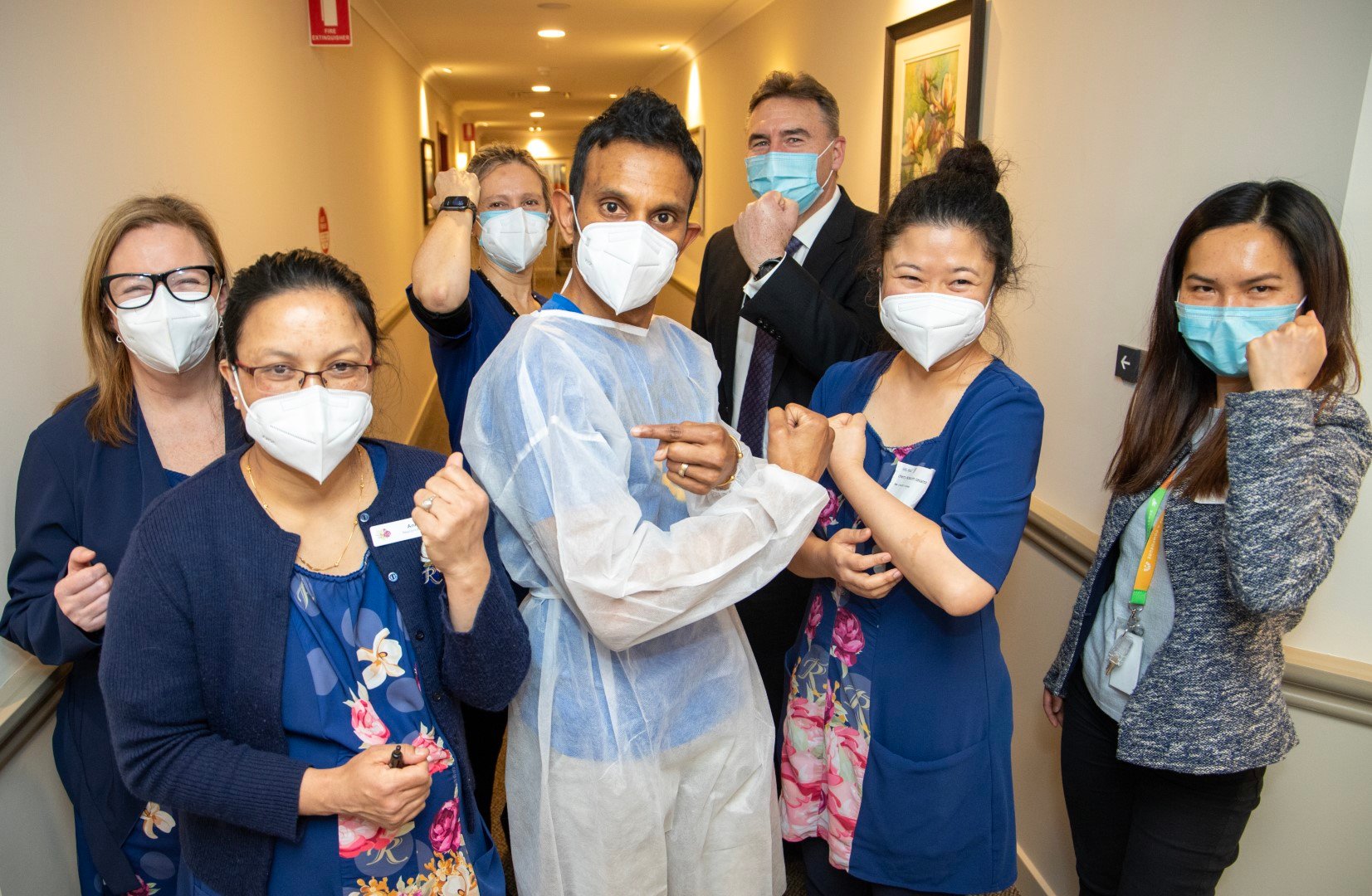 Dr La (centre) with staff at the Nellie Melba Retirement Village vaccine clinic.
He is certain that "Ryman has been the most careful and consistent local retirement and aged care provider when it comes to COVID".
"From the get-go, the team went above and beyond for the residents by creating excellent COVID protocols, securing the best PPE and activating a visitor screening process much earlier than others in the area."
"Ryman put the residents first and they didn't cut corners," he said.
Serving the community
Serving the local community is an important part of every Ryman Healthcare village.
Having quality medical care on site means Weary Dunlop and Nellie Melba help ease the burden on local hospitals and GP clinics.
"By having GPs onsite at least once a week and working closely with the doctors at our clinic, Ryman is helping reduce waiting times and long hospital queues in the local community," Dr Silva said.
Every Ryman village offers aged care, as well as retirement living. In fact, aged care is built into the fabric of each village from the very beginning.
As Dr Silva says, "Lots of residents have told me they moved into Weary Dunlop or Nellie Melba because of the aged care offering. It gives them peace of mind that if they or their partner need to make the transition into aged care, they can stay in the same place, surrounded by family and friends".
"Ryman definitely goes the extra mile to offer residents the support they need."
All Ryman villages include a range of homes to suit health needs, from independent and assisted living to residential aged care.
"It means couples can stay together as they age and it's also really good for residents that care for a loved one.
"Sometimes caring for a partner can become overwhelming and having aged care support onsite that can be used temporarily offers carers important recovery time," Dr Silva said.
The high quality of nursing and medical care onsite also means residents can maintain their independence for longer and delay moving into the aged care system.
"It's not about cutting corners at Ryman villages, it's about giving residents as much care and support as possible," Dr Silva said.