Their answer was hiding in plain sight
Kath and Jim thought their down-sizing retirement dream was unattainable. As it turned out, it was hiding in plain sight.

The couple had for more than 30 years been living in a large, five-bedroom Wheelers Hill house with a pool, which had become a burden to maintain.

"We were in a big house and we'd been talking about down-sizing and staying in the area and I said to Jim, 'where are we going to get somewhere maintenance-free and still in the Wheelers Hill area?'"

Kath wanted a small, single-level home with not much garden, "and I kept thinking where in this area will you find that?"
Then one day, Kath was driving on nearby Jells Rd past the hotel they used to frequent for dinner and special occasions, and was surprised to see it surrounded by wire fencing.

The old hotel was about to be demolished and Weary Dunlop retirement village built in its place. Kath was intrigued by the prospect, but Jim was far from sold on the idea of moving into a retirement village.
"Ignorance is bliss," Jim says. "You think you know what something is, and it isn't. I'd walked past a few times and thought, 'nah, this is not for me' but I didn't really know what they had."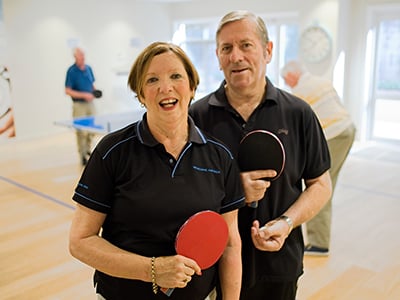 Jim and Kath weren't just looking for a home, they were looking for a community.
His eyes were opened when a close friend who was planning to move into Weary Dunlop asked Jim to join him on a tour as "a second pair of eyes".
"So, Jim did that and he came home and he was sold on the place," Kath says.
The location was perfect, they secured a beautiful three-bedroom ground-level apartment, and the moving truck was booked. The future home they feared didn't exist had materialised before their very eyes.
Crucially, they wanted to make the decision to move on their own terms, and the fact the village offered aged care on site was a big draw.

"We didn't want our daughters' lives disrupted by having to look after us and we've got carers here if we need them," Jim says.
"I've seen it happen where someone has had to look after an elderly parent for 10 years, 15 years and I thought 'no way'. We'll be self-sufficient, and you won't have to worry about it. That, to me, was a huge thing."

But Jim and Kath weren't just looking for a home, they were looking for a community.

"You live in big houses in big streets [outside the village] and you don't talk to your neighbours," Kath says.
"You might give a bit of a wave when you're collecting your mail or mowing the lawn, but I just feel so much more social here. You walk out in the hallway and it's 'Hi Kath,' and you have a bit of a chat.

"You'd go through some days at home when I was retired and not talk to anybody."