Charles Brownlow Retirement Village serviced apartment resident Marlene Pettigrew has spent a lifetime caring for others.
As a mother to two daughters, grandmother, and a nanny, it wasn't unusual for up to six children to be engulfed by her warmth and sense of humor on any one day.
Which is why, three months after moving into a serviced apartment overlooking the village bowling green, she is still 'pinching' herself.
READ MORE:
"Everything here is just so easy," she says.
"I get lovely meals each day, the staff are lovely, everything is catered for down to being given a new set of clean towels each day.
"Sometimes I pinch myself and think 'is this really happening to me?', but people say 'you've worked hard, you deserve it!'."
Her one-bedroom serviced apartment is one of 60 at the village offering daily chef-prepared meals, housekeeping and onsite care to residents.

The living area of a Charles Brownlow serviced apartment.
Marlene moved into the village after watching it being built from her former unit, which was just around the corner.
"I used to watch the big crane from my window, but I never ever dreamed I would be here because a few years ago I wouldn't have thought about retirement living," she said.
But when hip and knee replacements started to change the way the former competition tennis player lived, she knew it was time to look to the future.
"I had a fairly big garden, and I'd do it, but the next day I could barely walk," she said.
"That's when the thought of the way they look after you here became a bit tempting."
Having lived on her own in the unit for 28 years since the passing of her husband, Arthur, Marlene was unsure whether the sale of her home would enable her to afford an apartment at the village.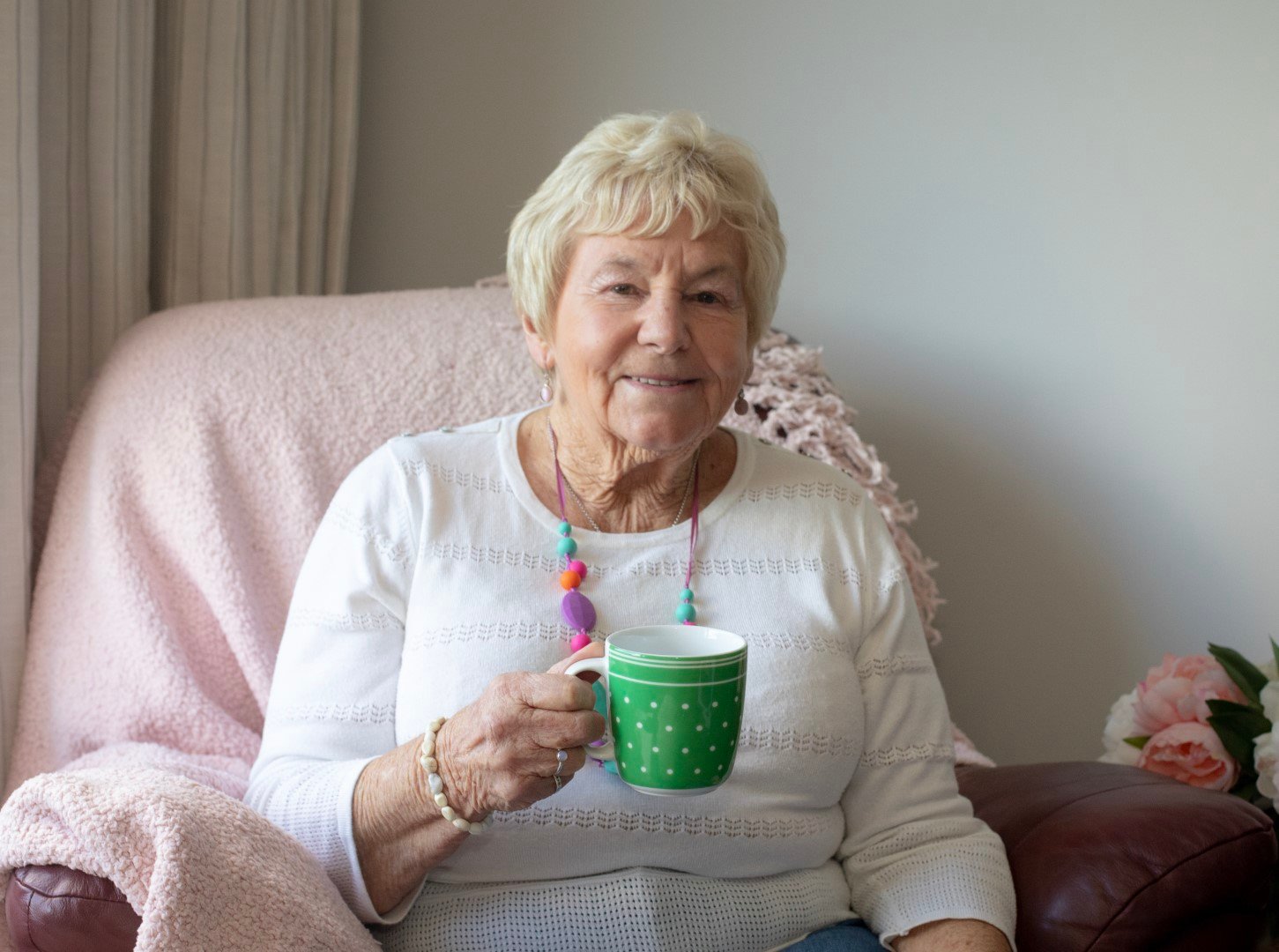 "Because I had a small unit, I thought I probably couldn't afford it and still live a comfortable life," she said.
"But when I saw an open day being advertised I thought I won't be happy if I don't go and look at it."
Impressed by the village amenities and Ryman's terms and conditions, it was following the open day that she realised retiring in the comfort of a serviced apartment could become her reality.
Now Marlene has moved in she is diving into village events and activities including weekly Happy Hour and Triple A functional fitness classes.
"When I was living at home I didn't even walk because I had so much trouble, but I got in here and I saw people older than me doing Triple A and that motivated me to think 'I can do it too'," she said.
"Sometimes you're happy to come home and just shut the door, put the telly on or read, but if you can keep up there is virtually something you can do all the time."

A serviced apartment bedroom.
The village's continuum of care, including homecare, aged care and specialist dementia care meant her future was secure.
"I'm 80 now and I can look after myself, but there is going to be a stage when that changes," she said.
"Because the village has care here, I won't need to move which means I won't be leaving my area.
"It's peace of mind for myself and for my family."
From her apartment decorated with bright artworks lovingly painted by her daughter, Marlene's advice to others considering a move to a serviced apartment is simple.
"I would say do it and do it before you get too old so you can enjoy everything the village has to offer," she said.
Find out more here.