The name that has become synonymous with AFL greatness has been given a permanent home at Geelong's newest retirement community.
Ryman Healthcare and the Geelong Cats today announced Ryman's new retirement village and aged care facility on South Valley Rd in Highton will be named in honour of Charles Brownlow.
Ryman names all its retirement villages after exceptional people. Its three Melbourne villages have been named in honour of Sir Edward 'Weary' Dunlop, Dame Nellie Melba and John Flynn.
READ MORE:
More than 120 people attended the unveiling of the new Highton village's name at GMHBA stadium today.
The village's name was announced with the original Brownlow Medal in attendance, and Brownlow's grandson, also named Charles Brownlow, joining the ceremony via video link from Queensland.
Ryman Healthcare's Victorian Sales and Community Relations Manager Debra Richardson said she was delighted the company's newest village would bear the name of a giant of the Geelong community.
"When we began our search for an outstanding Australian to name our Highton village after, it was impossible to go past Charles Brownlow.
"He is a local icon who has become a national icon – a Geelong football legend whose name has become synonymous with dedication, excellence, and integrity.
"His legacy embodies the spirit of this footy-mad community and the Charles Brownlow Retirement Village will be a permanent tribute to the values he lived his life by."
Ryman has named its villages after outstanding people for more than 35 years, she said.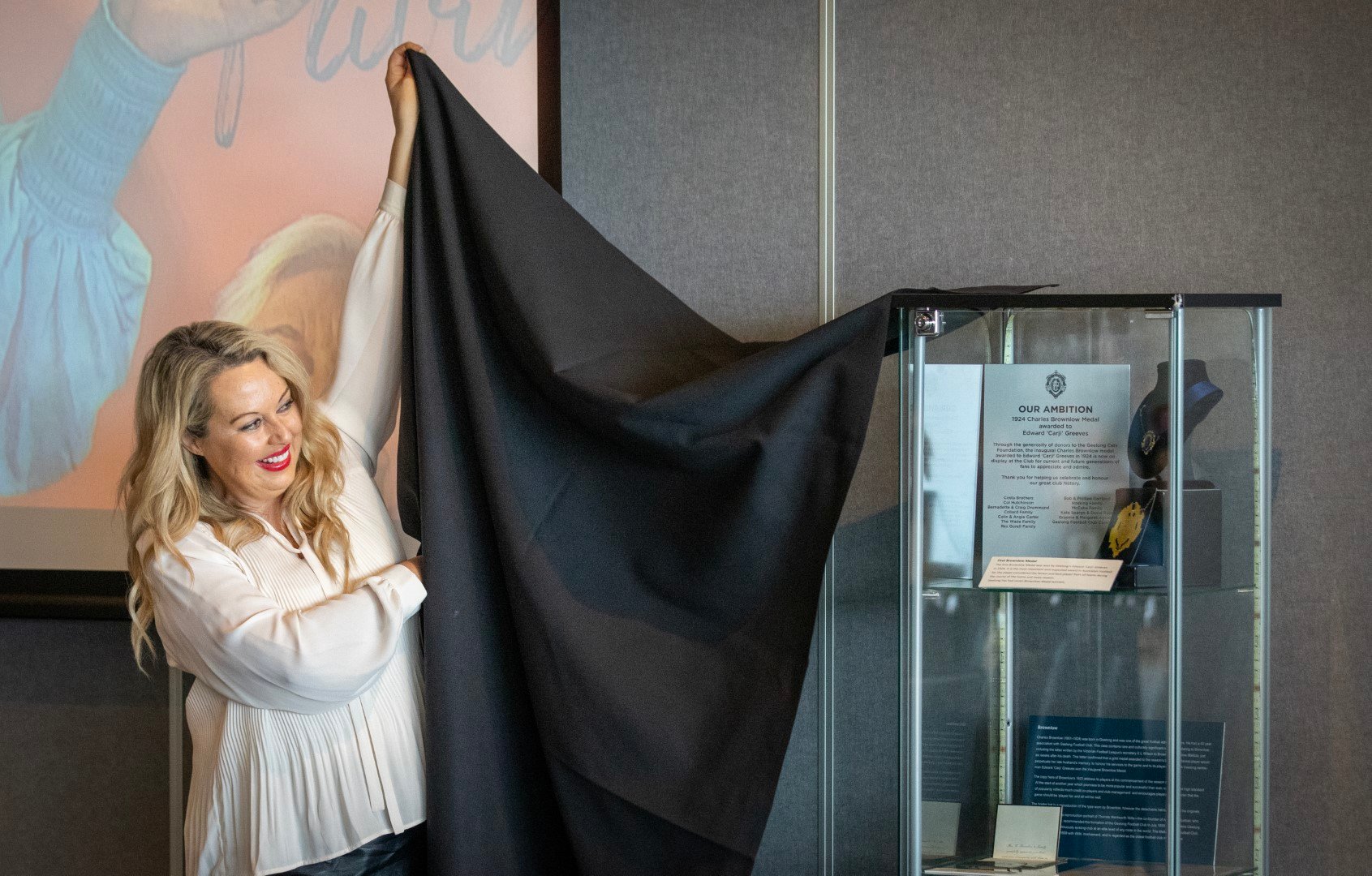 Charles Brownlow sales advisor Jody Keating-Gorton unveils the Brownlow Medal.
"First and foremost, this tradition is about honouring the contribution of that person and doing what we can to help preserve their legacy.
"But it's also about creating a unique identity for that village. The village community becomes coloured by their character and imbued with the values that set that person apart."
Charles Brownlow said he was sad he couldn't be there in person but paid tribute to his grandfather.
"He played the game, helped shape its rules, was a great administrator for Geelong, the VFA and the VFL, as well as being a key driver in the formative years of the Victorian Football League.
"He was also a respected and well-known businessman in the Geelong community."
Cats CEO Brian Cook said: "Charles Brownlow is an important part of the history of the Geelong Football Club. To have the Brownlow name attached to such a fantastic local facility is fitting."
The Charles Brownlow Retirement Village will include villas, assisted living in serviced apartments and an aged care centre.
It will have a gym, a bowling green, a hair and beauty salon, a chapel, a cinema, a bar, a cafe and an indoor swimming pool, among other amenities.
The village will be home to around 260 people when complete. The first residents moved in in August last year, and more will join them as the rest of the village is completed.