When Pam Taylor was greeted by a giant gleaming bow on the door to her new apartment at John Flynn Retirement Village her beaming smile said it all.
And when the pioneering resident, who was the first person to move into the village's McKay building, stepped inside her light-filled, two-bedroom apartment things got even better.
"It's simply amazing, I couldn't ask for anything more," she said.
READ MORE:
Pam was accompanied by her daughter Meredith and a team of excited Ryman village and sales staff as she explored her apartment for the first time.
As the village team placed her belongings inside, the stunning space turned from an apartment into a home.
"Who wants to move in with me?" Pam joked.
Having raised four children with her husband only a street over from the Foundation Boulevard village, Pam felt at ease in her new space straight away.
"We were very happy there, but I'm very happy here," she said.
"Everything here is fantastic; you couldn't fault a thing."
Pam was one of four residents to move into apartments yesterday, marking the start of a busy few months of move-ins to the McKay building.
Village Manager Roslyn Prentice said the McKay arrivals marked an exciting new chapter for the village, which welcomed its first residents in December 2020.
"We're expecting the whole village to be full by midway through the year," she said.
"A move-in team has been created in anticipation of the number of residents who will be arriving in the coming weeks and months.
"We've also got a busy activities calendar with events like Happy Hour serving as a celebration of our expanding village, and some existing residents have volunteered to be buddies for new residents to help introduce them to what life at John Flynn is all about."
In March the Miller building, which will be home to 36 serviced apartments, will be finished, marking the completion of all village buildings.
Ryman Australia CEO Cameron Holland said the opening of McKay was a wonderful example of the strength of Ryman's teams and the demand for quality retirement living.
"This is a major milestone for the outstanding staff and residents at John Flynn, requiring a major cross-team initiative," he said.
"The delighted smiles of the village's newest residents said it all.
"I'm thrilled even more older Australians will now benefit from the care offered by Ryman."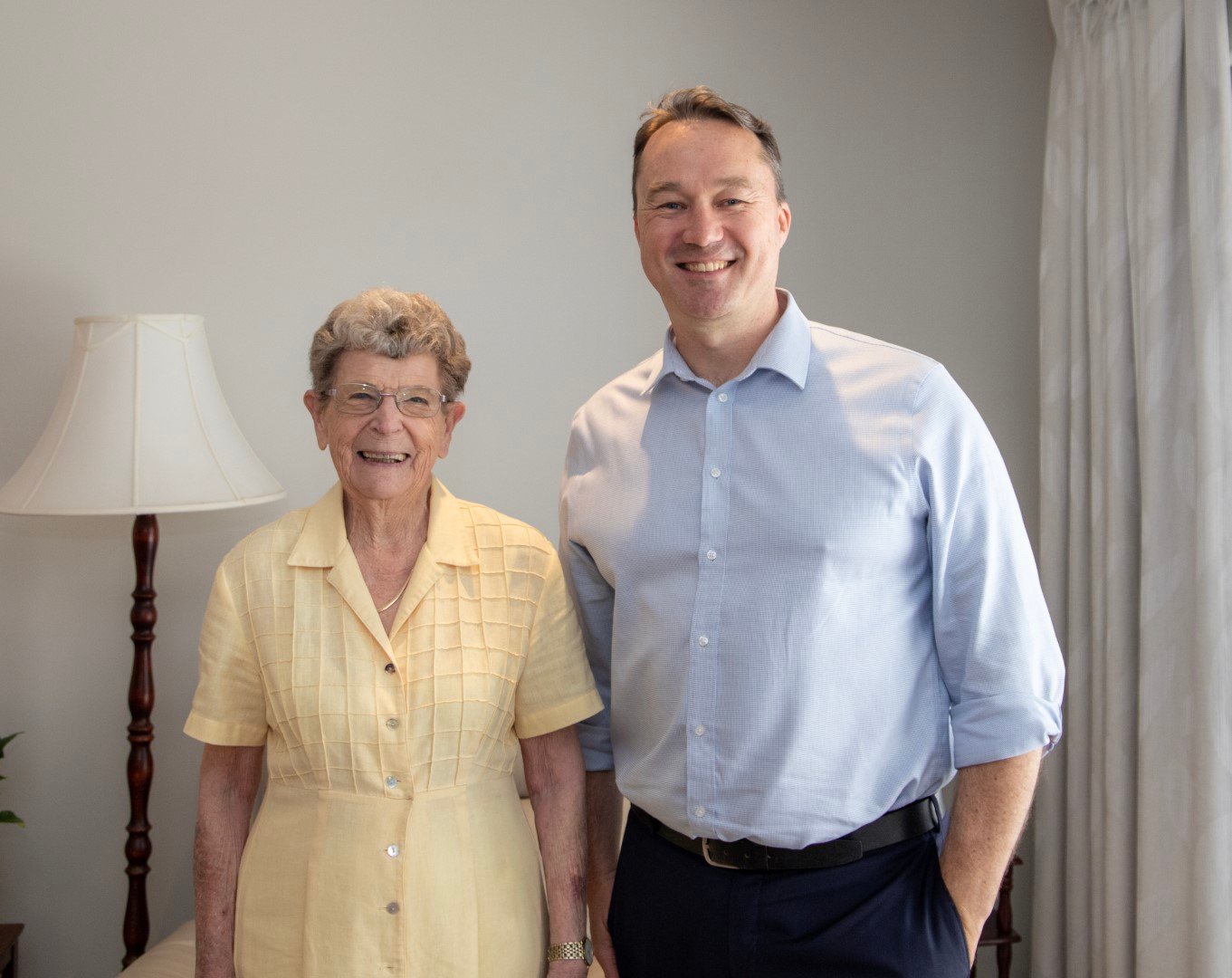 Pam with Ryman Australia CEO Cameron Holland.
John Flynn Project Manager Iain Jagger said he was thrilled to see residents enjoying the spaces his team had worked so hard to build.
"The team has done an outstanding job in the face of pressures from COVID-19 and the subsequent strain on the construction industry," he said.
"There is not one apartment within the village which doesn't have a good outlook.
"We've been so lucky to have a great operational team at the village and wonderful residents who have been fantastic to deal with."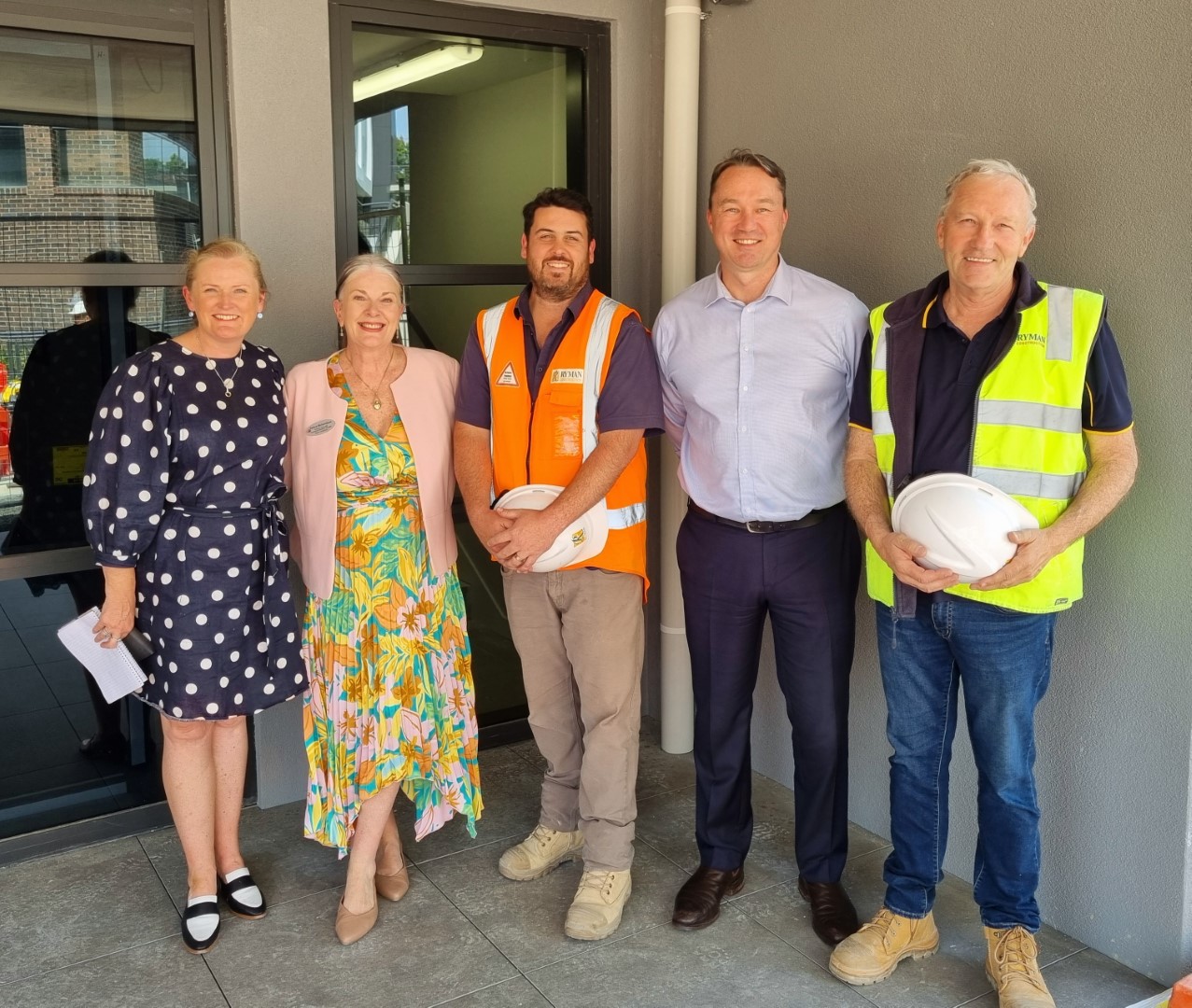 Ryman team members (from left) Area Sales Manager Angela Barraclough, Victorian Sales Manager Debra Richardson, Regional Construction Manager Travis Cocks, Ryman Australia CEO Cameron Holland, and Project Manager Iain Jagger.
At its peak about 350 people worked on the project, and in 2021 the team overcame the challenges of six COVID-19 lockdowns to take out Construction Site of the Year at the annual Ryman Awards.
Since the first residents moved in the village has grown to be home to more than 500 residents and a workplace for 120 staff.