When Nellie Melba Retirement Village resident and former Melbourne Football Club CEO Dick Seddon proudly hoisted the Premiership Cup in the air last week his smile was almost as broad as the cup itself.
Dick's legacy as a founding AFL commissioner and orchestrator of reforms including salary caps, franchising, and drafting, enabled a select group of fellow die-hard Melbourne supporters and Nellie Melba residents an exclusive viewing of the cup.
"It's fantastic of the footy club to bring it out," Dick said.
READ MORE:
"The club are very good at honouring their past, and because I was part of their history, they have honoured that which is both a great compliment and something which I feel a bit humble about."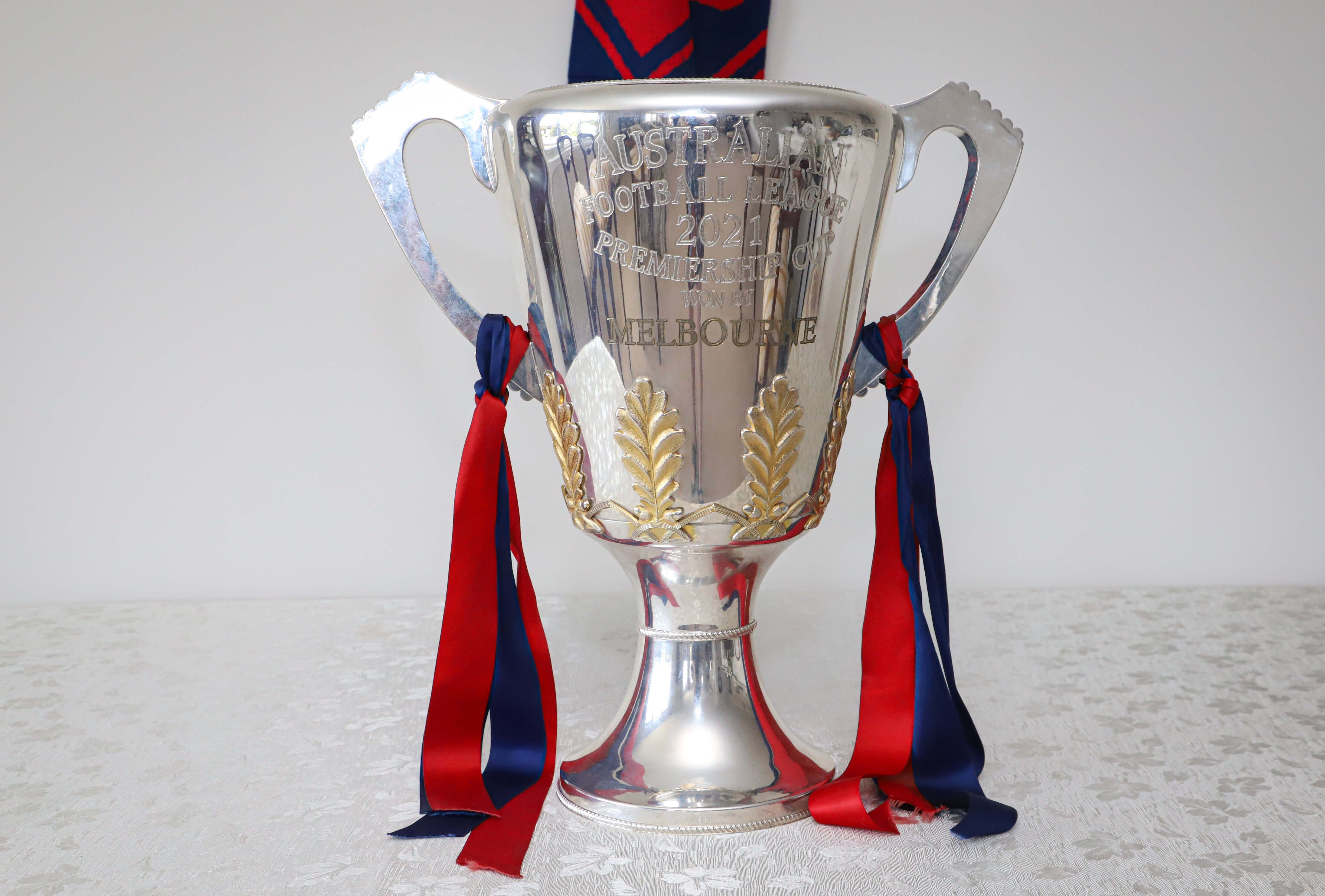 Like so many Melbourne supporters, Dick and his wife Carol, who would normally never miss a Grand Final, did not get the chance to head to the MCG and watch their beloved Demons break their 57-year Grand Final win drought.
Because of COVID-19 the 2021 Grand Final was held in Perth.
When fellow Nellie Melba residents Alan and Liz Cawsey discovered Dick had moved to Nellie Melba, and had not attended the Grand Final, they called on the help of their son David.

Nellie Melba resident Alan Cawsey examines the cup.
"I've been a Melbourne supporter all my life, but our son is probably worse than me," Alan laughed.
"David decided to write to the club and say Dick Seddon would be really interested in seeing the cup and a few days later he got a response saying it was coming."
The cup was accompanied by former AFL player and Melbourne life member Kelly O'Donnell who said Dick was "a key Melbourne person".
"Dick is probably most famous for recruiting Ron Barassi back to the club as coach and two Brownlow medalists in one hit - Peter Moore and Kelvin Templeton," Kelly said.

Kelly O'Donnell (left) and Dick Seddon.
"Dick did a lot of the groundwork and established the framework for some success later on in the 80s and he's been a really valued past president and key Melbourne person over the years," he said.
"The club was more than happy to make sure that Dick got a bit of time with the cup and got to enjoy it and relish it."
The visit was also relished by other Nellie Melba residents, who took the opportunity to take selfies with the cup and celebrate their team's success in a way that was not possible last year.