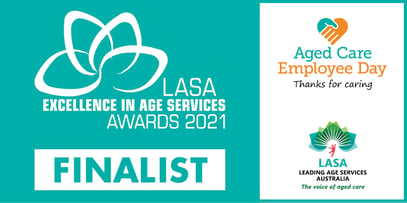 Joanne Wang's profile as a star has long been known by her fellow team members and Ryman residents.
Now, Joanne's stellar leadership is being recognised by industry experts with the Operations Quality Manager named a finalist in 'Next Gen Young Leader' category of the Leading Aged Services Australia (LASA) Excellence in Age Services Awards 2021.
The award honours an individual under the age of 40 who has demonstrated excellence through their significant contribution, initiative, and dedication in the delivery of aged care and services.
READ MORE:
Joanne has worked for Ryman Healthcare for more than five years and said she was "surprised and incredibly excited" by the recognition.
"I feel very lucky to have been nominated by the people I work with," she said.
"It's a great feeling of achievement."
Joanne started her career as a personal care assistant before becoming a nurse, a nurse unit manager and then, at just 27 years of age, she was appointed Clinical Manager at Ryman Healthcare's Weary Dunlop Retirement Village, with responsibility for more than 50 staff and 82 care centre residents.
In 2019, after more than three years of outstanding results leading the Weary Dunlop care team, Joanne was appointed as Ryman's Operations Quality Manager for Victoria.
Joanne has played a leading role in coordinating Ryman's response in Victoria to COVID-19 and has been instrumental in keeping the virus out of all five villages to date.
Her current role enables her to develop and implement changes to improve the experiences of both staff and residents.
"Being a good leader is not just about one trait," she said.
"Apart from being a good communicator, collaborator, motivator and role model, most importantly, a leader should also be able to recognise success, be empathetic and value the work their team members do."
The state and territory LASA Excellence in Age Services Awards will be announced in a special online ceremony on August 7, which is Aged Care Employee Day.
Joanne plans to watch the ceremony while on holiday with her family.
Regardless of the awards outcome, the satisfaction gained from her job is immense.
"Going to bed each night knowing I've been able to help make others' lives better is an amazing feeling," Joanne said.