Making a decision sooner, rather than later, helped a Glen Iris couple in their transition to aged care.
After living in Glen Iris for 34 years, Barbara and her husband, Ron, moved into a new retirement village in Wheelers Hill.
"My husband had been diagnosed with early-onset dementia, so I wanted to look to the future," Barbara says.
"We had three years to think about it, and when I spoke to a real estate agent, our house was sold within three weeks. We were very lucky because it was at the right time."
The Shorts made the move in August last year to the Nellie Melba Retirement Village.
The village is part of the Ryman Healthcare group, which offers a range of retirement and aged care options to suit different needs, independent living apartments, assisted living in serviced apartments, low and high care, and specialist dementia care, all in the one location.
"My husband had been fine until probably the last year,'' says Barbara. ''Of course, as it happens with most dementia patients, they're good for about five years and then, all of a sudden, they just go downhill, which is exactly how it happened."
Barbara lives in her own independent apartment at Nellie Melba. Ron moved into dementia care at the village.
"He's a resident there now, which is great because I only have to walk three minutes across the building and I'm there."
Barbara says the transition to a retirement village was difficult for the first few months.
"It was very hard for me. In fact, at one stage, I thought that I couldn't stay because I was too distressed, mainly because of my husband's situation. I had to do all the work and I was just so tired," she says.
"I was soon jostled out of that by all the people here.
"The Ryman staff and the manager were just absolutely wonderful. They could see how stressed I was, and they were just marvellous with their help."
"I've made some fabulous friends that I wouldn't have ever met unless I'd come here," she adds.
"We have dinner in each other's apartments, go out, and get involved in the activities. You're never without company, put it that way."
Barbara says that Ron is doing well and is very happy at the village.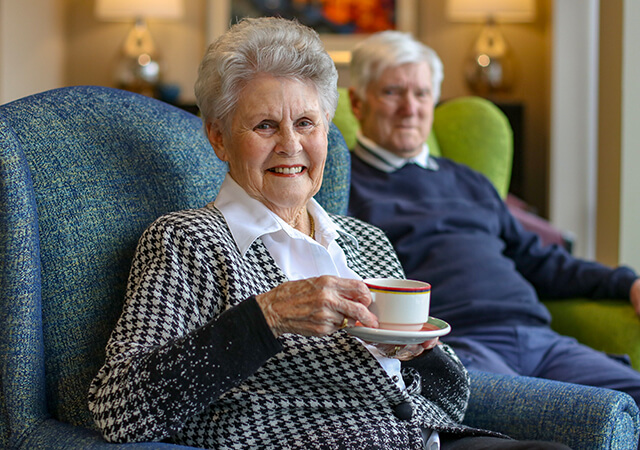 Barbara and Ron Short live at the same address, where their different care needs are well met.
"He's very mobile, so it can be hard for others to tell that he has dementia, but he really enjoys being there.
''He has two carers looking after him and they never really take their eyes off their patients. You can't get that at home. That's their job and they're doing it beautifully."
Living in the same complex at Wheelers Hill has given Barbara flexibility and peace of mind, as Ron is well cared for.
"It just takes such a burden off your life, because all you have to do is pop over there. And if I can't go, say, if I'm ill, I know that one of my friends would pop over to see Ron, as they do anyway.
''If you're living 20 minutes away, it's not so easy as you get older to be able to do that. That's really what sold me on it. We made the right choice and I couldn't be happier."