It was a Remembrance Day unlike any other at Ryman Healthcare's Weary Dunlop Retirement Village.
In a year that has robbed so many of so much, residents stood proudly in their doorways, gleaming medals and poppies pinned to their clothing. A pandemic was never going to stop them from honouring Australians who paid the ultimate price to protect their country.
During the service, broadcast to residents via the village's PA system, Weary Dunlop Retirement Village resident and service co-organiser Jim Garrie made special acknowledgement of the "forgotten heroes of the First World War".
READ MORE:
"It was a war where the training, skill and dedication of Australian nursing sisters came to the fore," Jim said.
On August 8, 1915, 40 Australian nurses arrived on Lemnos, a Greek Island about 150km from Gallipoli.
By the following morning the brave nurses had more than 200 patients in their care, Jim said.
Despite facing a relentless wave of causalities, lack of equipment and little support, the nurses maintained a 98 per cent survival rate at the hospital and treated more than 96,000 soldiers between August and November.
"They were true heroes in their own right alongside the AIF (First Australian Imperial Force)," he said.
One hundred and five years after the gallant acts of the nurses on Lemnos, 2020 had again shown the world the importance of nurses, with the year declared 'International Year of the Nurse' by the World Health Organisation, and COVID-19 putting the lives of so many in the hands of medical professionals again, he said.
"The staff in the village and the care centre have done an outstanding job during the pandemic and we gratefully thank them for this."
Resident Graeme Hewitt said his father Frank, a wireless operator for the famous RAAF 10 Squadron, was always the first person he thought of on Remembrance Day and Anzac Day.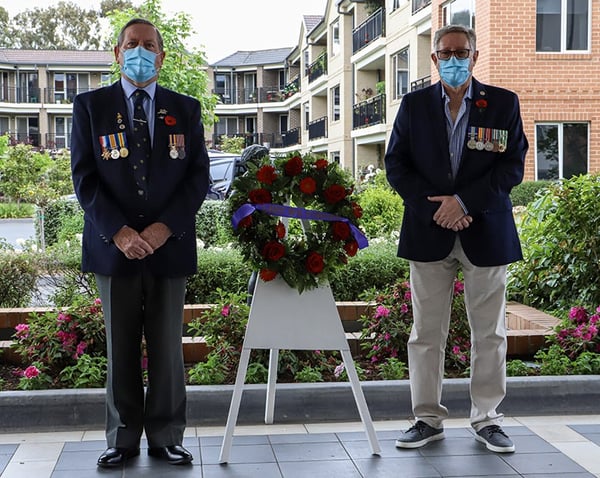 Weary Dunlop residents and Remembrance Day service organisers Jim Garrie (left) and Steve Costelow.
10 Squadron was the first RAAF squadron and the first British Commonwealth squadron to see active service during WWII.
Graeme was just six years old when his father and five other men died on April 28, 1941, after their Sunderland T9075 crashed in the Irish sea while returning to Milford Haven, Wales, from completing submarine patrols.
"It has had a great significance in my life that never really leaves me," Graeme said.
"It's always there and it comes to a peak at Anzac Day and Remembrance Day."
Despite not being able to come together to honour the fallen, the number of residents pausing to remember in their doorways showed mateship is a bond no war or pandemic can break