More people are moving in each day, but Geoff and Heather will forever hold the distinction of being Nellie Melba retirement village's first residents.
With much of the village still a building site, the couple say it's "certainly interesting" to see workers in high-vis clothing beavering away on scaffolding around the place.
But after one week in the village, they're loving their new home.
"So far, so good, and we're very happy," Geoff says.
The couple had no doubts about where they wanted to be, so much so they didn't even bother looking at other retirement living options.
"We'd been thinking about it for a long time and, coming from the building industry, which I did, nothing else came close to this. I wouldn't have gone anywhere else, quite truthfully."
"We both had our mothers in retirement homes quite a few years ago now," Helen says, "and we wouldn't have been satisfied with [where they were]."
READ MORE:
"That was nothing like what we wanted," Geoff says. "Perhaps we're fussy but we knew what we wanted.
"This is the total package, which we were drawn to."
A key part of that package was the continuum of care available at Nellie Melba. Geoff and Heather love their modern two-bedroom apartment but wanted the peace of mind that comes with having aged care available nearby if needed.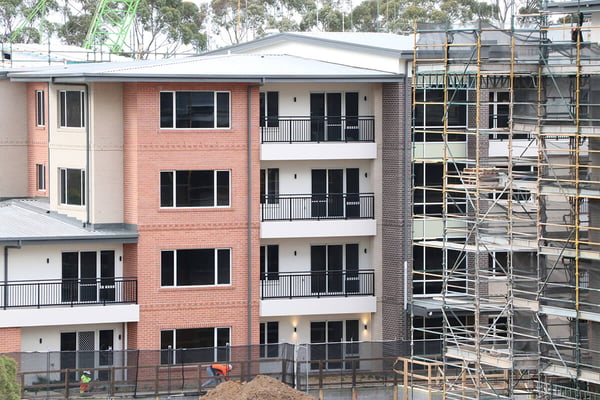 Geoff and Heather have an 'interesting' view from their third-floor apartment while work on the village is being completed.
For now, though, they're just looking forward to watching the village blossom around them and enjoying the lifestyle it will offer.
They're excited about the array of entertainment and activities that will be on offer, and can't wait to immerse themselves in the village community.
There's no looking back.
"You've got to make that break somewhere, you can't sit back and say, 'why didn't we?'" Geoff says.
"In our case we had our mind made up and, quite truthfully, this [place] is just perfect. Perfect."