Ryman Healthcare sales advisor Franca Phillips is right at home in the company's new Melbourne sales suite in Aberfeldie.
Nestled among a stretch of shops, the suite at 355 Buckley St has prime position to connect with the community, particularly those considering their retirement and aged care options.
"It's a great position," Franca says.
"It's busy, it's buzzy, it's buoyant."
READ MORE:
The suite, which opened on October 14, features furnishings used in Ryman's Nellie Melba Retirement Village, giving visitors an instant impression of the high standard offered at the villages as soon as they step in the door.
There is a "high level of anticipation" surrounding the opening of Ryman's Aberfeldie village at 2 Vida St.
"People love the area, and are loving what we have to offer," Franca says.
As a resident of neighbouring Moonee Ponds for 27 years, Franca says the suite is giving locals time to drop by and ask questions, and in doing so some fixed ideas about the industry are being changed.
"Traditionally there can be a reluctance within sections of this community to consider assisted living, or aged care.
"The message is, there can be a choice.
"With all the village offers, it can provide peace of mind for residents and their families."
The number of locals asking for tours at Nellie Melba is indicative of the growing interest in the arrival of Ryman in Aberfeldie, she says.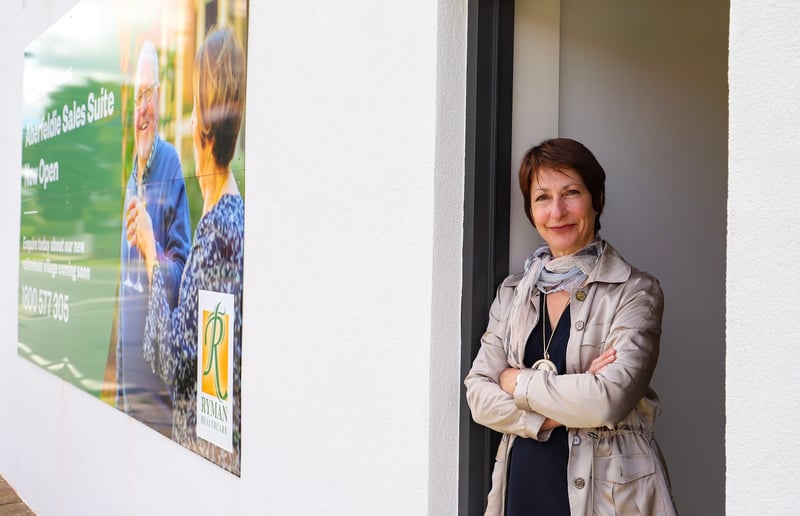 Franca is right at home in the new Ryman Healthcare Aberfeldie sales suite, having lived close by for 27 years.
"I am hearing that this is new, and that they want to know more.
"People are seeing the Ryman difference and are excited.
"Recently two neighbours bumped into one another at the suite, each discussing different categories of care that Ryman offer, and it was great to sit back and share their company," she says.
"It's comfortable, with a coffee to share and no pressure."
Of particular importance to many prospective residents is what Franca calls the "holistic" model of transitional care offered at the villages.
As someone said to her recently, "there is nothing here like it".
The sales suite is open 9am-5pm Monday to Friday.
Construction of the village is set to begin in the New Year. It will include 64 independent apartments, 27 serviced apartments, and 74 aged care beds, including specialist dementia care.